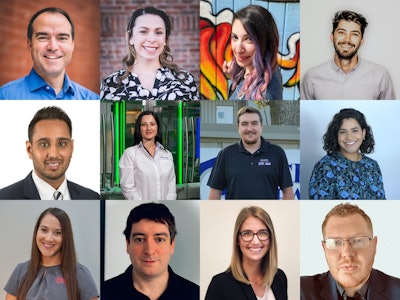 As a way to recognize young talent making their mark on the packaging and processing industries, PMMI set out to find 12 rising stars. OEM Magazine spoke with each On the Rise Award winner to learn about the challenges they have faced and overcome, as well as where they see the packaging and processing industries heading in the near future.
To access each winner's Q&A, click on their name.
Mike Wolf, Research and Development Manager, Triangle Packaging Machinery Company
Erica Lano, Business Development Manager, Cama North America
Amanda Nimry, Global Graphic Design and Branding Specialist, Liquibox
Chris Anguil, Banding Sales Manager, Pharmaceuticals, Felins
Amit Patel, Product Marketing Manager, Food and Beverage, Emerson
Cristina Astahov, HR Generalist, BellatRx Inc.
Cody Leedham, Engineering Manager, Change Parts, Inc.
Vannesa Palomo, Project Engineer, Sales Engineer for Latin America and Sales Force CRM Lead, Zalkin
Yvette Goitia, Proposals and Project Manager, Intralox, LLC
Christopher Staruch, Production Manager, Batching Systems, Inc.
Katie Exum, Product Success Manager, Specright
Erik Grinnell, Vice President of Automation, Quest Industrial
Companies in this article
Videos from Cama North America