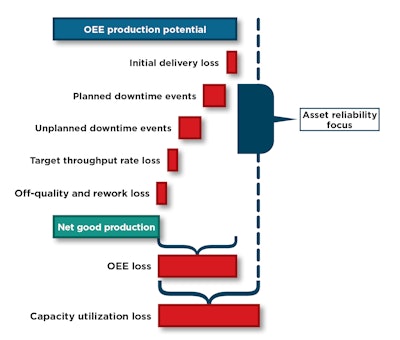 Daniel Lorusso system sales director, BW Packaging Systems
Dan Sileo co-founder, partner, and chief manufacturing coach, FSO Institute
Stephen M. Perry, PH.D. co-founder and coach, FSO Institute
While there may be as many definitions of asset reliability as there are consumer packaged goods (CPG) manufacturers to define it, most all agree that the primary goal of undertaking an asset reliability initiative is zero downtime and maximizing asset life.
PMMI's OpX Leadership Network recently commissioned the Asset Reliability Solutions Group to undertake a work product on asset reliability in order to get CPGs and original equipment manufacturers (OEM) on the same page regarding definitions, key performance indicators (KPI), calculations, and leadership guidance when developing an asset reliability initiative. The work product is nearing completion and will be available later this year.
---
See it on PACK EXPO Connects' website through March 2021: Vertical Conveyors for pallets, by QIMAROX VERTICAL CONVEYORS. Preview the Showroom Here.
---
The team discovered early on that perhaps one of the best ways to understand asset reliability is in its relationship to overall equipment effectiveness (OEE). As shown in the graphic below, asset reliability initiatives are focused on two key areas within OEE loss: planned downtime events and unplanned downtime events. These are the very events that inhibit a machine from performing its intended function or from doing what it is supposed to do, when it is supposed to do it.
In this soon-to-be-released OpX work product, the focus of an asset reliability initiative to address these events is based on three categories of KPIs:
1. People KPIs–Focused on labor factors, including total production maintenance labor costs, actual fully loaded operations labor costs, overtime maintenance costs and hours, contractor costs and hours, planned and unplanned maintenance costs, preventive maintenance costs and hours, and others.
2. Operating KPIs–Focused on operating factors, including plantwide average downtime (planned and unplanned), plantwide scheduled production hours, total plant MRO (maintenance repair operations) budget to spend, OEE, availability, uptime, stores inventory turns, mean time between failures, mean time to repair or replace, and others.
3. Financial KPIs–Focused on financial factors, including stocked MRO material inventory value, ratio of replacement asset value (RAV) to craft wage headcount, total maintenance cost as a percent of RAV, opportunity cost due to unplanned downtime, and others.
For each KPI, there is a corresponding definition, leadership guidance, and calculation (where needed) to get CPGs and OEMs speaking the same language when it comes to asset reliability. In addition, the KPIs are categorized by stage in the asset reliability journey, e.g. which KPIs are necessary at the beginner stage as well as those needed at later stages.
For CPGs trying to determine the value of an asset reliability initiative—the "size of the prize"—the Asset Reliability Value Calculator can help determine the potential value of missed opportunities that could be gained by improving line reliability. The focus here is on improving the reliability of the critical asset or the main bottleneck on the line in addition to the processes involved in the entire manufacturing process.
Collaboration can yield significant improvements in OEE by focusing on opportunities to reduce the impact of planned and unplanned downtime and, instead, drive to zero downtime.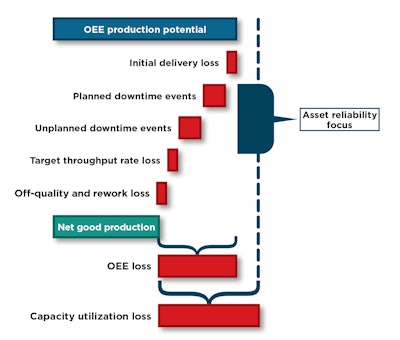 Other articles you may be interested in:
Major Trends in Modern Health Today
Security, Remote Access, and Manufacturing Data
Coffee Pod Co-Packer Realizes Perks of ERP System
Companies in this article