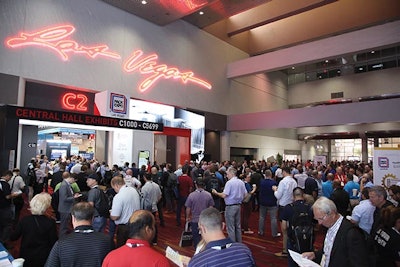 Photo courtesy of PMMI.
What better place than PACK EXPO Las Vegas and Healthcare Packaging EXPO to take the pulse of the packaging technology scene? And in 2019 this was truer than ever, as the show broke records for number of exhibitors, total exhibit space, and total attendees. By the show's close, more than 2,000 exhibitors covering nearly 900,000 sq ft of the Las Vegas Convention Center convened with more than 31,000 attendees—an 8% increase from the 2017 show.
"With the incredible role it now plays for the packaging industry, PACK EXPO Las Vegas and Healthcare Packaging EXPO was the international packaging event of 2019," says Jim Pittas, president and CEO of PMMI. "The sheer size and scope of PACK EXPO Las Vegas and Healthcare Packaging EXPO indicates that as our industry continues to prosper, it turns to PMMI shows for the solutions and tools to improve business."
As in years past, the editors at PMMI Media Group fanned out across the aisles of the show looking for innovations. We then unpacked our notebooks, emptied our tape recorders, and uploaded our photos and videos so that we could bring you this PACK EXPO Las Vegas 2019 Innovations Report. Considering the size and breadth of the show, we've no doubt missed a number of things, and for this we apologize. If there's something you saw that is not covered in the pages that follow, please let us know.
---
Automation and Controls
Two PACK EXPO Las Vegas exhibitors a few aisles apart in the Lower South Hall featured analytics platforms that provide better real-time visibility into the manufacturing process.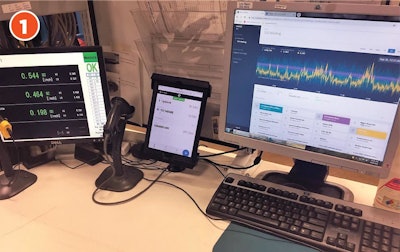 From Oden Technologies comes The Oden Platform (1). It's a comprehensive Industrial Internet of Things (IIoT) analytics platform that provides employees at each level of a manufacturing plant with clear visibility into multiple data sets pertaining to the manufacturing process. Oden helps manufacturers monitor their production process and improve operational efficiency in real time by diagnosing problems that otherwise would have been missed. Oden helps users track performance metrics of multiple assets and accurately predicts downtime based on historical data. In addition, by utilizing the platform, manufacturers can reduce bottlenecks.
This platform is designed to help manufacturing units attain the best performance out of their manufacturing assets and leverage artificial intelligence (AI) and machine learning algorithms to empower prescriptive analytics. This allows employees on the floor to diagnose and mitigate issues as soon as they arise or offer alerts to avoid issues.
Notably, The Oden Platform is designed to integrate seamlessly into both modern and legacy production equipment. In addition, most analytics solutions face issues in retrieving data from legacy devices, which creates visibility gaps. The Oden Platform addresses this issue because the firm's principals have developed a knowledge base of expected device behaviors based on its deployments across a wide range of environments.
The ability of The Oden Platform to serve everyone in the manufacturing enterprise, including machine operators as well as line managers, allows customers to carry out connected deployments on a holistic level. In addition, employees with limited data science knowledge can leverage the solution, helping customers to include more employees in their digitization efforts while maintaining a shorter learning curve.
One more note on a specific component in The Oden Platform, is an AI-powered recommendation engine called Golden Run that uses data to find the optimal conditions for production. As the Golden Run looks at how a manufacturer previously made a product, it identifies the best sections of each run and uses those insights to create perfect run settings. With the Golden Run, there is no need for human analysis or input—the calculation is all done through the algorithm.
For example, if an operator ran a stable production for two days and the process ran at optimum efficiency for just 15 minutes, the Golden Run engine would define the perimeters of that time. Using these new settings, operators could replicate the same optimal conditions for the full duration of their next run.
More machine analytics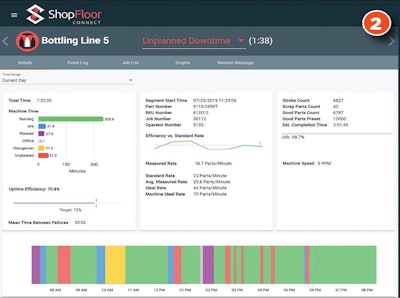 Other exhibitors were keenly interested in offering analytics that pave the way to predictive maintenance. Among them was Wintriss Controls, which demonstrated its new ShopFloorConnect Version 6.0 (2) at PACK EXPO. ShopFloorConnect OEE and Shop Floor Data Collection Software collects downtime and production efficiency data from every machine in the manufacturing operation, displays it in real-time, and produces indispensable manufacturing reports, including detailed overall equipment effectiveness (OEE) reports in a variety of formats. The software can significantly increase manufacturing capacity and profitability by identifying and quantifying excessive production losses and bottlenecks.
For even better production analysis, users can now improve the OEE of their machines by tracking the reasons for scrap. Version 6.0 also allows users to manually enter good and bad part count data, vital for OEE calculation, when machines with batch processes make it impossible or impractical to automatically count the parts as they are being produced. And to better serve customers in North America and across the globe, this latest program version can handle multiple languages and time zones.
Also highlighting analytics was Schneider Electric, which featured its EcoStruxure Augmented Operator Advisor (AOA). An IIoT solution for machine and/or line-based maintenance solutions, it makes real-time information available whenever and wherever it is needed. The custom application improves operational efficiency with augmented reality, enabling operators to superimpose the current data and virtual objects onto a cabinet, machine, or plant. New at PACK EXPO was news that AOA has been expanded so that OEMs can now see considerably more content, such as more videos or more pages on how to set up their machines or conduct a changeover.
Also new at the Schneider booth was an IIoT product called EcoStruxure Machine Advisor, a cloud-based services platform for machine builders that makes it possible to track machines in operation worldwide, monitor performance data, and fix exceptional events, while reducing support costs by up to 50%. It lets the OEM create a machine profile online and store into that file documentation as well as additional analytics that gauge the health of the machine. "We can monitor up to 10 variables that are used to define the mathematical model of the application and what is considered its 'normal' behavior," said John Partin, packaging BDM at Schneider. "Then the cloud-based AI will be able to identify anomalies and inform the appropriate people of any deterioration in the machine's performance."
Adding artificial intelligence to control logic
What if a robot could automatically adjust its grip based on the size and shape of the object? In other words, a robot that could fine-tune how it is holding an object so as not to drop it, much in the same way humans do. According to Siemens, it's quite possible, and it all comes down to AI based on neural networks. Neural networking is a technology that mimics the human brain in that it is able to recognize complex patterns. With that in mind, Siemens says that by adding AI via neural networks to traditional control programs that were designed to execute a set task, the capabilities of the system can be extended to change based on the parameters of the product or process. Bottom line: Machines become naturally flexible.
In 2018, at the SPS/IPC/Drives show in Nuremberg, Germany, Siemens announced a module that will integrate AI capabilities into the company's Simatic S7-1500 controller and the company's ET 200MP I/O system. This past year at PACK EXPO Las Vegas, Siemens introduced the offering in the U.S., setting the foundation for a future portfolio that will enable AI across all levels of Siemens' Totally Integrated Automation (TIA) architecture, which is a combination of hardware and software that links everything together seamlessly. The goal with TIA is to apply AI within applications ranging from Siemens' MindSphere, a cloud-based Internet of Things (IoT) operating platform, out to the industrial edge and even to the controller and field devices.
"With artificial intelligence, we are able to train, recognize, and adjust to allow more flexible machinery," said Colm Gavin, factory automation digitalization specialist at Siemens during a press conference at PACK EXPO (3). "Because, do we want 10 machines to package 10 different types of products, or a tool that accommodates different packages and different sizes and automatically adjusts to the new format?"
In packaging, for example, bottles are coming down a conveyor belt quickly. If the system is trained for pass/fail, the moment something goes out of tolerance, it will fail. But by using AI to train neural networks to recognize a billion pictures of every possible combination, a vision system will be able to figure out the rules on its own.
Applications in the areas of robotics, quality assurance, and condition monitoring are especially suitable for the TM NPU module. But applications are limited only by the user's imagination. At PACK EXPO, Siemens demonstrated a robot with "flexible grasping" using AI, which looks at a shape and calculates the optimal point, then the gripper can pick it up (see video at pwgo.to/5364). Once it understands the best grasping point, the AI tells it where to go. "You don't need to program the robot as AI makes it possible to grasp arbitrarily shaped and positioned objects," Gavin said, adding that the ability to mimic the human hand in manufacturing has the potential to be a very big business.
Predictive maintenance
During PACK EXPO, Mitsubishi Electric debuted its Melservo-J5 total drive solution. The version of the system that will debut in the Americas will have added features and functions that consumer packaged goods (CPG) companies and machine builders in this region have requested, such as predictive maintenance capabilities.
"After the machine has been used for two or three years, it starts to get fatigued," said Sloan Zupan, Mistubishi Electric's senior marketing manager. "Through our motors, we are measuring the conveyor belts and how much tension is in the machine. Through predictive maintenance algorithms built into this motor, we make changes through the motor to compensate for the wear and tear and we notify the control system that we made that change and to the maintenance engineering staff."
The system also has Time-Sensitive Networking (TSN) capabilities built into it, which according to Mitsubishi, is first of its kind for servomotors.
Emerson Automation Solutions has been working with Busse/SJI, an OEM of palletizing equipment, to test out new predictive maintenance technology, which it showcased at PACK EXPO Las Vegas.
Specifically, the Emerson technology is able to monitor pneumatics and vibration to predict the health of the system, alerting operators when there is an issue, as well as providing direction on how to resolve it.
"This is very important for the next generation of workers as they may not be as used to the equipment as the seasoned operators are," said Marcus Parsons, Emerson's director for food and beverage. "It lets them know right away if there's a problem that needs to be solved."
In a demonstration (see video: https://bit.ly/2Rw6kQz), Emerson provided an overview of a Busse/SJI machine, indicating the location of wireless sensors that are used to monitor the overall health of all the assets inside of the machine.
The goal of the predictive maintenance application is to improve the machine throughput. A dashboard provides detailed information to the operator, from the main control area to all of the components, each labeled with independent viewpoints to that part of the machine. If there's an issue, an operator can go to the specific area to attack the problem.
For example, on a gauge, the system will provide a status—green, yellow, or red. If the status changes from green to yellow, an operator can click on the information in the dashboard to drill down into specifications, and if there's an immediate component replacement need, they can see the number of days to delivery and the price on the component, a feature that allows the application to tie into the enterprise resource planning system. There is also a historian that keeps track of how the system is running on an hourly basis, looking for any changes over time to provide information that helps operators decide if they need to correct something before it goes out of control, or if the overall health status is good.
According to Emerson, the work with Busse proves to its customer base that Emerson has a simple system—basically based on three sensors—that can pick up more than 100 points of information from a very large machine.
Introducing MaaS
Pearson Packaging Systems announced a new purchasing method, known as machine as a service (MaaS) that will allow manufacturers to use Pearson case erectors, sealers, and compact palletizers as part of their operation, but without the upfront equipment investment. Instead, Pearson retains ownership of the machines, while customers pay for output.
Senske says MaaS is an ideal option for companies who prefer to pay for automation incrementally, or who have an immediate need for end-of-line machinery, but don't have approved funding.
Pearson will ship MaaS equipment to customer facilities, offer installation and start-up support, and train operation and maintenance personnel as part of the package. Machine users pay an established price per case, with the option to purchase the machines outright at any point during the contract term.
MaaS users can access data beyond basic case counts, including information relating to fault types and counts, and uptime and downtime durations. This data is useful in identifying month-over-month trends, proactively spotting potential issues before unexpected downtime occurs, or highlighting the need for additional operator training. In addition, troubleshooting efforts will be facilitated and response times can be executed more swiftly with MaaS as automatic notifications are sent to Pearson's service department, alerting them when excess faults, network outages, or other performance issues occur.
Integrated image processing
PC-based control specialist Beckhoff has expanded its established, highly successful TwinCAT product range to include TwinCAT Vision, an
integrated image-processing solution (4).
TwinCAT Vision follows the Beckhoff philosophy of open control technology. First, it is hardware-neutral: TwinCAT Vision works both with line-scan and area-scan cameras with GigE Vision Interface. (GigE Vision is an interface standard introduced in 2006 for high-performance industrial cameras. It provides a framework for transmitting high-speed video and related control data over Ethernet networks.) Second, TwinCAT Vision supports software extensions, allowing users to access raw camera data and incorporate their own image processing algorithms easily.
Because TwinCAT Vision is integrated into the TwinCAT control platform, it can connect directly to TwinCAT IoT and TwinCAT Analytics. This ensures easy communication with the cloud, enables access to cloud-based services, and streamlines Industry 4.0 applications.
Integrating the programmable logic controller (PLC), motion control, robotics, high-end measurement technology, and machine vision capabilities on a single platform enables superior real-time application performance and significant gains in machine efficiency. It also avoids unnecessary delays in motion and robotics.
TwinCAT Vision is directly integrated into the TwinCAT Engineering environment. Cameras can be added and configured easily under the new Vision node, and they can be calibrated there as well. It is also possible to capture a camera image stream and to feed in the recording instead of live camera images. Alternatively, images in a range of formats can be loaded. This means that, even without camera access, users can still develop and implement image processing procedures.
Also pushing the boundaries in the area of remote diagnostics and machine monitoring is Nordson, which used PACK EXPO Las Vegas as an opportunity to incroduce its ProBlue Flex hot glue melter with BBconn controls. The ProBlue Flex incorporates intelligent technology that the company says enables ultra-precise dispensing accuracy. It is complemented by Nordson's new BBconn controls, which allows for remote operation, more visibility, real-time oversight, and the data and analytics needed for continuous improvement.
"With ProBlue Flex, we're introducing our first product with the BBconn controls platform, which is built from the ground up for connectivity, so you can operate it many different ways, from a PLC, from a phone, or from a remote touchscreen. It provides a lot of flexibility in terms of how to operate and monitor the system," said Scott Means, product line manager for adhesive dispensing systems, Nordson.
In addition, the company introduced the BBconn cloud connectivity, which allows brand owners to register their equipment, program it, and set it up, while Nordson can remotely monitor the equipment and the event history of the entire system.
Robotics boom
The use of robots in packaging grew nearly 48% among food and CPG companies from 2017 to 2018. The latest PACK EXPO Las Vegas and Healthcare Packaging EXPO found a great way to showcase robots in action for a worthy cause. PACK for a Purpose: Robots Fighting Hunger featured exhibitor-supplied robots picking and packing food for children in the Robotics Zone in the North Hall of the Las Vegas Convention Center.
The collaboration between show producer PMMI, The Association for Packaging and Processing Technologies, and Blessings in a Backpack successfully filled more than 6,000 bags of kid-friendly, nutritious food for children facing food insecurity.
Robot suppliers were tasked with picking six different food items (5) randomly oriented on a moving conveyor, then placing each of those items into the same pouch. With items ranging widely from packs of Craisins to cans of ravioli, it was an opportunity to show how robotics technology is able to address the ever-increasing need for flexibility to meet consumer demand.
"Random picking is quickly becoming one of the most sought-after automation tasks from industries such as e-commerce, fulfillment centers, and warehousing," said Stuart Shepherd, regional sales director for Universal Robots' Americas division.
For its part in the Blessings in a Backpack project, Universal Robots teamed up with machine builder and system integrator Allied Technology to demonstrate how UR collaborative robots (cobots) can be quickly deployed in a compact, modular system—including vision-guided conveyor tracking, robotic pick and place, bag dispensing, bag loading and unloading, bag sealing, case erecting, case loading, and robotic palletizing.
"We want to show how simple it can be to not only deploy cobots at different stages, but also show how multiple robots can seamlessly work together to complete an entire end-of-line packaging process," said Matt Halley, general manager at Allied Technology.
The line featured four UR e-Series cobots equipped with products from its UR+ platform, which certifies grippers, vision cameras, software, and other peripherals to work seamlessly with UR's cobot arms. Piab's new Kenos KCS vacuum gripper was showcased on a UR5e guided by a vision camera from UR+ partner Cognex.
The six different food items were fed onto a conveyor and through the vision enclosure equipped with an infrared camera. The camera detected the product's location on the belt, while an encoder tracked the conveyor's belt speed and product position. A UR5e cobot received the encoder signal and camera information, using it to pick the product off the conveyor and place it into a bag at the bag-loading station.
Once a bag had two breakfast items, two dinner items, and two snacks, a second UR5e would remove it from the bag holder and seal the bag.
A third robot, this time a UR10e, would pick a tote from a stack and erect it using a mechanical end-of-arm tool. The UR10e then picked a filled, sealed bag from the holding pedestal and placed it into the empty tote.
After the tote was filled, it would travel down the roller conveyor to the palletizer. Equipped with another UR10e, Allied Technology's Robotic Palletizer picked filled totes from the conveyor and placed them onto a pallet.
Skid-based palletizer uses smart software
From Quest, a ProMach company, the Boxed Bot Series palletizer is available as a modular or skid-based solution with additional options available to produce countless application possibilities. Modular engineering allows for quality control and complete flexibility in machine design. No costly customization is required. The space-saving skid-based robotic palletizer features a footprint starting at just 8 ft x 10 ft. Boxed Bot palletizers feature a long-reach robot that provides higher stack patterns, which better maximize tractor-trailer loading for more efficient shipping.
"One of the major features of the Boxed Bot is the amount of intelligence on it," said Don Wickstrom of Quest. "Our Q-Box software for pallet pattern editing is unique in the world because it's fully intuitive, fully customizable, and has click, drag, and drop capabilities when building a pallet pattern. Changing box sizes is easy with a box-data on the bottom of the interface. The software restructures the pallet pattern based on new box sizes, in order to get the most efficient and effective pattern that optimizes product density on the pallet. And any configuration you can build, you can then save, so you can build recipes off of it as well."
On the palletizer, a FANUC robot (the demo was running 60-lb boxes, but the system can handle up to 400-lb box applications) picks product from the infeed and places it on the pallet. What's unique about the system is what Quest calls its under-over system, where empty pallets are fed on a floor-level plane toward the picking station. Once aligned with the picking station, they are lifted to a roughly waist-level plane, where the picking and loading occurs. As the now waist-level pallet is loaded, another empty pallet is moved on the floor-level plane underneath to replace it. The fully loaded pallet is then conveyed back out of the picking station, parallel to and above the infeed of empty pallets. "That allows continuous operation of the system, increasing productivity and increasing utilization of the robot," Wickstrom said.
Robotics: film sealing, case closing, cartoning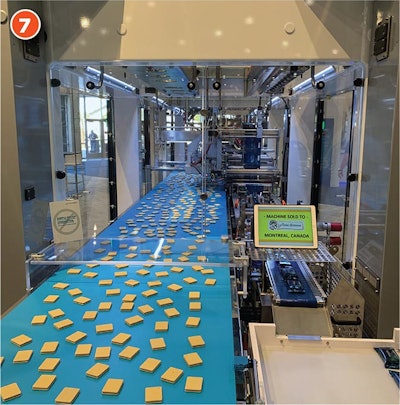 Schubert demonstrated its lightline Flowpacker, combining a Pickerline and a Flowmodul flow wrapper with pick-and-place robotics (7). Aimed at the baking and snack industry, the machine features Schubert's patented sealing technology for packaging heat-sensitive products gently into flowpacks.
According to Julian Conway, sales account manager, Schubert North America, the lightline Flowpacker on display at PACK EXPO was a commercialized machine designed for a family-run baked goods manufacturer in Canada. The machine efficiently automates the bakery's end-of-line process, packaging freshly baked croissants and Danish pastries into flowpacks. During the show, the machine ran a demo that packaged chocolate biscuits in a two-by-two formation into flowpacks.
This Flowmodul was equipped with Schubert's latest patented sealing technology. To seal heat-sensitive products like the croissants and Danish in this application, first an ultrasonic sealing system must close the flowpack's longitudinal seam. Then, a heat-sealing system with a flying cross-sealing unit is used. The flying cross-sealing unit adapts to the variable speeds of the upstream pick-and-place robots and, therefore, ensures high sealing quality with constant sealing times.
"Unique features of this machine include an ultrasonic fin seal along with a walking-beam end seal that allows film speed to be seamless when ramping up and ramping down, without affecting seal quality," Conway said.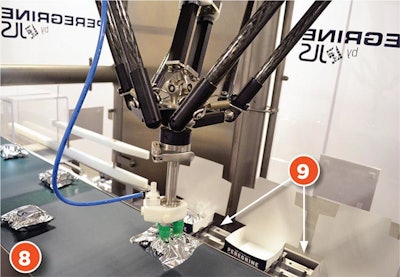 As for robotics and cartoning, a sophisticated example of it was on display at the booth of JLS Automation, where President Craig Souser unveiled the Peregrine cartoning system (8). Notably, it uses ACOPOStrak (9), the new linear track technology from B&R, as a lynchpin component of a high-speed, highly flexible system. According to the company, it might be the world's most flexible cartoner, yet it remains a high-speed device.
"With the track system, we have the ability to actually change the carton size on the fly," Souser said. "Conceptually, we could do two different carton formats at the same time, thereby doing two different SKUs on the same machine at the same time, continuously. In addition to that, the carton management system that the track allows us to use is very positive in nature and maintains very good control of the carton the entire way through the delta robot loading system, so we don't have all the complex conveyor systems and algorithms for control. We just simply do it with the track and the capabilities that it brings."
By using the track alone to accomplish this, JLS is able to shrink the overall footprint of the machine and reduces the need for buffering or accumulation.
For a video demonstrating the Peregrine system in action, visit pwgo.to/5376.
Mobile and collaborative robots
If there's one theme that appears almost everywhere you go, it's the need for flexibility. Much of the flexibility demonstrated at the latest PACK EXPO Las Vegas came in the form of robotics, especially autonomous mobile robots (AMRs) and collaborative robots (cobots). Although cobots make up a very small percentage of the robotics market today, they're expected to account for more than a third of robot sales by 2025.
Fanuc showed its new CR-15 cobot performing a logistics order fulfillment application, with the ability to pick up random items from a bin. The company's new 3DV/600 area scanner enables the cobot to find objects in three dimensions, pick them from the totes, and place them somewhere else, said Wes Garrett, account manager for Fanuc. With two speeds, the robot can operate as fast as 1,500 mm/s, but will slow down to 800 mm/s if a human worker is nearby.
A robot doesn't have to actually be a cobot to be collaborative. ABB Robotics showed how its standard IRB 460 palletizing robot could incorporate SafeMove2 to make it a collaborative operation, enabling occasional interaction between robot and humans. As part of the demonstration, a camera system developed as a result of ABB's acquisition of Spanish startup NUB3D provided information for the robot to create a more flexible environment.
"What we have is a system where the robot receives information from the cameras as to the next box to be palletized," said Alan Spreckley, global industry segment manager for food and beverage at ABB Robotics. "The real value here is that we can now depalletize mixed pallets of products, which is particularly useful in e-commerce and warehouse distribution environments."
In another palletizing example, Columbia/Okura partnered with Universal Robots (UR) to develop miniPAL, a mobile collaborative system that can address a range of applications in machine tending, palletizing, and packaging. The mobile setup makes it easy to move and redeploy the cobot to new processes.
In separate show news, UR upped the flexibility of its cobot lineup by adding a model that can lift up to 16 kg. The higher payload of the UR16e was developed after talking with OEMs and end users to better understand their needs—rather than the company's typical push of product into the market, noted Jürgen von Hollen, UR's president.
---
Machinery

As in years past, Claranor used PACK EXPO Las Vegas as an opportunity to show its pulsed light decontamination technology. A recent application of the technology comes out of Israel's Tnuva, a subsidiary of Shanghai-based Bright Food. It's notable because it represents the first application of Claranor pulsed light technology on a flexible film package. Previous applications have involved preformed cups, cups produced on thermoform/fill/seal lines, and caps. But the Tnuva package (1) is a three-side-sealed stickpack tube of Yoplait brand yogurt produced by Tnuva on an Alfa intermittent-motion ESL machine from Universal Pack, which also exhibited at PACK EXPO Las Vegas. The 60-g packs have a refrigerated shelf life of 30 days.
The Claranor flexible packaging decontamination unit integrated into the Alfa machine makes it possible to reach log 4 decontamination of aspergillus brasiliensis, a fungus that causes a disease called "black mold" on food. According to Universal Pack's Pietro Donati, this is the first time his firm has installed a machine that uses pulsed light for decontamination. Why opt for this technology over those used more typically like peracetic acid or hydrogen peroxide or UV-C (ultraviolet light irradiation)? "It's more effective in bacteria kill than UV-C, and its total cost of ownership (TCO) is more attractive. Plus it's nice not to have to worry about a residual chemical being left on the packaging material," said Donati. "Of course, there are limitations in log reduction you can achieve, and limitations in speeds, too. In this case, where a log 4 reduction is sufficient and speeds are in the moderate to low range and refrigerated shelf life is 30 days, pulsed light is perfectly suitable."
Claranor's Christophe Riedel said that two key benefits that draw food companies to pulsed light over UV-C are TCO and more efficient elimination of micro-organisms that cause spoilage. He says food companies also prefer it to hydrogen peroxide and peracetic acid because it's chemical-free. Studies done by Claranor, added Riedel, show that TCO for pulsed light is considerably less than either UV-C or chemical decontamination. Pulsed light is particularly advantageous where energy consumption is concerned, noted Riedel. He said it also has the lowest carbon dioxide emissions among the decontamination technologies available today—an increasingly important consideration, especially in Europe.
Also highlighting sterilization technology at PACK EXPO Las Vegas was Serac and its new BluStream technology, a low-energy e-beam treatment that can be administered at room temperature. It's capable of ensuring a 6 log bacteriological reduction in one second without any use of chemicals. The BluStream technology can be applied on any kind of HDPE, LDPE, PET, PP, or aluminum cap for any bottle size. This technology is for use in high-acid products, such as fruit juices, as well as low-acid products, such as teas, UHT milks, milk-based drinks, and milk substitutes. Bluestream is intended for use on bottling lines of nonrefrigerated or refrigerated ESL beverages with shorter shelf lives. E-beam is a physical dry treatment involving a beam of electrons that is dispensed over the surface to be sterilized. The electrons quickly destroy the micro-organisms by breaking their DNA chains. Serac's BluStream uses low-energy electron beams that do not penetrate the treated material, and it will not affect the internal structure of the cap. It's a safe and environmentally friendly solution monitored in real time.
The BluStream treatment is highly efficient. It ensures a 6 log bacteriological reduction in only 0.3 to 0.5 seconds per side. It is this efficiency level that allows it to be used in aseptic packaging. BluStream does not use any chemicals and does not require high temperatures. This allows it to avoid any chemical residue and any distortion of the caps.
Bacteriological reduction is ensured as soon as the cap has been exposed to the recommended dose of electrons. This dose is administered via controllable parameters and can be monitored in real-time using a simple dosimetry test. Sterilization is confirmed in real-time, which is not possible with chemical laboratory tests. Products can be released and shipped quickly, which will reduce inventory complications.
Scalable case erector adapts from manual to auto
Wexxar Bel, a product brand of ProMach, used PACK EXPO Las Vegas to unveil its new DELTA 1H, a fully automatic case former (2) with a modular, rapid-load magazine system. The machine on the floor included not only the patented Pin & Dome system, which has been a staple of Wexxar machines for years, but also a new Auto Adjust feature that automatically performs case-size changes with the push of a button.
Designed as much for larger production operations as for smaller businesses looking for scalability as output grows, the open design of the new Modular Expandable Magazine (MXM) allows for manual case loading that can be adapted to automated loading. Streamlining the loading process with easier case loading, MXM's all new, patent-pending ergonomic-to-load design increases the available capacity of case blanks in the machine. Continuous operation and uptime is achievable by minimizing labor-intensive manipulation of cases during loading.
Also, DELTA 1's auto-adjust technology minimizes the level of operator engagement by automating many of the major adjustments on the case former, limiting human factors that affect machine setup and changeover. The updated loading features, along with the auto-adjust technology, work together in optimizing operator productivity by freeing up time spent on the machine for other areas within the plant.
"The operator doesn't need to go in and mechanically move things or interpret rules on the machine to bring it into adjustment. They pick from the menu and the DELTA 1 makes the adjustment, and it's good to go," said Sander Smith, product manager, Wexxar Bel. "What this does is make changeovers predictable and repeatable in terms of time and adjustments. It's done automatically, and in only a few minutes."
Smith said the automatic programmable capabilities of the DELTA 1 are great assets to a packaging line, especially for food manufacturers and other industries that have operators with varying levels of experience with machines. Safety also increases due to less operator interaction, Smith added.
Other features and benefits of the new DELTA 1 Fully Automatic Case Former with MXM System include dynamic flap-folding for consistent square cases, even for recycled or double-wall cases. Onboard is Wexxar's WISE smart controls system allowing for easy machine operation, troubleshooting, and maintenance. WISE is driven by maintenance-free servo for efficient and precise movements. DELTA 1 also features fully interlocked guard doors and emergency stops on both sides of the machine; flexible speed with remote demand that caters speed ranges to each case size or style; and tool-less, color-coded size changeover in minutes with user-friendly, on-machine pictorial guides. Add to that the system's corrosion-resistant, paint-free frame construction and color human-machine interface (HMI) touchscreen, and you're left with a versatile machine ready for full production off the bat, or a capable starter case erector that you can grow into, the company said.
Case packing and sealing
The LSP Series packer from Delkor loads pouches vertically for a 14-count club store format or horizontally for a four-count Cabrio retail-ready format. The system on display at PACK EXPO included three Fanuc M-10 robots, though an additional one can be added.Changeover from club store case format to Cabrio retail ready takes as little as three minutes.
Case sealing was a focus at Massman Automation Designs, LLC. Introduced at the show was its new compact, low-cost-of-operation HMT-Mini top-only case sealer. This new sealer incorporates an innovative modular construction that allows specific features of the sealer to be changed out, enabling users to meet growing production demands by replacing modules rather than by investing in a new sealer. This modularity can also facilitate future sealer design changes and is a major factor in reducing production lead times for the HMT-Mini by 50%.
The standard HMT-Mini top-seals cases using eitherglue or tape at speeds to 1,500 cases/hr. An optional, more advanced sealer incorporating extended compression can seal at rates to 3,000 cases/hr. The fully automatic sealer features robust, heavy-duty construction and speedy changeover to new case sizes, plus it's completely enclosed. The system's transparent enclosure offers increased visibility of the operation, and interlocked Lexan access doors on either side of the enclosure give greater access to the machinery without sacrificing safety.
Versatile filler
Established in 1991 in Krizevci pri Ljutomeru, Slovenia, Vipoll was purchased in January 2018 by GEA. At PACK EXPO Las Vegas 2019, GEA Vipoll showed a truly multifunctional beverage filling system. Called the GEA Visitron Filler ALL-IN-ONE, this monoblock system can fill glass or PET bottles as well as cans. The same capping turret is used for applying steel crowns or seaming on metal ends. And if PET is being filled, that capping turret is bypassed and a second one is engaged. Changeover from one container format to another takes just 20 minutes.
The obvious target for such a versatile machine is brewers, many of whom launched their business with glass bottles, but are now keenly interested in cans because consumers like them—a lot. Especially appealing to craft brewers is the small footprint of the ALL-IN-ONE, which is made possible by multifunctional elements, such as a rinser that is equipped with universal grippers, a filler that uses electro-pneumatic filling valves, and a capping turret that can accommodate crowns or seamed-on ends.
The first installation of the ALL-IN-ONE system is at Macks Olbryggeri, the fourth largest brewery in Norway. With more than 60 products, ranging from beer and cider to alcohol-free beverages and water, this traditional brewery is one of Norway's strongest brands. The ALL-IN-ONE built for Mack has a capacity of 8,000 bottles and cans/hr and will be used for filling beer, cider, and soft drinks.
Also in line for an ALL-IN-ONE installation is Moon Dog Craft Brewery, located in suburban Melbourne, Australia.
Volumetric filler/seamer takes aim at dairy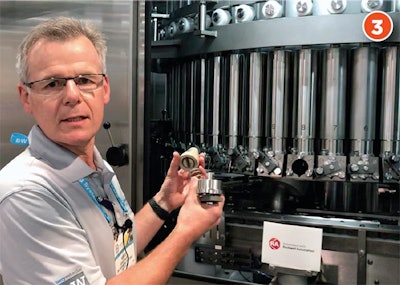 Pneumatic Scale Angelus, a BW Packaging Systems company, demonstrated a volumetric-style rotary filler (3), synchronized with a sealer, from its Hema brand. The demo was designed specifically for dairy, namely condensed and evaporated milk applications. Dairy is known for requiring extra care when it comes to food safety and quality assurance, so the system was designed with clean in place (CIP) in mind. During CIP, the machine is flushed while rotary valves remain in place. The filling pistons exit their sleeves as the flush takes place thanks to a CIP arm located on the backside of the rotary turret.
Despite operator-free CIP, each filling valve is designed for easy, tool-less operator removal for inspection purposes.
"This is important during the first months of operation, during calibration," said Herve Saliou, filler application specialist, Pneumatic Scale Angelus/BW Packaging Systems. During that period, he said, operators are easily able to conduct frequent checks of the cleanliness and tightness of the conical valve. That way, even when liquids with varying levels of viscosity, like thicker condensed versus thinner evaporated milk is running on the same machine, valve tightness is guaranteed and leakage is eliminated.
The entire system, which is mechanically synchronized to an Angelus seamer to prevent splashes regardless of liquid viscosity, is fitted to operate at speeds to 800 bottles/min.
Inspection tech figured prominently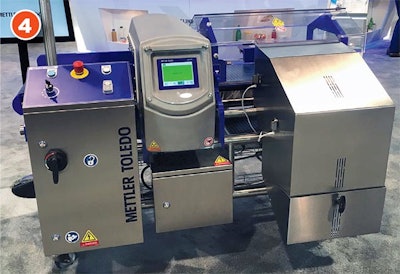 Advances in inspection technology are always on display at PACK EXPO, and Vegas 2019 had plenty up its sleeve in this machine category. The new Zalkin (product brand of ProMach) ZC-Prism closure inspection and rejection module allows for high-speed rejects of nonconforming or defective caps before they ever enter a capping system. By eliminating defective caps prior to any capping operation, you also eliminate waste of both the filled product and the container.
The system can run as quickly as 2,000 flat caps/min. The types of defects that the vision system looks for include deformed cap or liner, broken tamper bands, missing tamper bands, upside down or wrong color caps, or presence of any unwanted debris.
Metal detectors on display included the new GC Series systems from Mettler Toledo. They're scalable, modular inspection solutions with a suite of configurable options for a wide range of conveyor applications. The equipment is easy to clean and features easy-to-change flow directions. It also includes sensors on air rejects and the reject bin, redundant inspections, and a tool-less conveyor design, according to Camilo Sanchez, metal detection product manager for Mettler Toledo. "The system can be easily retrofitted on an existing machine and features a new level of sanitary design," he added.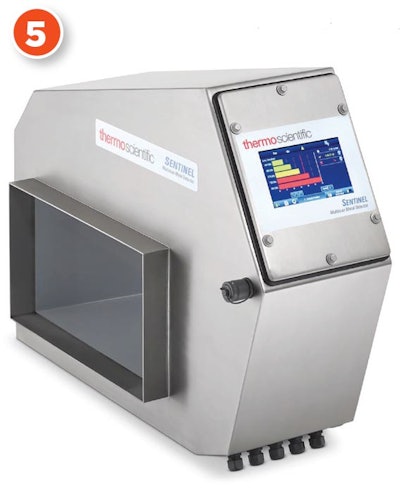 The booth also featured the Mettler Toledo V15 round line that can perform 360-deg product inspections using six smart cameras (4). Stainless-steel construction makes the system suitable for food environments. Used to check code for label mix-up prevention during product changeovers, the system can verify 1D/2D barcodes, alphanumeric text, and print quality of codes. It can also inspect end-of-line inkjet printing in order to retract misprint or products with missing information. With a small footprint, it can easily install over conveyors and interface with existing rejectors.
Also sharing news on the metal detection front was Thermo Fisher Scientific, which launched the Sentinel metal detector 3000 (5) that is now combined with the company's checkweigher line.
According to Bob Ries, lead product manager, the Sentinel 3000 was designed to save space on the plant floor and features multiscan technology that was launched in 2018 with Thermo's Sentinel 5000 product. "We've reduced the size of the metal detector so that we can mount it completely on the frame, and then integrate it with our checkweigher," explained Ries.
Multiscan technology improves the sensitivity of the metal detector, but because it's running five frequencies simultaneously, it improves the probability of detection. "It's essentially five metal detectors in a row, each operating slightly differently to find any possible contaminants," Ries added. View a video demo at pwgo.to/5384.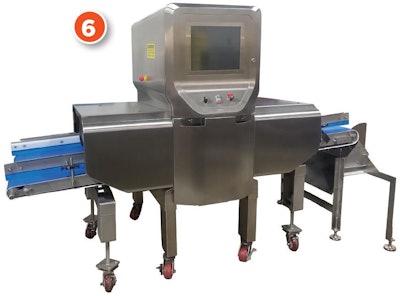 X-ray inspection continues to advance, and a good example was found at the booth of Eagle Product Inspection. The firm displayed a number of solutions, including its Tall PRO XS X-ray machine. Engineered to detect hard-to-find contaminants in tall, rigid containers, such as those made of glass, metal, and ceramic materials, the system is also suitable for use with plastic containers, cartons/boxes, and pouches. It can run at line rates over 1,000 ppm, simultaneously scanning for foreign bodies and performing inline product integrity checks, including fill level and cap or lid detection for bottles.
Peco-InspX presented X-ray inspection systems (6) incorporating HDRX imaging, which captures high-resolution images of products at normal production line speeds. HDRX imaging dramatically improves minimum detectable size and expands the range of detectable foreign material in a wide variety of applications. The new technology is available across the Peco-InspX X-ray system product line, including its side-view, topdown, and dual-energy systems.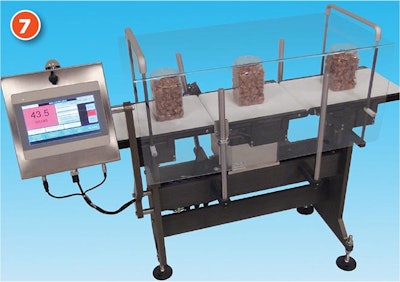 We round out our inspection section with a look at leak detection and checkweighing, the latter highlighted at the booth of Spee-Dee Packaging Machinery. Spee-Dee's Evolution Checkweigher (7) provides an easy way to integrate accurate weight measurement into an existing filling or packaging line. The standalone unit delivers accuracy, simple connectivity, and easy calibration. "The Evolution Checkweigher is unique because it utilizes an electromagnetic force restoration weigh cell, which gives you better accuracy," said Mark Navin, strategic account manager. It also uses PLC-based controls. To view a brief video on how it's calibrated, visit pwgo.to/5385.
As for leak detection, that was demonstrated by INFICON. The Contura S600 nondestructive leak detection system (8) on display at PACK EXPO Las Vegas featured an oversized test chamber. Designed to test multiple products at the same time, the system utilizes a differential pressure method to detect both gross and fine leaks. It can be used for products sold for bulk retail and foodservice applications, as well as large-format modified atmosphere packaging (MAP) and flexible packages for a variety of food applications, including pet food, meat and poultry, baked goods, snack foods, confectionery/candy, cheese, grains and cereals, prepared food, and produce.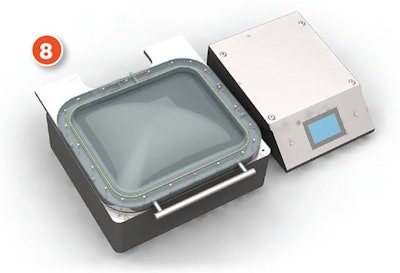 Tools for the food industry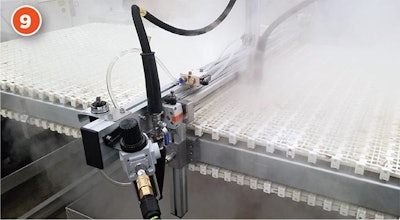 Where would food manufacturers be without the best tools for cleaning their machinery assets, the best pumps and motors for optimizing efficiency and energy savings, and newly imagined retort technology that lets a user smoothly scale up from prototype to production?
On the cleaning front, Steamericas at PACK EXPO demonstrated its Optima Steamer (9), a valuable tool in helping food processors comply with the Food Safety Modernization Act. Portable and diesel powered, the steamer produces constant wet steam that effectively cleans a variety of surfaces. It can be incorporated with a number of different tools. At PACK EXPO, a demo showed how the steamer can be connected to a pneumatically driven tool that reciprocates back and forth over a wire mesh conveyor belt. Said General Manager Yujin Anderson, "It can be adjusted in terms of width and speed of the nozzle, and steam can be easily applied to any kind of belt." For cleaning flat belts, a vacuum attachment is used to pick up any leftover moisture. Handheld, steam gun, brushes, and long lance models are available. See the Optima Steamer in action at pwgo.to/5386.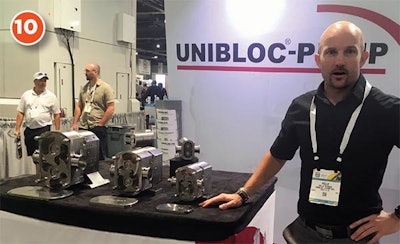 Elsewhere at PACK EXPO, Unibloc-Pump Inc. highlighted a uniquely designed line of sanitary lobe and gear pumps (10) for a wide range of applications for the food and pharmaceutical industries. The Compac pump can be vertically or horizontally mounted, eliminates pump and motor alignment issues, and includes no accessible moving parts, thus improving worker safety. According to Pelle Olsson, national sales engineer with Unibloc-Pump, the Compac series of pumps are not mounted to any base, feature instant alignment that is engineered in place, help extend the bearing life, and feature a smaller footprint when building skids.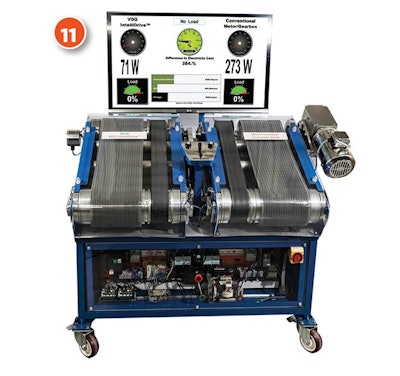 At the Van der Graaf booth, power consumption comparisons were on display. The firm presented the power consumption differences between its IntelliDrive products (11) and standard motors/gearboxes. The booth featured side-by-side displays with a 1 hp motorized head pulley drum motor using new IntelliDrive technology versus a 1 hp, standard electric motor and right-angle gearbox. Both devices were connected to loads via belts.
According to Drive Specialist Matt Lepp, both motors were loaded up to approximately 86 to 88 ft pounds of torque. "The Van der Graaf IntelliDrive uses 450 to 460 watts of electricity. The conventional motor gear box uses about 740 to 760 watts," said Lepp, resulting in approximately a 300 watt difference to do the same amount of work. "That correlates to about a 61% difference in energy costs," he said. View a video of this demo at pwgo.to/5387.
Meanwhile, Allpax, a product brand of ProMach, used PACK EXPO Las Vegas to launch the 2402 multimode retort (12) for developing new or enhanced food products and for quickly scaling up to production. It features rotary and horizontal agitation and saturated steam and water immersion modes.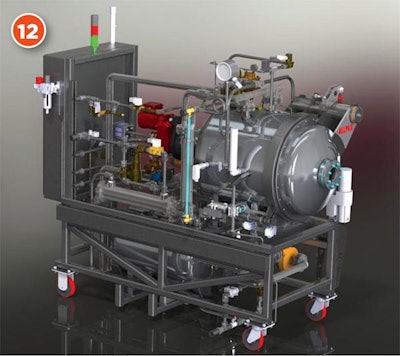 The retort also features the new pressure profiler from Allpax that delineates cook and cooling process parameters to ensure package integrity by minimizing package deformation and stress during the sterilization process.
The large number of process combinations and profiles available from the 2402 multimode retort delivers the capability to develop entirely new product categories or refresh existing products with improved quality and taste.
Following PACK EXPO, the show unit was delivered to one of Allpax's latest customers, the North Carolina (NC) Food Innovation Lab. It is a current Good Manufacturing Practices pilot plant that accelerates plant-based food research, ideation, development, and commercialization, said Dr. William Aimutis, executive director of the NC Food Innovation Lab. "The 2402 is one tool that allows this facility to offer a variety of capabilities and flexibility." Changeover between modes is accomplished via software and/or hardware. The 2402 processes all types of packaging, including metal or plastic cans; glass or plastic bottles; glass jars; plastic or plastic cups, trays, or bowls; fiberboard containers; plastic or foil laminated pouches, etc.
Each 2402 is equipped with the production version of Allpax control software, which is FDA 21 CFR Part 11 compliant for recipe editing, batch logs, and security functions. Using the same control solution for lab and production units ensures internal production operations and co-packers can accurately replicate process parameters.
Fascinating flow wrappers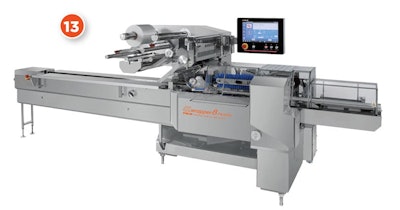 The Alpha 8 horizontal wrapper (13) from Formost Fuji was designed to meet sanitary requirements. With easy removal of the fin seal and end seal units, the wrapper is wide open for a full visual inspection, thorough cleaning, and maintenance. The power cords simply disconnect and are provided with waterproof endcaps for protection during cleaning. Rolling stands are provided for the fin seal and end seal units during the removal and sanitation process.
According to the company, the Fuji Vision System (FVS) incorporated in the wrapper has been improved, featuring an auto-teaching feature that includes auto detection of film registration, allowing for easier setup and product change. Other notable developments with the Alpha 8 wrapper include a shorter film route for reduced film waste during setup and stainless steel film rollers for increased hygiene. Watch a video of the Alpha 8 at pwgo.to/5388.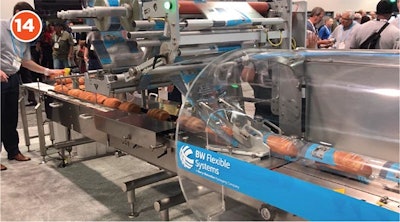 Another OEM that highlighted flow wrapping was BW Flexible Systems' Rose Forgrove. Its Integra system (14), a horizontal flow wrapper available in top- or bottom-reel models, has a hygienic and easy-to-clean design that's versatile enough for a range of applications. This machine is suitable for wrapping a wide variety of food and nonfood products, both in MAP and standard environment, granting a hermetic seal using barrier, laminated, and virtually all heat-sealable types of films. According to the company, the Rose Forgrove Integra distinguishes itself through innovative engineering that focuses on delivering exceptional performance in challenging environments. A PLC-controlled horizontal form/fill/seal machine, it has five independent motors.
The top-reel version was the demo at PACK EXPO Las Vegas, where the machine was running baguettes. It featured a servo three-axis multibelt or smart-belt feeder for accurate product spacing. This infeed system is compatible with upstream operations, cooling, accumulation, and de-panning in this instance. The machine is able to stop and start based on product availability, thereby preventing empty bag waste when there's a gap between product coming into the machine from the infeed. The flow wrapper is fitted with a twin-reel autosplice for splicing two reels together on the fly, preventing downtime when changing flow wrapper rollstock. The machine also features a twin-tape infeed, which connects easily to third-party infeeds (or BW Flexible Systems' smart-belt feeder as demonstrated). A long-dwell head system on the cross-sealing jaws is useful for MAP packaging or requirements for airtight packaging, because it prevents oxygen from re-entering the bag after it has been flushed with modified atmosphere gases.
A third exhibitor that highlighted flow wrapping was Bosch Packaging Technology, which showcased one version of its highly efficient seamless bar packaging systems. The exhibit consisted of a high-performance, indirect distribution station, a paperboard inlay feeding unit, a high-speed Sigpack HRM flow wrapping machine, and a flexible Sigpack TTM1 topload cartoner.
Ultrasonic sealing and big-bag filling
Ultrasonic sealing technology is what Herrmann Ultrasonics is all about, and at PACK EXPO Las Vegas 2019 two areas the firm highlighted were the sealing of coffee capsules and longitudinal seals on bags and pouches.
Packaging ground coffee in capsules includes a number of production steps that make ultrasonic sealing technology an attractive choice, says Herrmann Ultrasonics. First, the sealing tools do not heat up, making ultrasonic technology gentle on the packaging material and easy on the product itself. Second, foil can be cut out and ultrasonically sealed onto coffee capsules in a single step at one workstation with the combination of ultrasonic sealing and a cutting unit for capsule lids. The single-step process reduces the overall footprint of the machinery.
Even if there is residual coffee in the sealing area, the ultrasonic technology still produces a tight and firm seal. The coffee is driven out of the sealing area before actual sealing occurs by mechanical ultrasonic vibrations. The whole process is accomplished in an average of 200 milliseconds, enabling an output of up to 1500 capsules/min.
Shelf life-extending MAP system
The Nalbach SLX is a MAP system that was demonstrated at PACK EXPO Las Vegas. Suitable for integration into, for example, a rotary auger filler, it efficiently flushes packages with an inert gas, such as nitrogen, to displace the oxygen within the package. This process gives products such as coffee a much longer shelf life, retaining their distinctive aromas and flavors. The SLX is capable of reducing the residual oxygen level to as low as less than 1%, depending on the application.
The machine incorporates a rail system designed with sanitation in mind. This system eliminates bacteria-harboring screens within the gas flow system, and the rails themselves can be easily disassembled, then reassembled, for thorough cleaning. The system also was designed with fewer parts than other models and uses no consumables, eliminating the cost and time associated with routine wearpart replacement.
A unique Cooled Gases system reduces the temperature of the gas used to flush a package. It's a highly efficient system that cools the gas immediately before it enters the container and requires no additional energy in the cooling process. The colder gases tend to remain in the package and don't dissipate into the surrounding atmosphere, thereby reducing the amount of gas required.
The Nalbach SLX is efficient in its use of purging gases with the SLX Crossflow Purge Chamber used to purge the product on the fly as it enters the filling system. The Crossflow Purge Chamber eliminates the need to pre-purge the product as well as the surge/feed hopper prior to entering the filler. For video of this technology, go to pwgo.to/5389.
Vf/f/s machines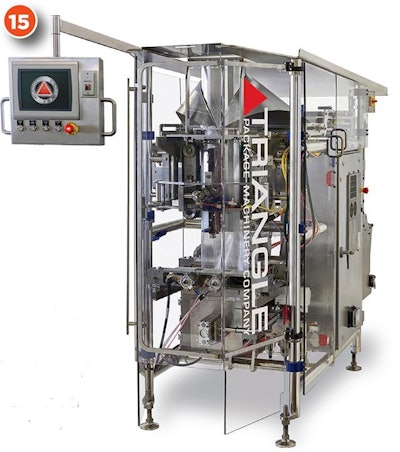 Based on its X-Series baggers, Triangle Package Machinery's new Model CSB sanitary vf/f/s bagging machine (15) for 13-in. bags, debuting at PACK EXPO Las Vegas, features a control box, film cage, and machine frame modified to fit into a narrow frame width of only 36 in.
When Triangle's produce customers asked for a smaller bagging machine that could fit inside a narrow footprint and run bags up to 13 in. wide, while still offering the durability, flexibility, and superior sanitation features that Triangle baggers are known for, they got a two-word response: challenge accepted.
The R&D team at Triangle Package Machinery Co. took proven elements from the existing X-Series vf/f/s baggers and designed the new Compact Sanitary Bagger, Model CSB. Components such as the control box, film cage, and machine frame were modified to fit into a narrow frame width of only 36 in. To achieve maximum benefits, two Compact Baggers can be installed side by side (as a twin on 35-in. centers), sharing the same scale for filling the bags.
Model CSB packs a lot of benefits in a very small space. Designed with the fresh-cut produce market in mind, but suitable for a variety of applications, the vf/f/s bagging machine includes a film cage designed to be as narrow as practical yet can accommodate the 27.5-in. film roll needed to make 13-in. wide bags.
Model CSB can run speeds of more than 70 bags/min, depending on bag length. When set up this way, two Compact Baggers can fit on one salad line, 35 in. on center, to produce more than 120 retail packages of leafy greens/min. This also provides the flexibility to run varying film structures or film rolls, or to perform routine maintenance on one machine without disrupting production on the second machine. Even in a side-by-side configuration, the bagger's small footprint is very similar in size to that of typical single-tube baggers. This allows customers to achieve significantly more production within the same footprint.
Also highlighting vf/f/s equipment at the show was Rovema. Its Model BVC 145 TwinTube continuous-motion machine features a pneumatic film spindle with servomotor pre-film unwinding. Film packaging materials are introduced from a single spindle with an internal splice into two films nearer the dual mandrel formers. The system includes metal detection built-in and tool-less changeover on the machine's forming sets.
The all-around high speed is capable of 500 bags/min, with 250 bags per side on the twin bagging system. The machine is designed for efficient packaging of bulk products
"One of the coolest features of this machine isn't just the speed, it's the ease of maintenance," said Mark Whitmore, sales support coordinator, Rovema North America. "The entire electrical cabinet body is on rails and hinged, so it can be easily removed for maintenance access inside the machine."
Coding and labeling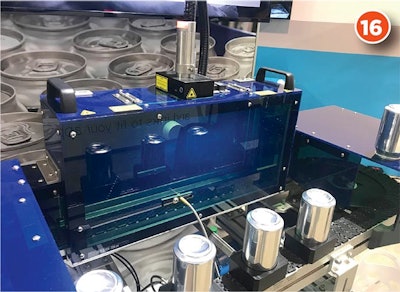 The Videojet 7340 and 7440 fiber laser marking systems (16) feature the smallest marking head on the market today for easy integration into the packaging line. It's possible to mark up to 2,000 characters/sec. And this water-and dust-tight IP69 laser marking head means worry-free usage in washdown and harsh environments.
In addition to lasers, Videojet also features a full range of packaging solutions from the Videojet coding and marking line, including the Videojet 1860 and 1580 continuous inkjet (CIJ) printers, the new Videojet 6530 107-mm and 6330 32-mm airless thermal transfer over printers (TTO), thermal inkjet (TIJ) printers, case coding/labeling printers, and IIoT-enabled VideojetConnect solutions that leverage advanced analytics and remote connectivity.
On the labeling front, two ProMach brands, ID Technology and PE Labellers, both showed advancements at the PACK EXPO show. ID Technology introduced its CrossMerge label applicator module for print-and-apply labeling. Suitable for high-volume secondary packaging lines, the patent-pending new CrossMerge technology increases label output at the same time it simplifies mechanics and improves print quality and barcode readability.
"CrossMerge is a unique new concept for labeling secondary packages with GS1-compliant barcodes at very high speeds," said Mark Bowden, regional sales manager at ID Technology. "Like other label applicator modules in our PowerMerge family, CrossMerge decouples print speed from line speed to simultaneously increase output and improve print quality compared to traditional tamp or feed-on-demand print-and-apply labelers. Now, with CrossMerge, we've rotated the print head to change the orientation of printing. It has all of the advantages of PowerMerge and takes it further, with even higher throughput and print quality for select applications."
Using a vacuum belt to transfer labels from the print engine to the point of application, PowerMerge allows multiple labels to be on the vacuum belt at the same time and enables the system to start printing the label for the next product without delay. CrossMerge reaches up to 6 in. over the conveyor to gently apply the labels without skewing or creasing. The all-electric design features a fan-based vacuum generator—it requires no factory air.
Compared to traditional print-and-apply labeling systems, PowerMerge increases packaging line throughput while decreasing print speed. Lower print speeds result in higher print quality, including sharper images and more readable barcodes, as well as longer print head life and less print engine maintenance to reduce the TCO.
The CrossMerge label applicator module can be combined with a thermal-transfer or direct-transfer print engine to print linear and data matrix barcodes, including serialized barcodes, and variable information text to "bright stock" or pre-printed pressure sensitive labels. It can be equipped to apply side labels to cases, trays, shrink-wrapped bundles, and other secondary packages. An optional "zero downtime" configuration speeds changeover.
PE Labellers debuted an upgraded Modular Plus SL labeler that for the first time in the U.S. features controls from B&R Industrial Automation. With all major controls components from B&R—HMI, servo drives, servomotors, controller—it's easier to get data from one component to another.
"We wanted to program this machine to eliminate as much operator error as possible with all the servo drives and the programmable stations," said Ryan Cooper, vice president of sales at ProMach. When the operator is at the HMI, he or she can select the changeover format, and everything automatically switches over, eliminating the amount of times that an operator has to touch the machine. The machine displayed on the show floor, which had 20 bottle plates, labels up to 465 bottles/min. Other available models can label more than 800 bottles/min.
Also included is a new camera orientation system that can orient bottles prior to labeling at a rate of 50,000 bottles/hr. The camera inspection system ensures correct label placement and label SKU to produce a correct bottle every time.
The labeling machine has high-speed pressure-sensitive labeling stations, which allows it to dispense labels up to 140 meters/min. "We use an accumulation box, which controls the tension of the label web as we dispense the label on to the containers. This results in better precision," said Cooper. Even with all these new enhancements, the machine fits into a smaller footprint.
Flexible chain conveyors
The ability for conveyors to make tight turns in and around existing equipment is paramount as floor space continues to shrink in manufacturing and packaging facilities. Dorner's answer to this demand is its new FlexMove conveyor platform, which was showcased at PACK EXPO.
Dorner's FlexMove flexible chain conveyors are designed for effective horizontal and vertical product movement capabilities when floor space is limited.
FlexMove conveyors allow for horizontal turns and elevation changes on a continuous run driven by a single gearmotor. Styles include Helix and Spiral, both of which feature continuous 360-deg turns for moving product up or down in a vertical space; Alpine design, which features long inclines or declines with tight turns; Wedge design, which conveys a product by gripping the sides; and Pallet/Twin-Track Assembly, which works by moving the palletization of products with similar sides.
---
Materials
Considering how hot the topic of sustainable packaging has become in the last few years, it's no surprise that some of the most interesting innovations in the packaging materials realm we uncovered at PACK EXPO Las Vegas 2019 were aimed at minimizing packaging's carbon footprint.
We begin with multipack can carriers, like the CanCollar concept (1) WestRock demonstrated. The system uses wet-strength CarrierKote paperboard material that is laminated to reinforce the pack against the moisture and rough handling in beer supply chains and use occasions. The surface can be printed or embellished for merchandising or brand storytelling to elevate the consumer experience.
CanCollar is recyclable, but its laminated structure limits this to where facilities exist to recover poly-coated paperboard products. This means that disposal claims such as "recyclable" are highly dependent on local guidance and availability of local infrastructure to collect and process the product.
The system uses 95% less plastic than current polymer can handle options, WestRock said, and 86% of the can handle is purely fiber-based and 15% of that is postconsumer material.
CanCollar includes a semiautomatic can handle application device to apply the six-pack handles. For video showing the system in action, go to pwgo.to/5379.
Elsewhere at PACK EXPO, Graphic Packaging demonstrated its KeelClip 1600 paperboard can handle application systems (2). Associated application machinery is highly flexible with regard to product orientation and diameter, with core formats ranging from 2x2 to 2x6, and capability to handle 12-oz six packs, 16-oz four packs, and any other practical configuration.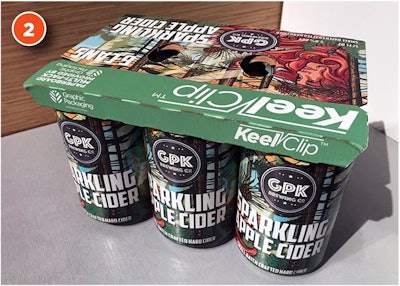 It offers the benefit of a spacious billboard area for strong storytelling and in-store merchandising and a comfortable carrying handle.
ProMach's Roberts PolyPro offers injection-molded HDPE #2 handles that in addition to being 100% recyclable are also downgauged so that they use up to 30% less plastic than competitive injection-molded handles. Plus they have a striking appearance, superior holding capabilities, a practical tab design, and are available in 32 standard colors and with optional color matching in any PMS color. The open top eliminates moisture from accumulating between the can top and handle.
Kashi collaboration
It's widely accepted that, compared to rigid packaging, flexible packaging comes with certain built-in sustainability benefits related to source reduction: less material going into landfills, fewer trucks on the road to transport packaging to the manufacturer who fills it, and fewer greenhouse gas emissions.
But creating a consumer-friendly circular path with recyclability as part of the process has been an obstacle to flexible packaging largely because it is frequently multilayered. That has led most people to throw stand-up pouches in the trash because the multilayer material is verboten in curbside recycling.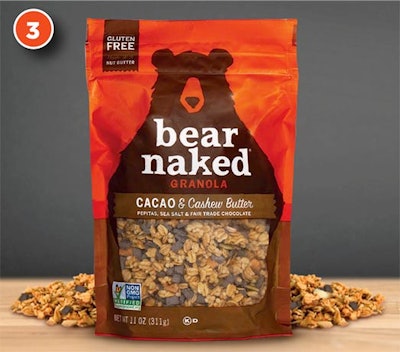 That's starting to change thanks to the emergence of an alternative to traditional curbside recycling: front-of-store drop-off by consumers who bring their multilayer flexible packaging for recycling along with their T-shirt-style plastic grocery bags. Dow's RecycleReady Technology is at the center of this initiative. The Sustainable Packaging Coalition (SPC) plays a role, too. Dow and SPC are promoting this new front-of-store option for recycling of PE-based multilayer pouches. Even more significant, Kellogg-owned Kashi of Solana Beach, Calif., has successfully launched Bear Naked Granola in a stand-up pouch (3) that demonstrates how this circular-economy packaging concept works. The pouch was one of five developments to win a PMMI Technical Excellence Award at PACK EXPO Las Vegas 2019.
The Bear Naked granola pouch's rollstock is made from Berry Global's nine-layer Entour blown film coextrusion. Without identifying each and every layer in the nine-layer structure, Berry's Senior Technical Director Paul Wolak said it's essentially high-density polyethylene, which brings excellent moisture barrier to the table. But also included is EVOH for gas barrier purposes as well as various tie layers and a sealant that activates at low temperatures.
Paperboard tray for MAP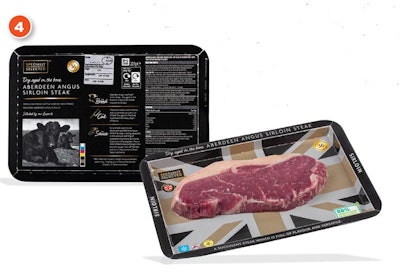 Proseal demostrated the Halopack tray, described as the first fully hermetic paperboard modified atmosphere package.
Halopack is a Dutch firm that holds the patents to this technology. Halopack partnered with packaging machinery OEM Proseal to boost the commercialization of a more sustainable packaging format for frozen meats or MAP-ready meals. The key goal, of course, was to come up with something more environmentally friendly than the CPET trays that have been ubiquitous for a decade or more. By 2018, a number of food manufacturers were putting their products in the Halopak package. They still are, as the concept appears to have taken off in Western Europe. These applications can be one of seven different formats, though MAP and vacuum skin pack might be the most recognizable. Included here is a photo of a VSP offering (4) and a photo of a MAP offering (5) now in Marks & Spencer supermarkets in the U.K.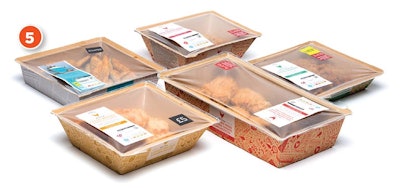 For commercial suppliers of trays, the Model SK2 can produce up to 120 trays/min. For food manufacturers, however, whose volume requirements are considerably lower, there's the SKR. Running at about 50 to 60 trays/min, it lets a food manufacturer vertically integrate where tray supply is concerned.
Worth noting here is that, in Western Europe at least, food manufacturers using Halopack include a package graphics reminder that the film liner can be easily removed so that the paperboard can slide seamlessly into the well-established recycle stream for paper.
Now for the U.S. application of Halopack (6). It's unfolding at Homestyle Foods of Twin Falls, Idaho, a family owned supplier of thoroughly cooked frozen ready meals shipped to consumers who only need to thaw and then heat them in a microwave or conventional oven. In 20 states, the meals—all entrees are $6.95 not including shipping and handling—are licensed by the Department of Health and Welfare and are Medicaid approved.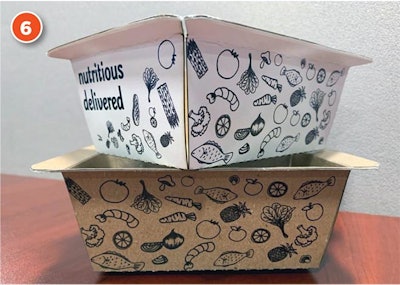 When CEO Cody Griffith of Homestyle Direct walked into the Proseal booth at PACK EXPO, he was looking primarily for additional tray sealing equipment for the CPET trays his firm had long relied on. But when he discovered that Proseal had an alternative that is so much more environmentally friendly, he decided to give it a try. In addition to installing a Proseal Model SKR to form flat blanks into film-lined trays, he also purchased from Proseal a pair of D10 tray denesters mounted on an OC-Twin Conveyor that leads into a Model GT4eX-Twin Tray Sealing Machine. This tray sealer heat-seals a lidstock coextrusion of PA/EVOH/PE to the flange of the paper/plastic Halopak tray.
A more sustainable pouch material
Like other suppliers of packaging materials exhibiting at PACK EXPO Las Vegas, Scholle has identified a movement in the spouted pouch market from aluminum foil-based laminations to transparent laminations and, ideally, to a transparent and recyclable option.
Scholle IPN featured a solution for transparency and recyclability through the introduction of RecShield film for spouted pouches (7).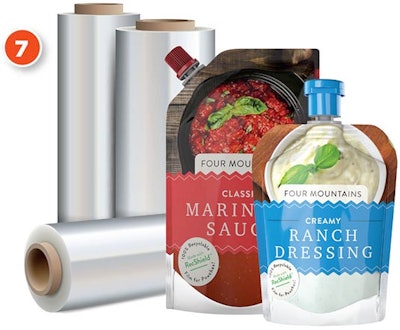 Pouches made from RecShield deliver the product protection and long shelf life required for applications such as applesauce, but they can also be recycled along with other polyethylene films. RecShield's transparency allows brands to design labels around the attractive colors of aseptically-sterilized or hot-filled products. Through the utilization of RecShield, pouch products do not have to compromise on barrier protection to provide an environmentally conscious alternative for packaging, said Scholle's Chad Mueller, vice president and chief technology officer.
RecShield is a nine-layer coextrusion with EVOH at the core and various combinations of polyethylenes ranging from plastomers for good heat sealing properties and puncture resistance as well as HDPE to provide added heat resistance and stiffness.
Labels getting greener, too
At the Sleever International booth, a main focus was that firm's LDPET shrink sleeve label. Because it assists significantly in the successful recovery of valuable food-grade rPET, it received one of five PMMI Technology Excellence Awards given at the show.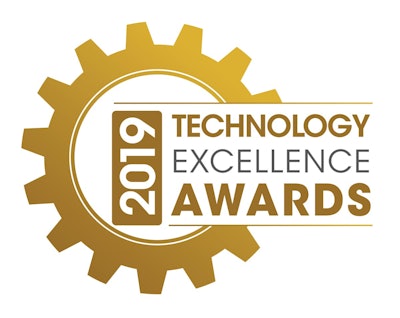 When the NIR optical scanner encounters a PET bottle decorated by a full-body LDPET shrink sleeve label, the optical signal it reads is that of PET. So the valuable PET bottle goes into the PET recycle stream where it belongs.
Elsewhere in the labels arena, UPM Raflatac unveiled its RAFNXT+ pressure-sensitive paper label range during PACK EXPO Las Vegas 2019. These materials feature UPM Raflatac's Forest Positive lifecycle approach, benefitting nature and the environment as a whole, the company said. New RAFNXT+ paper labels are suitable for a wide range of applications, including food, home and personal care, retail, logistics, and home and office.
"We've been on a journey for the last few years to come out with something that was truly a sustainable label compared to what else was out in the marketplace," said UPM Raflatac's Jeff Buchanan, director, paper laminates business, Americas. "The obvious place to start is downgauging, of course, which we've certainly done. But we also made sure that not just the label material, but the release liner, too, is FSC-certified."
These label materials provide a competitive edge for printers and brand owners alike in terms of both sustainability and efficiency, said UPM Raflatac. They use less energy and water and generate less waste. RAFNXT+ laminates also potentially need fewer reel changes, deliver savings in downtime and start-up waste, lower packaging and transportation costs, and increase storage capacity for both raw materials and finished stock.
Companies in this article
Videos from VDG (Van der Graaf)