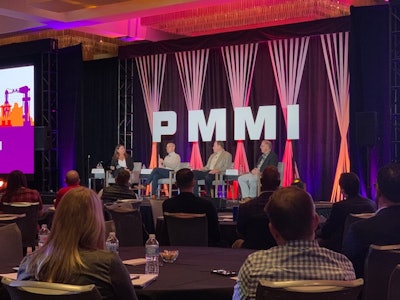 One of the most popular sessions at the PMMI Annual Meeting is the customer panel, as it gives large CPG companies the opportunity to talk candidly about the problems they face on the plant floor and on the packaging lines. As part of that, they also discuss ways in which they feel machine builders can help.
This year's panel, which took place during the PMMI meeting in Cincinnati in November, was no different. OEMs heard from representatives of Colgate-Palmolive, Procter & Gamble (P&G), and The Scotts Miracle-Gro Company, who spoke of challenges relating to equipment installations, the need for more automation and a high-tech workforce, as well as how technology trends like Industry 4.0 and ever-changing consumer buying habits are creating the need for more manufacturing flexibility.
Juan Herrera, operations manager at Colgate-Palmolive, kicked off the conversation by describing his biggest challenge, which is equipment set up on site after the factory acceptance test (FAT). "When we put in new equipment, it takes six months just to get to the efficiencies we want, but we can't afford to wait that long."
Herrera pointed to an example from several years ago when the company was installing a new filler that, when working through the FAT with the OEM, met all of the defined efficiency rates. "But when we went into the internal testing in our plant, the rates we had expected to achieve were running 10% lower. It took us about four months to find a solution to get to the rates we had defined," he said.
Herrera is asking OEMs to test the equipment in more realistic circumstances during the FAT, such as letting the machine run for eight hours as if it were on the plant floor.
Bryan Mahoney, director of packaging and devices at Scotts Miracle-Gro, agreed that there should be more upfront collaboration with OEMs during the FAT, but that cooperation needs to continue once the machine is deployed on the plant floor. Mahoney noted that many times new automation is integrated with existing mature lines, which means there is a brand new piece of equipment trying to work in sync with something that's 30 years old.
"The challenge is that we don't have the expertise in-house, so we are leaning on the OEMs to help us there," said Mahoney. Unfortunately, many times the OEM is out of the loop at this point and the plant floor operators are hesitant to reach out to ask for help to optimize the equipment. OEMs need to be more approachable and proactively reach out to the plant to inquire about how things are going after the equipment is installed. "If I look at packaging suppliers, a day doesn't go by that I don't get a call from them inquiring about packaging material. I don't think that happens with OEMs," Mahoney said, noting that any kind of outreach from the machine builder offering to help optimize productivity and uptime would be appreciated.
This is going to be an even bigger issue as manufacturers adopt Industry 4.0 technologies that digitize data. "As we move to smart platforms and add more robots, we'll need more people who understand artificial intelligence, machine learning, and robotic software," said Jay Joyner, P&G's engineering manager, product supply global engineering and supply innovation. "These skills are not easy to locate and bring into our company. So for me, [the biggest challenge] is the skills gap within our engineering team and how to supplement that. Once we have smart devices, networks, cloud computing, and edge computing, there are so many pieces to pull together to make a system work to become 'smart,' and you need a whole bunch of different skills. Finding people with those skills is very difficult."
Joyner says that P&G currently has three pilot projects in manufacturing sites that are focused on digitization from suppliers to customers. As part of that effort, they are putting smart sensors on old equipment in order to collect manufacturing data to perform analytics. They are also working with automated guided vehicles (AGVs), automated mobile robots (AMRs), and collaborative robots (cobots), and have partnered with companies in other industries, like automotive, to learn from them.
OEMs can help on the digital journey, too. Especially when it comes to e-commerce.
OEMs as co-packers?
According to Joyner, P&G's manufacturing lines are not set up to meet the needs of e-commerce—which come in the form of customization. That means there is a big effort underway to look at manufacturing completely differently. But it is still the early stages, and they are looking to partners to help. "We need OEMs to bring us ideas of what we can do differently," Joyner said.
Mahoney adds that he's looking for more than ideas when it comes to e-commerce. In fact, he suggested that OEMs could act as contract manufacturers and packagers.
"E-commerce is 3% of our business, but it's growing. It's hard to find co-packers to do onesie-twosies economically. But some OEMs have the equipment that, for e-commerce, we could test and learn on," Mahoney said. "If an OEM has pilot lines where we can make 500 or 1,000 units, that's a great opportunity to help CPGs take the first step to test and learn and then the OEM is there for the journey as they scale."
CPGs are reacting to the Amazon effect where business is moving so fast and needs are changing every three months. So, even if OEMs are not ready to become co-manufacturers, they should at least start to think about developing e-commerce friendly solutions that give customers the ability to customize, Herrera said.
OEMs are thinking of ways to add more flexibility, which was reflected in a question from an audience member who asked if any of the panelists considered machine-as-a-service (MaaS) options, in which the CPG does not have to buy the equipment outright, but rather pays based on the output of the machine.
"We've done it," Herrera said, "and it has its benefits and its challenges. The efficiency and output is straightforward, but the challenge is around engagement, especially if you have people there that are not part of your company."
Joyner agreed, noting it is a tough situation to have employees and contractors working together as it makes it difficult for operations management.
Another question from the audience asked about the incremental cost associated with the kind of collaboration that the CPGs are asking for from OEMs to support FATs and startups. "I'm interested in how each of your companies look at that and if you expect those costs to be included in the proposal process?" the OEM asked.
"The more testing you do the better off you'll be, and it is on us to convince our team that this money is worth it up front because it will pay dividends on the back end," Mahoney said. But the expectations must be set up front. So, if the CPG wants eight hours of testing during the FAT and that costs more, then it needs to be put down on paper as part of the RFP outlining what the equipment has to do with deliverables and the price for that.
"The more open conversations we have of what is included and what is not, the clearer expectations will be on both sides which will make the process easier," Joyner added.
And the expectations should expand beyond implementation and into technology transfer and operator training. "Tell me how you will assess my operators before you leave to let me know this person meets the expectations of what is needed to run the equipment," Herrera suggested, adding that the OEM should return frequently once the machine is in production to provide the hands-on learning required.
OEM expectations
When asked what they want from their OEM partners, the CPGs on the panel agreed that managing expectations is a critical aspect to success. They want reliable processes that will enable a machine to drive results immediately, and, given the changing landscape of technology and consumer buying trends, they want agile, modular, and flexible equipment. Mahoney joked: "We want it all and we want it now."
Companies in this article