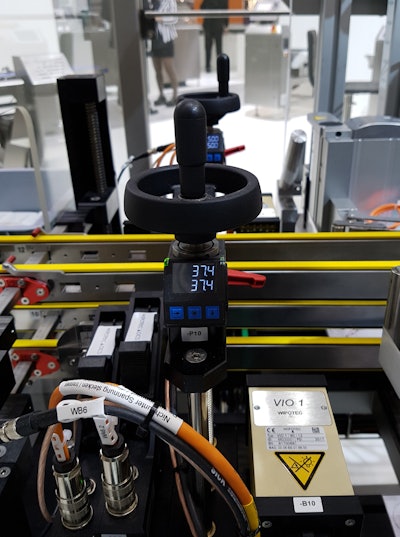 Show Daily Exclusive - In the pharmaceutical industry, track-and-trace continues to generate attention. The European Falsified Medicines Directive (2011/62/EU), which took effect on February 9, 2019, requires all prescription medicines to be clearly labeled in a way that allows the entire production and transport process to be traced. These serial numbers are registered with a central European database and verified by pharmacies by scanning a DataMatrix code before medicine is given to the consumer.
This Directive aims to protect consumers against counterfeit products and requires installation of track-and-trace systems such as the TQS (Traceable Quality System) machine from WIPOTEC-OCS (Booth LS-6361). Such systems must integrate quickly and without major expense and cannot slow the line and negatively impact efficiency. In addition, since real estate on most pharmaceutical packing lines is limited, compact units are essential.
With the TQS, WIPOTECS-OCS offers a machine that accomplishes highly modular labeling according to all country-specific requirements. Serial numbering potentially involves printing, reading, labeling and weighing functions, which the TQS-HC-A machine combines into one unit. It is designed for folding cartons, which make up at least 90% of medication packaging in the European market. The boxes are labeled on the front and/ or back, optionally on the top as well, and are weighed with a high-precision, high-tech load cell from WIPOTEC to confirm boxes are complete. Faulty products are automatically rejected. Where needed, tamper-evident labels can be applied to secure the packaging.
In the end, a track-and-trace machine can simplify processes and generate benefits beyond meeting legal requirements. Once the transition is complete, Daniel Anders, product manager for Track & Trace at WIPOTECS-OCS, predicts, pharmaceutical companies will "see advantages for their own production."
SUPERVISED FORMAT CHANGE
A small but highly significant component on the TQS-HC-A machine offers additional advantages. The AP05 position indicator from SIKO, parent company of SIKO Products (Booth C-5633), enables supervised format changes, provides additional process security and minimizes changeover time. With smaller batches and more frequent changes, switching from one size carton to the next generally means adjusting two axes. Up to 13 SIKO indicators may be installed on a TQS-HC-A machine.
Electronic AP05 indicators are bus-compatible and can be integrated into the machine controls. Here, target values for the next folding carton (stored in the machine controls in a recipe list) can be transmitted to the position indicator and appear on its display under the current actual value. If the actual and target values match, integrated LED lights switch to green. Otherwise, the LED is red—position not yet achieved. The machine is ready for operation when all LED indicators are green, and only then can production be restarted. Incorrect settings cannot occur. This prevents defective goods and increases process security.
"What we care about is secure reproducibility of the settings," says Anders, "to ensure that every batch and every product receives the same exact code and seal, if relevant, as the ones before. This is ensured by the AP05. Another advantage: Changeover times are significantly shorter and therefore more efficient." The medication manufacturer does not need to worry so intensively about this secondary process and can focus instead on line clearance and documentation requirements.

MORE PROCESS SECURITY
In the past, TQS machines were equipped as standard with mechanical position indicators from SIKO Products. The monitored electronic variant, the AP05 position indicator, is mechanically compatible and therefore can be retrofitted at any time.
Electronic indicators were first installed on a TQS-H-A machine by request. Moritz Müller, position line product manager at SIKO, remembers: "Our orange SIKO meters have been used at WIPOTEC-OCS from the beginning. When a pharmaceutical customer requested WIPOTEC [identify] a secure solution for format changes, we were thrilled when the team approached us to collaborate."
The newly equipped TQS-HC-A machines quickly persuaded other WIPOTEC customers of the advantages of electronic position indicators. Reproducibility of settings, process security to prevent defective products and damage to the machines, along with shorter setup times justify the higher initial investment when compared with the standard mechanical variant.
Müller is convinced: "Once the biggest upheavals have finished, more pharmaceutical manufacturers will come back to the benefits of guided, secure format change. Retrofitting is possible at any time."
For more information, visit www.wipotec-ocs.com, www.siko-global.com. SD
Companies in this article