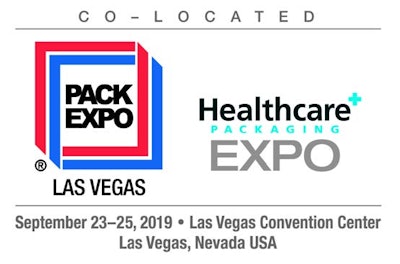 Show Daily Exclusive - The Association Partner Program returns to PACK EXPO Las Vegas and co-located Healthcare Packaging EXPO with many familiar faces and some new key organizations. The program connects leading associations dedicated to advancing the packaging industry with PACK EXPO attendees and exhibitors, bringing sig­nificant resources, insights and expertise to the most comprehensive packaging event in North America in 2019.
"The Partner Pavilion at PACK EXPO Las Vegas and Healthcare Packaging EXPO is a genuine endorsement from some of the lead­ing associations in our industry," says Jim Pittas, president and CEO, PMMI, The Association for Packaging and Processing Technol­ogies (Central Lobby), the producer of the PACK EXPO family of trade shows. "Attendees and exhibitors value this feature of our shows because it's the one time and place where they can expect to connect with and learn from the industry's leading associations."
PMMI's Vice President of Trade Shows Laura Thompson, echoes his statement. She says, "Year-in and year-out, the Partner Programs at the PACK EXPO Portfolio of trade shows provide access to leading industry associations from all segments of the packaging industry. The Partner Pavilion at PACK EXPO Las Vegas and Healthcare Pack­aging EXPO is no exception as the amount of industry knowledge and expertise is unmatched at other industry events. It serves as one of the many important resources available to attendees and exhibitors participating in the show."
"We enjoy participating at events like PACK EXPO because it gives our members a chance to connect with one another and helps foster collaboration and new business," says Mary Lou Bosco, COO, AIM North America (Booth C-1247).
"PACK EXPO has been an outstanding event for many years for engineers to learn about the latest technology, standards and best practices," adds Eelco van der Wal, MD, PLCopen (Booth C-1254).
"Our Sourcing Center experiences tremendous success at indus­try trade shows, . . . and our members always look forward to the opportunity to represent CPA at these events," says Ron Puvak, MD, CPA, The Association for Contract Packagers and Manufactur­ers (Booth C-1359). "For the past five years the contract packaging and manufacturing industry has been growing at a compound annual growth rate of 12.2%. We are pleased to be able to offer our members and those needing their services an opportunity to collaborate at a top-notch industry event such as PACK EXPO Las Vegas."
To help foster that networking CPA along with the Cold Pressure Council (Booth C-1360) and Institute of Packaging Professionals (Booth C-1361) will host a meet-and-greet reception from 2–4 p.m. tomorrow (Tuesday, Sept. 24, 2019).
Many association partners also display awarding-winning packag­ing in The Showcase of Packaging Innovations® (Booth S-6519), sponsored by Dow Chemical (Booth LS-6584, LS-6585). In addition, several partners organize Pavilions at the show to support exhibitors that specialize in certain technologies or hail from particular regions.
For more information, visit www.PACKEXPOlasvegas.com and www.HCPElasvegas.com. SD