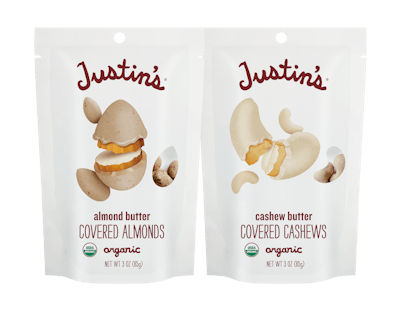 Justin Gold created his own nut butters and sold them in jars at the farmer's market in Boulder, CO, before growing "Justin's" into a company that was ranked in the top 15 on the Inc. 500/5000 Fastest Growing Companies list in the Food and Beverage category two years in a row. Gold was also recognized as Entrepreneur of the Year by Ernst and Young. The company was purchased by Hormel Foods approximately two years ago, though it still operates independently with a full-time staff of 30 in its Boulder headquarters.
Justin's uses co-manufacturers to produce and package its product line and has expanded from nut butters to also offer organic nut butter cups (most recently adding in Dark Chocolate Almond Butter Cups and Dark Chocolate Cashew Butter Cups as of 2018) and organic snacks. Products are sold via natural and conventional retailers and numerous e-commerce sites including its own website, Thrive Market, Target and Amazon.
The snack aisle is where Justin's is currently expanding. The brand is looking at how they can make snack products more convenient and portable for the consumer, offering nut butter squeeze packs or stand-up bags of nut butter covered nuts and nut butter cups.
Sourcing sustainable ingredients and developing sustainable packaging are two of the brand's driving initiatives, as they seek to simplify the supply chain and lessen environmental impact. They also participate in pollinator conservation with a variety of organizations at the local and national level.
Justin's newest innovation, Nut Butter Covered Nuts, are made with Non-GMO Project Verified and organic ingredients, and have 25% post-consumer recycled content bags.
Justin's will be exhibiting at Natural Product's Expo West in March.
Want to learn more about current food trends? Download PMMI Business Intelligence's "Taste of Food Processing Trends" and visit us at PACK EXPO Las Vegas, Sept. 23-25.