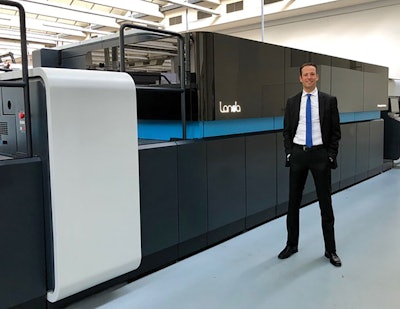 It's time again to look at some of the more notable developments in the digital print for packaging space. And what could be more notable than the news that commercially operating nanographic printing presses from Landa Digital Printing are beginning to establish themselves? For the production of packaging materials, Landa offers both a web-fed W10 and a sheet-fed S10. Since the W10 is not as far along in terms of commercial use, we'll focus here on the sheet-fed S10.
The nanographic printing process, also called nanography, differs from other printing technologies because it uses an innovative system that employs Landa NanoInk colorants, a proprietary water-based ink with nano-pigment particles that measure tens of nanometers in size. Unlike ink-jet printing, where ink-jets put the image directly onto the substrate, nanography is essentially an offset process. The Landa NanoInk dispersions are ejected onto a unique heated blanket, and only then is the ink transferred from the blanket to the substrate in the form of an ultra-thin film. Substrates, it should be noted, can be of the off-the-shelf variety requiring no pre-treatment or priming. Landa claims that nanography offers unprecedented dot sharpness and color uniformity compared to ink-jet or offset lithography. As for throughput, it's an impressive 13,000 B1 sheets/hr.
Announced with typical Landaesque fanfare at drupa 2012, nanographic printing presses were originally scheduled to begin shipping in 2014. But it was more like 2016 or 2017 before the first S10 beta site, Israel's Graphica-Bezalel, was announced.
By summer of 2018, Germany-based Edelmann, a leading folding carton producer with 19 sites around the world, became the first beta site in Europe. Edelmann CEO Oliver Bruns says he still gets a kick out of seeing a digital press running at offset speed and producing offset quality. "Vibrant colors and opportunities like I've never seen before," he adds. "Feedback from customers has been amazing."
Worth noting is that the first installation of an S10 press in the North American market is happening in Texas this spring at Virtual Packaging. In fact, the firm is doubling down on digital by also installing a digital die cutting system, the Highcon Beam.
Since 1996 Virtual Packaging has been providing shelf-appeal consulting plus packaging prototypes to a wide range of U.S. and International clients. Now those clients want the firm to also produce commercial quantities in addition to prototypes. To do that, says Virtual Packaging CEO Monty Patterson, management realized they needed to invest in digital technology for finishing as well as for printing. "The Highcon Beam will allow us to produce the highly creative and distinctive prototypes and packaging required by our clients and to maintain rapid delivery without the time or costs involved in conventional die manufacture," says Patterson. With the installation of the Landa S10 and the Highcon Beam, the firm will become what Patterson calls "the first all-digital B1 packaging site in North America."
With a speed of up to 5,000 sheets/hr, the Highcon Beam digital cutting and creasing solution brings the digital finishing revolution to mainstream production. It was developed as a robust solution to the challenges facing folding carton converters and print service providers. It replaces the expensive and slow conventional die-making and setup process with a digital technology that delivers fast speed to market, design flexibility, and the ability to perform a wide range of applications in-house.
Impressive as the Virtual Packaging installation will be, it's worth noting that an equally ambitious installation has recently gone into production at the folding carton converter xianjunlong in Shenzhen, China, where not just printing and enhancing are done digitally but scoring and die-cutting, too. A Heidelberg Primefire digital press and a Steinemann DEU (digital embellishment unit) are teamed up with what is being described as the "world premier" of a digital system for scoring and die-cutting that is made by MK-Laser. We hope to have more on this in an upcoming issue.
Prototypes and more
Elsewhere on the sheet-fed carton front, Color Ink is approaching the one-year anniversary of its installation of an Impremia IS29 from Komori. This digital ink-jet printing system is able to print four colors in quality approaching offset printing, runs at speeds to 3,000 sheets/hr, and handles 23- x 29-in. sheets—making it especially suitable for six-up applications. It was developed in partnership with Konica Minolta and uses a Konica Minolta ink-jet system and digital front end.
Color Ink's Todd Meissner says the press fits his needs not only because it handles large sheets but also because its use of LED UV curing results in quick drying. "The narrow wavelength of LED requires less energy for curing than is required for curing by way of a standard UV lamp," says Meissner. "Also, this method of curing doesn't distort the materials. We cure the ink so that it's dry to the touch right away, and then we go immediately to creasing and die-cut."
Prototype cartons are a specialty at Color Ink, and the Komori press is especially good at producing them. When asked about run length, Meissner says the sweet spot is anything from one sheet up to about 10,000. "Though we have done larger projects," he notes, "where there's a variable component for personalization." Meissner adds that Color Ink prints Point of Purchase materials in addition to folding cartons, so he likes the fact that the press can print on plastic as well as paperboard sheets.
In other news from Komori, the firm says that its Impremia NS40, a 40-in sheet-fed nanographic printing system that uses the same NanoInks developed by Landa, will go to a beta customer in August. Komori will also feature the NS40 at drupa 2020, which runs June 16-26 in Dusseldorf. Like the Landa S10, the NS40 is essentially an offset process where ink is jetted onto a blanket and dried before being transferred onto the sheet-fed substrate. According to Komori, the NS40 combines the best of offset with the best of digital ink-jet. It can be used with all common commercial substrates, including coated or uncoated paper, paperboard, plastic, and specialty substrates.
Award winning labels
MGI Group, based in France but having an office in Florida, withits JETvarnish 3D/iFoil Digital Enhancement Press has been making inroads in the post-print digital embellishment space for some years now. Among converters using this technology is Russian label printer
azimutprint, where digital presses from both EFI and HP Indigo produce labels for wines, spirits, cosmetics, and gourmet foods. Azimut won two awards in the international competition organized each year by Finat (European Association for Self-Adhesive Labels), including the Spaquatoria Milk Dew label shown below. Printed on an HP 6600 digital press on a matte silver-coated PP top silver stock from Fasson, this set of four different labels for a line of cosmetics products has been digitally enhanced with 3D UV varnish. Petr Lavrov, azimutprint CEO, is justifiably proud of the Finat awards. "These awards," he says, "granted by recognized professionals, highlight the excellence of our technologies and our team while demonstrating that digital finishing is the key element in added value of adhesive labels."
Azimut has pushed the limits with its JETvarnish enhancement press by asking MGI to modify the system enough so that it could also
digitally produce enhancements on flexible packaging substrates. "We think this is really significant," says MGI Marketing Manager Jack Noonan, "because it now allows embossed foiling and variable-data embossing on materials that didn't used to lend themselves to such treatments because the pressure and heat of traditional hot-foil stamping would have deformed the flexible films being enhanced."
Also being watched closely is MGI's AlphaJET Industrial Print Factory concept. Described as the first hybrid digital press for integrated UV/Aqueous printing, packaging, and decorative applications, it won a 2018 Innovation Award in Paris this past November at the All4Pack show. It's scheduled to be installed in a beta site by the end of the year.
The AlphaJET represents the next phase of MGI Group's strategy to integrate digital printing and embellishment technologies. It combines six B1 ink-jet printing and embellishment functions: White UV Pigment Ink, 2D/3D UV Clear Varnish Ink, Aqueous CMYK Printing Ink, Inline Substrate Sheet Priming, three Curing Methods (LED, IR, UV), and Variable Embossed Foil Decorating. It's also designed with expansion capabilities for the implementation of Printed Electronic circuitry applications such as chipless RFID/NFC antennaes and OLED flexible screen technology.
During All4Pack, MGI and Memjet announced that Memjet's DuraLink Printing technology has now been integrated into the AlphaJET in place of other digital print heads used previously. This is the first 40-plus-in. sheet-fed press to integrate the DuraLink ink jet printheads, ink, and modules. It's also the first five-color digital printing system to offer decorative special effects such as 2D/3D UV dimensional textures an variable embossed foil. "And because this is aqueous technology, it has some advantages from a food-contact standpoint," adds MGI's Noonan.
The Memjet DuraLink technology produces CMYK color impressions with 1600 dpi resolution. The white and clear varnish inks use UV inkjet technology for a best-of-breed convergence of digital printing methods. This powerful array of high-speed ink deposition processes allows the AlphaJET to both print and embellish corrugated board, paperboard, plastic, and synthetic substrates at 1,800 B1 sheets (70.7 x 100 cm/28 x 40 in.) per hour.
Growth in corrugated
Some observers of the digital print for packaging space see corrugated as a place where growth should be especially impressive over the next few years. One converter to keep an eye on is Visual Impact PrePrint (VIPP). Referring to itself as "an open market supplier focused and dedicated to helping converters and manufacturers get into digital manufacturing without the capital costs and learning curve," VIPP is a supplier of high-volume, high-quality, direct-to-corrugated printing. Since its startup in 2018, the Santa Teresa, NM, firm—a division of Renton, WA-based Corrugated Synergies International (CSI)—has been a digital-only enterprise, and it was among the first to install the Nozomi C18000 single-pass LED inkjet press that was introduced by EFI at drupa 2016. Business has grown so rapidly that this past January the firm announced it had ordered two additional Nozomi presses, one for a facility in the Las Vegas area and one to be installed at a facility to be named later.
What makes VIPP's business model a bit unusual is that, unlike most converters of corrugated packaging, its customers are not brand owners. Rather, its customers are converters of corrugated who send corrugated packaging to brand owners. In the past, most of these converter customers relied on litho lamination when a brand owner asked for corrugated packaging with high-quality graphics. That is, they'd have an outside firm print linerboard on an offset litho press and then they'd feed that pre-printed linerboard into their corrugating systems.
But that approach involves printing plates and all of the precious time involved in ordering, designing, and making them. Not to mention the time required to physically mount the printing plates on a press after removing the plates that produced the previous job. This analog approach is woefully inhospitable to two powerful forces that are shaping today's marketplace: speed to market and customization. But a digital approach, where sending a data file to a controller replaces printing plates and time-consuming make-ready requirements, is tailor made for this newly shaped marketplace. As soon as this became clear, CSI Vice President of Manufacturing and Print Jeffery Dumbach started to research direct digital print on corrugated.
That process began more than 10 years ago. Dumbach was encouraged by what he saw at drupa 2012, by which time one thing was becoming increasingly clear: the press itself was just one part of the picture. In July 2018, Dumbach put it this way to Industrial Print: "It's about the data. Not only how are you going to process all the art files the press [must] consume, but sales, customer service, and communication with customers—all [the way through] to the message that packaging is delivering to the consumer."
By drupa 2016, when EFI introduced its Nozomi press, Dumbach was convinced that EFI not only offered the outstanding print quality he was seeking but, perhaps even more important, they understood the importance of an integrated workflow ecosystem. VIPP was among the first to take shipment of a Nozomi press.
"We are having great success with our first Nozomi in New Mexico," says Dumbach. "After receiving a significant number of requests for quotes, samples, and proofs, the word really got out about the press's amazing capabilities. We are getting orders for display work and club retail packaging, and our newest contract is for a double-sided e-commerce packaging application."
Also operating in the New Mexico plant is a digital die cutter, the Zünd D3 XL-3200 dual beam router/cutter equipped with a feeder and stacker. This unit is used to convert prototypes and small production runs. Larger production runs are sent unconverted to the converter customer, where that firm's die-cutting and finishing equipment can be used. But soon to be installed at VIPP is a Highcon digital die cutting and creasing system. The ambitious growth strategy of the firm also calls for the addition of a corrugator to serve domestic converter customers as well as meet surging corrugated packaging demand from clients in Mexico.
The 71-in.-wide EFI Nozomi single-pass LED inkjet press at VIPP is an ultra-high-speed production system that, according to EFI, redefines the role of digital print in the corrugated packaging space. Operating at speeds to 246 linear ft/min (10,000 35 x 35-in sq boards/hr two-up), the press features an innovative, single-pass, piezo ink-jet writing system that delivers accurate, high-fidelity color, including consistent reproduction on solid areas. An EFI Fiery® NZ-1000 digital front end (DFE) used to drive the press optimizes performance while providing outstanding color accuracy, efficient job management, and the ability to produce versioned or variable work at full speed.
VIPP is the first company to have the complete EFI corrugated ecosystem, with the Nozomi press and Fiery DFE fully integrated into EFI Corrugated Packaging Suite workflow software operating at multiple CSI facilities. The Suite's Corrugated Business System and production manufacturing execution system work in conjunction with EFI Escada process control solutions to deliver exceptional board quality with superior efficiency to maximize order throughput. With its workflow software technologies integrated as a suite, VIPP is establishing a full, end-to-end, business and production management framework that gives outstanding flexibility to its customers to source high-quality digital- or analog-printed corrugated board.
"A big part of what we offer is that we eliminate the cost and inefficiencies of litho laminating," says Dumbach. "We print directly on the corrugated—single-wall, double-wall, triple-wall—and then, if it's a small order, we die-cut and crease it here on our Zund system. If it's a larger order, we send it unconverted and our customer does the converting on their analog equipment.
"Here's a good example of a typical order where this kind of variable-print capability comes into play. I'm working with a converter right now whose customer is a spirits manufacturer launching a new product in five different flavors. The bottles go to retail outlets in 12-count corrugated cases. In the past that converter would probably have produced 10,000 identical corrugated cases and each one would have printed on it five check boxes where the spirits manufacturer would put a check mark to indicate which flavor was in that case. Our digital printing capabilities now let us differentiate cases by flavor. We'll do one run of 10,000 cases but in that same run will be, say, 1,000 pineapple flavors with strikingly different graphics than the cases for the 5,000 strawberry flavors or the 2,000 mango flavors and so on. You could never deliver that kind of differentiation and customization affordably if you relied on litho lamination."
Press number two at Bennett
"It was the marketplace that led us to add a second digital press. Demand that we are experiencing made it essential."
That's how Robert Sweet, Sales Manager at Bennett Packaging, explains why the Kansas City-based firm recently installed its second Jetmaster digital press from Barberan. The new press is a 48-in.-wide version while the first one, installed about two years ago, was a 66-in. version. But both are used for single-pass, sheet-fed, direct-to-corrugated printing.
Bennett's second digital press aligns nicely with projects that would normally be printed on a 40-in. offset press. It's not the goal to transition all projects to digital, says VP of Manufacturing R&D Craig Bradley. "Digital printing is just one of our capabilities here at Bennett," says Bradley. "And although about 90 percent of our litho-lam jobs, and 20 percent of high-graphic flexo direct print jobs have transitioned to digital, we anticipate that we will continue to utilize all of the equipment in our facility."
"This digital press" says Sweet, "gives our customers another production option when they want high-graphic packaging and retail displays. Digital print may be preferred for a project simply to increase the speed to market, or because different creative versions are needed for the same structure, or to help fulfill a client's sustainability efforts of reducing raw materials in their packaging." Regardless of why the digital press is chosen for any given project, there's no denying the quality of the output, says Sweet.
Run length on both presses varies widely, says Sweet. "We've had to train ourselves a little to embrace the smaller runs that are so common with digital," he adds. "But when you're dealing with a press requiring virtually no make-ready, it's an adjustment that isn't really that hard to make."
Labels are still happening
Because label printing was the segment of the overall packaging space where digital printing first made significant inroads, analysts and observers now describe it as "mature" compared to sectors like corrugated and folding cartons. But there's still plenty going on in labeling, as a quick look down under will show. That's where Label Image in the Australian city of Perth is reaping the benefits of a recently installed Tau 330 E UV ink-jet press from Durst to support its ongoing commitment to operational growth and high-quality customer service.
"Adaptability, reliability, quality, and the ability to offer more to our customer base—that's what we were looking for," says co-owner Nick Godwin. "The Durst Tau 330 E ticked all those boxes and more. Its productivity, print quality, and color consistency were stand-out capabilities."
Throughout the research and evaluation process that preceded the purchase of the press, a key consideration was Label Image's growth potential. Yes, management wanted to offer customers more, but they also wanted a return on investment that made sense and would allow them to scale up to meet future demand. "We also recognized that having a lower capital cost press doesn't always equate to a lower total cost of print," adds Godwin.
Emma Godwin, co-owner of Label Image and wife of Nick, is impressed with how the Tau reduces substrate waste. "We can print a press proof and rewind the media to the next label start point and immediately begin printing with no waste," she says. "This means the first label is a billable label, reducing waste and costs, something I have not seen on any other press to date. Nor have I seen this level of image quality on any other inkjet press."
Also important to the Godwins was the broad range of substrates the press could handle without having to also source pre-print primers or post-print coatings. Most commercial labels are acceptable. And then there's the impressive white ink opacity achieved in the single-pass print process, which significantly reduces production time.
Label Image's single-pass direct printing Durst Tau 330 E has no blankets or transfer components that could compromise printed color or densities. It is coupled with the Durst Workflow Label system, including variable data printing, to deliver a consultative and creative approach. It has enabled Label Image to bring the majority of their outsourced jobs back in-house. For example, production runs that were too short or had a tight turnaround time, or jobs that required customization or personalization, to name just a few.
Another important part of the overall package is back up and support from Durst and its Australian partner Photo Electronics Services. "Our experience has been excellent both from a pre- and post-installation perspective. The installation was completed within a week and operators trained immediately after, allowing us to transition into production sooner than expected."
Also moving successfully into digital with its very first digital label press is Labels Unlimited of Nashville, TN. The firm recently installed the Domino N610i digital UV inkjet, and with just five months of operation under their belts, they couldn't be more thrilled with the results.
"Going digital allows us to reduce setup, waste, and production time. We're running the Domino N610i eight hours a day, getting a better finished product with digital, and meeting short turn times," says company President Jeff McMahon. "We had to update what we were doing. Digital allows us to go into different markets like trials of small packaging and very small trial label quantities. The Domino ingenuity, the quality, the versatility...it's providing us the opportunity to expand our business. And it's all about the bottom line. Profits are up. Margins are up. And we have significantly reduced our waste percentage in little to no time."
From a production efficiency and sales standpoint now that Labels Unlimited has the Domino N610i, the difference is night and day. "We're shortening the production cycle significantly, enabling faster turn times to meet client needs," says Danielle Goddard Stevens, Plant Management/Sales. "The Domino N610i also provides something critical to our customers: color consistency. We maintain the same color quality month after month. Our customers demand high quality and consistency, and we're exceeding their expectations. And what's really exciting is that we're making progress for the future, opening new doors to play in markets we've never played in before."
"We didn't buy digital to replace people," says McMahon. "We bought digital to expand our business.
Goddard Stevens couldn't agree more. "We will be able to offer textures, special effects, and specialty materials to create shelf appeal for our customers, while minimizing cost that has been prohibitive with conventional methods," says Goddard Stevens. "It also provides us with 'just in time' press proofs for specific projects working closely with client designers, allowing us to adjust for an ink match on the fly without having to mix ink," she adds.
Invisible inks
Developments in ink are also a part of the evolving digital printing scene. One such development worth looking at is the announcement last fall that Nosco, Inc., a leading supplier of packaging for the natural health, personal care, and pharma industries, will expand its brand protection portfolio with a new covert security solution utilizing HP Indigo invisible inks. Nosco has dedicated a production line on its HP Indigo WS6900 Digital Press to give pressure-sensitive labels covert security elements utilizing HP Indigo ElectroInk Invisible Yellow (visible only under UV light) and HP Indigo Security ElectroInk 523 (infrared ink). This move will offer brand owners total transparency with full covert serialization printing of both bar codes and serial numbers.
"Brand owners in the healthcare market are especially in need of covert print security solutions," says Craig Curran, Senior VP of Sales and Marketing at Nosco. "Through the use of invisible technologies like these, we can help our customers combat the growing threat of product diversion."
Covert security solutions like these allow products to be tracked and traced throughout the supply chain. HP's ElectroInks offer brand owners intelligent tools to detect counterfeit activity in real time via UV scanners and smartphones. Covert security tags give each individual unit a unique identity beyond the lot and batch number with serial ID.
When asked at what stage of the supply chain will the covert security code be scanned, Curran said the most likely scenario revolves around diversion. If, for instance, a brand owner produces product that is supposed to be sold in Los Angeles and later the brand owner discovers that product being sold elsewhere, the brand owner can scan the label on the product and know immediately which market it was intended for. If a product is not being sold in the region where it was intended to be sold, it might constitute violation of a distribution agreement or even fraudulent activity. The covert security code helps brand owners guard against such things.
Curran says that while use of the invisible inks began with labels being printed on the WS6900, Nosco will soon begin using these inks on both of their HP 30000 presses. These sheet-fed presses are for digital printing of folding carton stock.
One final observation on digital printing where Nosco is concerned. At Dscoop Edge Orlando 2019, the popular user's conference put on each year by HP Indigo, packaging printed digitally by Nosco was among the winners in the 4th annual HP Inkspiration Americas Awards for outstanding work produced with HP digital printing technology. Nosco and Gilbert, AZ-based Isagenix partnered to combat the growing threat of diversion in the market causing lost sales and channel erosion. Serialized 2D data matrices and variable bar codes were implemented for track- and-trace capabilities during the market launch in South Korea of a dietary supplement product from Isagenix. Both the HP Indigo 30000 Digital Press and the HP Indigo WS6600 press were used.
Positive recyclability assessment
Users of HP PageWide digital presses for corrugated packaging were no doubt reassured by the recent news that Germany's Papiertechnische Stiftung (PTS), an independent testing lab, has verified that corrugated printed on the HP PageWide C500, T1100, or T400S presses is easily recyclable using standard industry recycling technology.
Italy's Ghelfi Ondulati S.p.A. operates a six-color HP PageWide T1170 press to supply corrugated packaging materials to leading brands in Southern Europe. "Our customers require sustainable solutions, leading us to choose a water-based solution that meets our recycling requirements," says Luca Simoncini, digital program manager at Ghelfi Ondulati. "We are pleased to get this confirmation for water-based digital print to ensure the recyclability of HP digital print for our customers."
"Demand for corrugated package is increasing rapidly, along with increasingly stringent requirements for environmental safety, including supporting a circular economy with recyclability," says Eric Wiesner, General Manager, HP PageWide Industrial Division. "These PTS recyclability results further reinforce the HP sustainability mission to support environmental recyclability."
Companies in this article