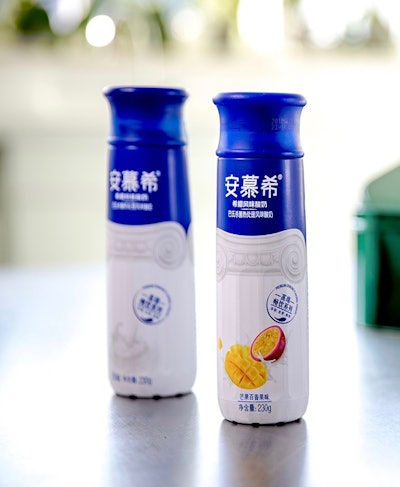 Both lines rely on the dry preform sterilization technology from Sidel called Combi PredisTM. Unlike conventional aseptic solutions that use paracetic acid to sterilize bottles followed by a rinse of hot water, Predis accomplishes sterilization by injecting hydrogen peroxide vapor into the preform right before the preform heating stage. This reduces waste and resources. With no need for water, and almost no use of chemicals for preform decontamination, it also addresses one of the most important challenges manufacturers face today: minimimizing their environmental footprint. It also provides high levels of efficiency and bottle lightweighting potential because these bottles aren't subjected to the thermal extremes inherent in conventional sterilization by paracetic acid.
The bottle produced by Yili on the two new aseptic lines is described by Sidel as "monolayer PET with a light and oxygen barrier." It has a polyethylene cap plus an overcap but no aluminum foil seal. Shelf life on the bottle is five months at ambient temperatures.
As Yili plans to diversify their portfolio with more value-added products to create and maintain a sustainable business, they required a versatile production line to vary the recipes of the products. This is why the Sidel Aseptic Combi Predis technology integrated as part of their complete lines is equipped with specific dosing valves with wider diameter and low- or high- speed capability to get prepared for future market requirements.
Companies in this article