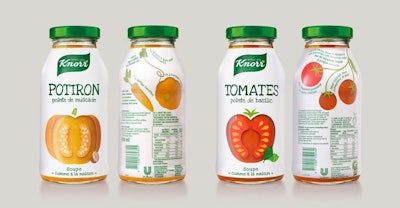 Knorr's passion for good food and flavor goes back to 1838 when founder Carl Heinrich Knorr experimented with dried seasonings and vegetables. Today, Unilever brand Knorr offers bouillons, seasonings, sauces, dressings, frozen- and ready-made meals, and soups and soupy snacks.
Beyond its venerable product lines, Knorr's longevity can also be traced to its attention to market factors. Take sustainability, for example, where the company's farming efforts include nurturing local plants and animals to help pollinate and protect their crops, reducing pesticides by "fighting bugs with bugs," and focusing on ways to save on water used for irrigation.
More recently, parent company Unilever unveiled reusable packaging innovations across nine of its brands, including four new product formats, as part of the Loop™ business model for premium packaging that can be delivered directly to the consumer, then returned and refilled.
This year, Unilever's Knorr introduced a new range of 100% natural ambient soups packaged in glass bottles across mainland Europe. Glass helps the soups gain differentiation from the multi-material aseptic cartons common in this geographic market. For the new soup package design, Knorr worked with global creative agency Anthem.
The soups sell at what's described as a "more premium price point," but package design sought to provide the family-friendly appeal that has helped it achieve strong brand recognition. Moving into recyclable glass bottles also allowed the brand to contribute to Unilever's sustainability mission, built in part around the slogan "healthy you, healthy planet."
Anthem describes the package design as "clean and uncluttered to both support the product message and also achieve stand out on shelf."
The "front" of the full-body shrink-sleeve label uses a cutaway illustration of the soup's vegetable while the "back" ties informative copy to vegetable vines. Together, the illustrations portray the products as wholesome yet vibrant, modest, and beautiful.
Package graphics take inspiration from the chilled juice category, where Anthem explains, "We used a shrink sleeve to amplify freshness cues—using the language of another category in both format and printing techniques to innovate and inspire change within a traditional one. The smart integration of the illustrations with the transparent windows brings a new level of authenticity to the products, used on both front and back of pack."
Marie Leroy, Knorr Soups Brand Manager at Unilever, says, "Working with Anthem helped us tap into new ways of thinking and approaching design—what it means and how it's perceived by consumers. We wanted to really revolutionize the way Knorr communicates on pack without losing recognition, focusing on communicating naturalness and freshness, which consumers are really searching for. The new designs hit all our objectives—achieving fantastic stand out, especially in France."
The new soup range includes four variants (Tomato, Pumpkin, Vegetable and Zucchini) and has been launched across France, Spain, Italy, Belgium, Germany, Austria, and Switzerland.
Companies in this article