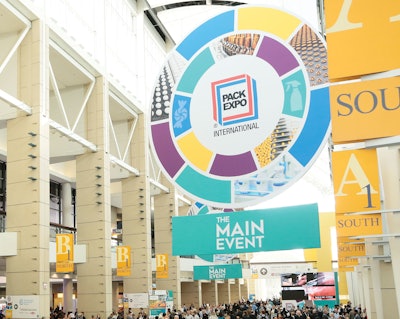 Each year the editors at PMMI Media Group roam the aisles of PACK EXPO looking for the next big thing in the packaging sector. Of course, with a show this size it's never one big thing we find but rather a multitude of things big, medium, and small, all of them innovative and meaningful in one way or another to packaging professionals of today.
This report sums up what we found in six main categories. We present them here for your review knowing full well that, inevitably, we missed a few. Probably more than a few. That's where you come in. Let us know what we missed and we'll look into it. Or at the very least, we'll know to be on the lookout for it at the next PACK EXPO.
Our report comes to you from the following:
Matt Reynolds, Editor, Packaging World
Pat Reynolds, VP Editor Emeritus, Packaging World
Anne Marie Mohan, Senior Editor, Packaging World; Editor, Contract Packaging
Stephanie Neal, Senior Editor, Automation World; Editor-in-Chief, OEM
Joyce Fassl, Editor-in-Chief, ProFood World
Maya Norris, Managing Editor, ProFood World
Natalie Craig, Managing Editor, OEM
Jim Butschli, Editor, Healthcare Packaging
Keren Sookne, Director of Editorial Content, Healthcare Packaging
MATERIALS
SUSTAINABILITY
Asia Pulp and Paper joined with its North American strategic partner Charta Global at PACK EXPO to showcase new food-grade, recyclable, compostable, and biodegradable foodservice packaging (1). The need for such materials was explained in recent research conducted by the firm, says Christopher Wong, VP, Export Sales, Industrial White BU – APP Indonesia. The research, 2018 Paper & Packaging Consumer Trends Report, found that 65% of consumers agree that sustainable food packaging is more important to them today than it was five years ago. This holds especially true among baby boomers (67%) and millennials (66%).
Says Wong, "Consumers are becoming more aware of the transfer of chemicals into food from plastics, and they are becoming more aware of the renewability of paper."
In response, APP has developed new Bio Natura foodservice packaging products under its foopak line. The products are made from 100% compostable, recyclable folding boxboard that is suited for fast-food, takeaway containers, and hot beverage cups. Other products in the suite include grease-proof papers, boards, and bakery liners. At the show, APP exhibited its coffee cup and food container products.
As Wong and Regional Sales Head Atul Tyagi explained, typically coffee cups and foodservice containers incorporate a polyethylene film liner, which prevents them from being recycled. Early alternatives included cups lined with PLA; this material, however, could not withstand high temperatures. APP's cup stock can sustain heat up to 440°F/220°C, and because it is made with a water-based coating, it is fully compostable, biodegradable, and recyclable.
Foopak Bio Natura cup stock is FDA-certified and meets the FTC's Green Guides for biodegradability and compostability. Testing by the ISEGA Institute shows scientific evidence the stock can completely break down and return to nature by decomposing in a matter of 12 weeks. Additionally, Bio Natura can be safely composted in a facility or home compost pile.
The interlocking food container, which can be used for cold and hot applications (it is even microwavable) is now available in the U.S. The cup stock is available as well, but APP is working to reach the converting speeds required by most large foodservice companies.
GREASE-RESISTANT PAPERBOARD
Eco-barrier paperboard, also known as MetsäBoard Pro FSB EB1 (2), was featured at the booth of Metsä Board Americas Corp. Technical Service Director Heli Kuorikoski showed one of the first commercial applications of this Folding Box Board (FBB): a windowed carton for sandwiches sold by Finnish artisan bakery Huovisen Leipomo.
The appeal of MetsäBoard Pro FSB EB1 is that it has no PE coating for grease resistance. Instead, it gets its grease-resistant properties on the board machine that Metsä Board uses to transform fiber slurry into paperboard. Metsä Board adds a grease-resistant treatment with bio-based and natural components to the reverse side of the paperboard that does not interfere with the board recycling process, yet gives the board relatively light grease resistance comparable to a Kit Level 5. (The Kit test, or Tappi T559, measures paper's degree of repellence. For more details, please visit: pwgo.to/3945). Kuorikoski emphasizes that the Kit test has primarily been designed for papers and boards treated with fluorochemicals and is not really suitable for water based grease-resistant coatings. She prefers to talk about low, medium, and high grease resistance levels. A light grease resistance comparable to a Kit Level 5 makes the board suitable for short food-contact time, for items such as foodservice hamburgers or French fries. Kuorikoski adds that if greater grease resistance is required, a varnish can be added by the carton converter.
The 8-oz sandwiches sold by bakery Huovisen Leipomo need to last about four days in a refrigerated display case, typically in a convenience-store or grab-and-go setting. When the sandwiches were first launched, a carton board with a PE coating was used because a high grease resistance comparable to a Kit Level of 12 was required. But there were two problems that the bakery's owners faced while using a standard PE coating. First, the layer of plastic made the carton unsuitable for the paperboard recycle stream. Second, the PE-coated carton trapped so much moisture that condensation would form on the clear window, thus preventing the consumer from seeing the sandwich inside.
So Huovisen Leipomo started using paperboard from Metsä Board that had neither PE coating nor the special treatment that gives MetsaBoard Pro FSB EB1 its grease resistance. After sending the paperboard through an offset press for printing, the carton converter
OffsetKolmio found that by sending it back through the press two more times for a coating of varnish on the reverse side, the paperboard exhibited all the grease resistance it needed.
The use of varnish coatings solved the problem of condensation, because unlike the PE coating, the varnish-coated board was able to breathe. It also met the bakery's wish to have a biodegradable carton. But converter OffsetKolmio quickly realized how time-consuming and costly it was to send the board through the offset press three times.
Enter MetsäBoard Pro FSB EB1, a new development from Metsä Board. Because its special treatment gives it a grease resistance of a Kit Level 5 when it exits the board machine, it only needs to have varnish applied to the food-contact side once to bring it up to a Kit Level 12. The elimination of one whole step in the carton converting process brought significant savings. Added savings were achieved because 50% less varnish needed to be applied.
"We were able to reduce our costs without compromising the quality or grease resistance of the board," says Kimmo Jokinen, Managing Director of OffsetKolmio.
One other notable development coming out of Metsä Board is what the firm refers to as a "revolutionary new paperboard cup design concept called Lidloc." The patented design (3) is based on an extension to a standard cup structure that folds and locks into an integrated lid. This removes the need for a separate plastic lid. The container is spill-proof and offers extra branding opportunities as it can be printed as one piece with the rest of the cup. Metsä Board notes that Lidloc was recognized recently for design excellence and creative achievement by being named a winner of a coveted Red Dot award, one of the world's largest design competitions.
SUSTAINABLE MONO-MATERIALS
In its quest to create recycle-ready yet cost-effective and functional packaging solutions, Constantia Flexibles created a mono-material line of packaging called Ecolutions (4) that can be completely and easily recycled to help create a circular economy.
Constantia spent five years developing Ecolutions to ensure its packaging could be recycled entirely without wreaking havoc in the recycling process. "The target was to develop a mono-material structure that has the potential to be fully recyclable. I say potential because it depends on the recycling facility," says Tim Revell, Business Development and Global Product Manager for Constantia. "And we have developed a whole family of fully recyclable packaging which we describe as Ecolutions.
"These materials are easier to recycle, but they also create value," he adds. "So to fund the recycling stream, the waste that we generate needs to have a value to pay for the recycling, the collection, and reprocessing. And if it's made of one material, then it has value."
With a mono-material structure, Ecolutions meets sustainability requirements, reduces Constantia's carbon footprint, offers recyclable solutions, and decreases the impact on the environment. In addition to the sustainable characteristics, the Ecolutions packaging has all the properties required to protect the products in them.
As part of the Ecolutions lines, the EcoLam, EcoLamPlus, and EcoLamHighPlus are made of multilayer adhesive or extrusion laminations where every layer is PE. The lightweight packaging features an OPE/PE structure that is fully recycle-ready due to its mono-material structure. In addition, its carbon footprint is approximately 32% less than comparable products says Constantia.
The EcoLam, EcoLamPlus, and EcoLamHighPlus have varying degrees of moisture and oxygen barrier properties that protect their products without compromising sustainability. Typically high-barrier packaging is made from structures where multiple materials are joined. But the lamination of different material groups can hamper the recycling process. The EcoLam, EcoLamPlus, and EcoLam HighPlus combine excellent barrier properties with the environmental benefits of a mono-material, which can be fully recycled. The EcoLam is designed for products such as dry pet food and laundry powders and tabs. The EcoLamPlus's oxygen and moisture barriers make the packaging suitable for meat, cheese, and dairy products in pouches, while EcoLamHighPlus provides an additional high barrier—thanks to either metallization or aluminum oxide coating-—against both moisture and oxygen, making it ideal packaging for salad dressings as well as coffee beans. Revell says that the amount of metallization or aluminum oxide coating is so miniscule that claiming the package is "mono-material" is still accurate in the eyes of institutions or agencies who monitor such things.
Also part of the Ecolutions line is EcoCover, a pre-cut aluminum lid for heat sealing to yogurt cups and such. With these lids, Constantia expects to reduce its carbon footprint up to 50%, which is achieved by downgauging the aluminum thickness, saving valuable resources in the process. Although the thickness of the aluminum layer is reduced, the material can still be identified as aluminum and sorted for aluminum recycling. In combination with UV-Flexo printing, the production of EcoCover is also completely solvent free. The product is also characterized by a high corrosion resistance, a wide range of sealing temperatures as well as easy peeling properties.
The Ecolutions line also includes EcoTainerAlu, an aluminum-around foil container system mainly used for pet food. Thanks to a new water-based—instead of a solvent-based—coating system for the container as well as for the punched lid, the emission of volatile organic compounds can be avoided. In addition, no chromated foil is used for this packaging solution, and it is recyclable via the aluminum recycling stream. So EcoTainerAlu fulfills sustainability requirements, but also preserves the packaged product.
"As the world's fourth largest flexible packaging producer, we know about our responsibility towards the environment as well as the requests of the end consumers," says Alexander Baumgartner, CEO of Constantia Flexibles. "Thus, our goal is to drive a change in the industry for more sustainable packaging solutions."
NEW TAKE ON 'CAPLESS SEALING'
The path to sustainable packaging takes many turns, and not every turn represents an OMG moment from a technology standpoint. Sometimes it's more a matter of seeing things differently, of thinking differently, of responding to changing consumer preferences and priorities.
A good example of this kind of thing was on display at the PACK EXPO booth of Fords Packaging Systems, a UK-based firm with a long history of what's commonly referred to as "capless sealing." That is, sealing foil membranes to plastic or glass containers by way of either conduction or induction technology.
"While it's true that what we're doing now is fundamentally the same as what we've been doing for many years, what has changed dramatically is how Fords gets involved in driving package innovation into new markets or containers," says Fords Commercial Director Duncan Harris. "Many of the things we do now were either not possible 20 years ago or were simply not in demand from brand owners or consumers. Our technology has evolved as has our expertise in package design. It's all about delivering modern, up-to-date innovation in new market sectors."
What Fords proposed at PACK EXPO was the notion that perhaps the traditional metal or plastic overcap commonly applied to a wide variety of packages isn't really necessary at a time when consumers, retailers, and Consumer Packaged Goods companies are all asking for ways to eliminate anything that is not absolutely essential. One example featured at PACK EXPO was the single-serve jam jar with threaded metal cap shown here (5). These are commonly—almost universally—made of glass. But these glass jars must be quite heavy to withstand the hot-fill process. An additional element of heft is required because threads are needed, and because too light a jar won't withstand the process of putting on a metal cap. By replacing the threaded overcap with a light-weight induction-sealed foil lid, a considerably lighter glass jar can be used because the foiling process involves very little pressure being exerted on the glass. The foil has a pull tab for ease of opening.
Another intriguing example of Fords' capless sealing is the single-serve PET bottle of water from Naqi Water of Saudia Arabia (6). Partnering with Fords on the Naqi project is Italy's Sacmi, whose integrated blow/fill/seal system produces the containers—from injection-molded preform to sealed bottle—at 42,000 bottles/hr. Fords supplied the induction sealing turret for direct integration into the Sacmi bloc. Aluminum foil rollstock fed into the Fords capping press is punched and formed before being transported down a chute to the filler where cap application and induction sealing takes place. The foil in this application is a laminated structure with a PET top layer for added puncture resistance, which comes in handy throughout distribution. Also added is a seal lacquer suitable for induction sealing to the PET bottle.
Worth noting is that in the World Beverage Innovation Awards 2018 competition at BrauBeviale this past November, Fords' innovative technology played a central role in winning the top award in three of the 25 categories. Fords Packaging Systems entered its foil cap in the Best closure category and was named the winner. And Krones won the top award for its 200-mL droplet-shaped PET bottle—topped by an induction-sealed Fords foil—in both the Best bottle in PET and the Best package design/label categories (7).
According to Krones, the bottle's droplet shape is aesthetically pleasing, while its many small droplet-shaped facets on its sidewalls add a measure of stability to the bottle after opening. Different approaches to labeling are possible, including the use of no label at all and letting the Fords foil carry all branding and graphics.
Prior to BrauBeviale, this bottle from Krones also won an award in the 2018 A'Design Award & Competition, which is organized by Italy's OMC Design Studios SRL. Stephanie Wunderlich, an industrial designer at Krones, is credited with the design. Design details provided as part of that competition show a bottle with a threaded cap, so it's interesting to see how quickly Krones, with help from Fords, further optimized their original concept. The A'Design details also indicate that
• this bottle is used commonly in tropical countries, particularly in Asia
• this bottle weighs 4.4 g, has a main diameter of 59 mm, and stands 110 mm tall
SUSTAINABILITY
Also busy tackling the recycling challenges presented by multi-material films—especially in high-barrier or retort applications—is Amcor. After three years of research and development, the firm has developed a film platform (8) that can be recycled while being able to handle ambient medium-barrier, ambient high-barrier, and retort high-barrier applications.
"We see a lot of our competitors going to market with very specific, medium- to low-barrier solutions or types of applications," says Luca Zerbini, Vice President of Marketing, Innovation, and Sustainability for Amcor Flexibles EMEA. "What we have done is create a film that can be used in many different applications. It has the potential to convert a big chunk of the packaging out there into a structure that is compatible with existing and emerging recycling schemes."
The new film platform is an evolution of Amcor's AmLite metal-free flexible packaging technology. "First we removed the metal from the structure, and now we are also taking out the PET, so that the entire structure is a polyolefin-based material," says Zerbini. At Amcor's silicon oxide vacuum facility in Switzerland—the only one of its kind in Europe—a layer of silicon oxide is deposited on a polyolefin film, along with whatever coating is required to meet the functional needs of the application.
According to Zerbini, the film will be polypropylene-based; future developments are aiming to target polyethylene as well. "The point is, the film can be adjusted to the needs of each customer application," he says. "We have built the engine, now we're working with customers to develop the kinds of specific structures they need."
Among the products that can be packaged utilizing the new film platform are wet pet food, ambient ready meals, snacks, nuts, confectionery, coffee, and even yogurt. Zerbini emphasizes that the "most breakthrough" aspect of the technology is its ability to handle retort applications. The retortable grade offers barrier performances of <1g of moisture after pouch converting and retort—numbers that Amcor says align with the top-performing non-recyclable barrier films currently on the market, for example, PET barrier films. The figures for the ambient high-performance grade are below 0.1 cc oxygen and 0.1 g moisture.
Having proven out the technology, Amcor has engaged some of its largest CPG customers to co-develop flexible packaging applications using the new film. According to Zerbini, flexible packaging with this film, either provided in rollstock or in pouches, can be run on its customers' existing packaging lines. "The investment is more on our side," he added.
Commercial applications should hit the market in 18 to 24 months. To accommodate the expected demand for the product, Amcor is considering a second plant to produce the product in Portugal, a country chosen, Zerbini says, for a number of reasons. "First, we wanted to be sure we could bring the product to market at a very competitive price for a range of applications," he noted. "Second, we have decided to concentrate a lot of pouching capabilities in Portugal, so we will be able to integrate the film and pouching in one place, when needed."
Although production will be based in Europe, Zerbini advises that the film will be available for all its sites globally.
HANDLED PET
Krones, Husky, and Silgan announced at PACK EXPO that they have joined forces with Practically Impossible (PI) Labs to manufacture its patented new BottleOne 1-gal injection stretch blow-molded bottle with integrated handle (9). Dairy, particularly milk, is the primary target market, and the PET bottle will be able to carry the PET1 resin identification designation for easy recycling.
The bottle uses the same technology as the existing SureHandle that debuted in late 2017. The 64-oz SureHandle PET bottle is distributed by converter Pretium. This newly announced collaboration of PI Labs as the BottleOne patent-holder, Husky as the technology's licensed preform injection molder, Krones Kosme as the licensed stretch blow-molder, and Silgan as the licensed closure manufacturer, represents a play toward larger companies seeking to self-manufacture. Pretium remains an active licensee of the technology, as it will continue converting, blow molding, and selling the SureHandle stock bottle in the 2-L and 64-oz sizes largely to private label and independent brands.
The new PI Labs dairy gallon will enter the market at 82 g with another dairy half gallon at about 67 g, though there is plenty of room for optimization of bottle weights in the future.
A unique preform, whose dimensions would be proprietary to the brand owner's unique needs, is longer than is typically seen at about 6 to 7 in. The preform cylinder is roughly an inch in diameter, and the entire preform is two inches in width including the handle. The blow molding process works similarly to normal blow molding.
"The preform with handle goes into the mold, the mold closes on it, and then using mechanical moving parts within the mold, the handle is relocated as part of the blow process," says Bill Duelge, President of PI Labs. "The preform starts with the vertical walls of the test tube and the handle on it. As it's inflated, that entire handle pocket and handle move out from the center line of the bottle to where it will reside near the neck of the bottle."
Handle position and geometry contribute to ease of opening and the smoothness of the first pour. By holding onto the handle, the consumer can easily open the container without squeezing out the contents. As for the first pour, when a consumer grabs a Bottle-One container by the handle and lifts it straight up, the bottle is naturally oriented and positioned in a way that even though the bottle is full, a spill-free pouring experience is the outcome.
Bottles from 1 L to 3 L will use a 3-finger handle, and that handle will need to be in the upper third of the bottle for the appropriate balance. On a 3-L to 5-L container, a 4-finger handle is necessary, and that handle will need to cover the upper half of the bottle in order to achieve the right balance.
The partnership standardizes around the 38-mm DBJ HDPE closure from Silgan. Silgan was selected partially due to its dominant market share in dairy. "Silgan also has a world-class testing lab in Chicago that has done some of the strength testing and burst testing on the bottles," Duelge says. "They're offering both technical support and field support to help people run the bottles efficiently on their current lines."
Secondary packaging, usually corrugated, is employed to assist existing HDPE dairy containers in surviving the distribution, supply chain, and merchandising stresses necessary to put the package in the hands of the user. The strength of BottleOne containers obviates the need for any structural support from secondary packaging.
BottleOne containers can be over-wrapped in a retail-ready tray or simply bundled together and stacked on a pallet. Preliminary testing on the BottleOne dairy gallon showed a 225-lb top load at .342-in deflection. That is the equivalent of stacking 27 full gallons on top of a 28th bottle without causing any leaking.
In practical terms, a brand owner could double stack five-high pallets of filled dairy gallons without crates or boxes and have a safety factor of 3—that is, the bottom layer of that two-pallet stack would be able to carry three times the weight of the bottles above. That safety factor is critical considering the dynamic forces exerted during distribution.
The procurement savings on boxes/crates, the operational savings from the production floor elimination (and at retail, disposal) of corrugated, the sanitation and recovery of crates, and the sustainability benefits from package elimination create the triple bottom line benefits for people-planet-profit.
"I manufactured milk crates for 30 different years," says Brian Lynch, VP, PI Labs. "Dairies were always asking me how to control their milk crate loss. And I always said the only way to control it is to eliminate it and the only way to eliminate it is through a PET bottle with a hermetic seal. That's what we have created here."
SUSTAINABILITY
TC Transcontinental entered PACK EXPO International with a certain amount of buzz gained from recent acquisitions of Coveris and Multifilm. Two new products this year included an award-winning compostable peanut bag (10), and a unique new shrink wrap.
As consumer preferences continue to shift toward cost-effective sustainable packaging solutions, arenas and stadiums are looking for ways both big and small to reduce their environmental footprints and streamline their waste operations. TC Transcontinental Packaging's latest innovation in two-layer adhesive lamination has yielded a certified, compostable flexible packaging solution designed specifically for a stadium classic: peanuts. This award-winning compostable peanut bag (Flexible Packaging Association's Gold Award for Sustainability) reduces the amount of labor previously devoted to the manual sorting of materials collected during clean-up and lowers overall waste-management costs for the venue. In addition, the compostable peanut bag provides an easy way for arenas and stadiums to support sustainable initiatives by eliminating their food scrap contaminant-polypropylene bags, increasing use of renewable resources, and enhancing venue-managed commercial composting programs. Packaging World covered an application of this material technology in the Kansas City Chiefs' stadium. Read more about that application here: pwgo.to/3880.
The latest advancement in shrink film from TC Transcontinental is in the form of laser-scored multipacks for the beverage industry (11). Replacing paperboard boxes that take up valuable fridge space and get soggy in the ice cooler, Integritite SmartPack® features convenient laser perforations at every row, making it easy for consumers of all ages to store, open, and share. Standard multipacks can now be turned into separate smaller packs to fit on-the-go lifestyles. Flexographically-printed messaging helps brands stand out on the shelves with up to 10 color capabilities, as well as extended gamut, high-definition, and specialty coatings.
SUSTAINABLE LABELS
Featured in the South Hall at the UPM Raflatac booth were two new developments aimed at bringing a new element of sustainability to the labeling space. The first of these is a range of wash-off film labeling solutions (12) that make it easier, during the caustic washing process that is central to the recycling of PET, to separate polypropylene labels from clean PET flake. The key to this concept is UPM Raflatac's RW85C wash-off adhesive. The clear, white, or metallized film label stocks score additional sustainability points because their release liners are made from 90% post-consumer recycled content. According to UPM Raflatac, the labels have been recognized by the Association of Plastic Recyclers (APR) as exceeding APR's strict standards for recyclable label products.
The other highlight of the UPM Raflatac booth was Vanish PCR ultra-thin clear film labels available with 90% recycled content face and liners. These clear, no-label-look labels are said to be a global first for sustainable packaging.
INDUCTION SEALING
Selig is a major provider of tamper-evident cap and closure lining materials for use across a range of applications including food, beverage, pharma, agrochemical, cosmetics, and healthcare. The firm is especially strong where induction sealing is concerned. Historically, its materials were only induction sealed to glass if the container's contents were dry. Why? Because fats in wet products would attack the seal and compromise the integrity of the adhesive bond over time. This was not a problem with plastic containers because the "land area" or sealing surface where adhesive bonds to plastic is inherently smoother and more uniform in plastic than in glass. Plus with a plastic container there is an element of fusing between materials.
Introduced at PACK EXPO International was Selig's Deltaseal 9000, a new induction-heated liner sealing solution that is perfectly suitable for induction sealing to glass jars of fatty foodstuffs. A less costly alternative to steam-applied metal caps, it also makes for an easier opening experience in the hands of the consumer. Moreover, says Selig, it's fully compliant with FCM regulation EC 10/2011, which does not allow petroleum-based or synthetic hydrocarbon-derived waxes (frequently used in induction heat sealed liner laminates for glass) when used in close contact with fatty foodstuffs.
Selig's new liner material consists of an aluminum foil coated with a proprietary heat-seal layer that is then adhesive laminated to a backing material of white lined folding box board to provide a reseal once the foil is removed. The liner material is inserted into the closure and sealed by induction after being applied to the glass container. The closure retains the liner material behind a retention bead. On opening, the seal gives an audible "crack" as the materials separate, leaving a clean and attractive foil on the container and a secondary reseal liner in the closure.
On display at the Selig booth was the first commercial application of this new adhesive: a 400-g glass jar of own-brand hazelnut paste from Belgian food retailer Colruyt Group (14). Previously the glass jar was sealed by applying glue with a roller to the land area and applying a metal closure lined with aluminum foil. But glue sealing like this is not hermetic and can only be checked 24 hours after production to make sure the application worked. Induction sealing, by contrast, is instant and hermetic. In this installation, the customer uses an induction sealing system from Enercon.
Shortly after PACK EXPO, Selig announced that Deltaseal 9000 sealing technology for induction sealing to glass is available with Selig's popular and ubiquitous Lift 'n' Peel feature.
INTELLIGENT PACKAGING
Talkin' Things and Closure Systems International (CSI) have joined forces to take smart packaging to the next level. The companies have developed the Talkin' Cap (15), a closure embedded with a near field communication (NFC) tag designed to create meaningful interaction between brands and their consumers with the simple tap of a smartphone.
Talkin' Things, a Warsaw, Poland-based company that makes smart packaging systems, and CSI, an Indianapolis-based manufacturer of capping equipment and closures, teamed up to integrate Talkin' Things' NFC tags into CSI's closures as a convenient way for brands to take advantage of NFC technology, a contactless form of communication that allows an NFC-enabled device like a smartphone or tablet to collect or interpret data from another item with an NFC tag. While many Consumer Packaged Goods (CPG) companies already use NFC tags, it comes at a cost. Some companies slap it on their packaging as add-on stickers, which can interfere with or mar the design of the packaging label. Others integrate it in the body of the packaging, but that can add an extra level of complexity to the packaging process, thus slowing down production. By placing the NFC tags inside the closures, Talkin' Cap can alleviate those challenges, according to Talkin' Things and CSI.
"Companies have NFC tags on labels now, but we've never seen it in the cap before," says David McCall, Business Development Manager for diversified markets at CSI. "So we wanted to try to do it and see if we could get something new into the market."
To create the Talkin' Cap, Talkin' Things encodes and encrypts microchips on the NFC tags to ensure each one is unique and secure. It then supplies the NFC tags to CSI, which seals the tags inside its polypropylene caps and delivers them to the CPG. Talkin' Things provides the CPG with its NFC software, which includes a back end, mobile or web app, and a data management dashboard.
Consumers simply tap their NFC-enabled smartphones on the tags to access the information on them. All Android phones and the iPhone 7 model and up are equipped to read NFC tags.
What sets the Talkin' Cap NFC technology apart from others is the two-stage communication system that provides information to the consumer and CPG before and after the product is opened, according to Talkin' Things. The first stage features Talkin' Things' patented proof-of-purchase solution. The NFC tag is equipped with a loop. When someone opens the packaging, the loop breaks. Consumers will be able to see whether the product has been opened or not by tapping the NFC tags with their smartphones. It also protects the brand from counterfeiting, unauthorized refilling, and other gray market activities, according to Talkin' Things.
When the loop breaks, the chip signals for the second stage of communication to kick in. If the consumer scans the NFC tag again at this point, brands can connect with them via interactive mobile marketing activities, such as gamification, multimedia content like augmented reality, loyalty programs, rewards, and coupons. Talkin' Things software allows CPGs to monitor each scan, view real-time customer engagement, analyze marketing campaigns, and gather actionable insights. Because each tag is unique, CPGs can use the Talkin' Things software to easily customize marketing experiences for their consumers based on information such as where they purchased the products and usage history.
"The data management dashboard makes marketing segmentation easy," says Maciej Kiryllo, Business Development Director for Talkin' Things. "For instance, three people could buy the same product but have different marketing messages from scanning the product. Talkin' Cap lets marketers create unique stories and content. They no longer have to prescribe a generic message. They can create messages that are really, really personalized."
Talkin' Things and CSI expect to bring the Talkin' Cap to market in 2019, but they declined to mention any specific food or beverage brands that will use the closure.
RECLOSURE FEATURE
Zip-Pak exhibited two new innovations during PACK EXPO International 2018, the Safety-Lok and ValvPak. These products are the result of in-depth research and leading-edge ingenuity from the company's Engineering and Development Innovation Center.
Safety-Lok, the new Zip-Pak child-resistant slider zipper, uses Zip-Pak's slider technology designed to help keep children safe from harmful products. Featuring an intuitive one-step opening mechanism, it provides deterrence for children combined with convenient access for the intended consumer. A key differentiator of the Safety-Lok Child Resistant Slider is the proprietary clip mechanism allowing the package to be opened from any position with a light squeeze, creating a wide-mouth opening for easy access to package contents. The Safety-Lok Child Resistant Slider is compliant with CFR and ISO standards.
Also showcased at PACK EXPO for the first time was ValvPak, a product launch that marks Zip-Pak's entry into the liquids category. This revolutionary patented flexible valve technology provides controlled dispensing and spill-proof containment of liquids in flexible packaging. It's a discrete flexible valve that yields when pressure is applied to a pouch's product compartment enabling controlled dispensing. When squeeze-pressure is released, the valve reoccupies and closes the dispensing channel. Compared to a rigid bottle or a pouch with a plastic cap or closure, ValvPak offers cost and sustainability advantages, and is an e-commerce-ready solution that doesn't require any overwraps or extra packaging.
"The Zip-Pak Child Resistant Safety-Lok and the ValvPak flexible valve are two innovative solutions that perfectly align with consumer trends and needs," says Erin Henry, Global Director of Innovation and Marketing for Zip-Pak. "Each new product is designed to meet specific consumer usage needs, while also delivering quality and efficiency to brand owners, converters, and co-manufacturers. We are confident these reclosure solutions will enable our brand partners to market innovative packages that will attract and delight their consumers."
RECLOSURE FEATURE
Achieving comparable functionality at a reduced cost is a goal that drives countless packaging developments. Multiclose (16), a recloseable strip applied between the top and bottom web of the pack on a thermoforming machine, is a perfect example. It was featured at the PACK EXPO booth of Germany-based flexible film supplier Sudpack. Simon Hermans, Technical Sales and Marketing Director based in Sudpack's relatively new Wisconsin office, explains how it's applied.
"We apply a peel/reseal stripe, like a strip of tape, to the forming web that runs on a thermoform/seal machine," says Hermans. In the case of the package shown here, the thermoform/seal machine was from Multivac. "This material is a coextruded structure that includes a polyethylene sealant layer that bonds permanently with the forming web in the preheating station of the thermoforming machine. On the side of the tape that comes in contact with the lidding material is a pressure-sensitive adhesive. So once the package is discharged from the thermoforming machine, all the consumer has to do is peel the top of the package open, remove as much luncheon meat or cheese as they want, and then press the package closed."
Hermans adds that thermoforming systems already in place at a customer plant require just a small modification to begin producing Multiclose packs, so capital investment is kept to a minimum. He also indicates that a variety of shapes can be produced.
C-R CANNABIS PACKAGING
On display at the HLP Klearfold booth was what that firm described as the first-of-its-kind child-resistant cannabis package. A plastic folding carton, it has a tuck on the end as an optional feature. It has a trigger mechanism designed so that when you press down, it allows the contents to be removed. The two plastic parts of the package don't separate, so it keeps multi-use products together, which is a requirement of the Consumer Product Safety Commission standard.
HLP Klearfold says the package is certified and has been tested and approved as a child-resistant package. Another major contribution of the clear plastic packaging is that it makes it possible to see the package contents. Go to pwgo.to/3947 for a video demonstration.
To learn more about what was shown at PACK EXPO International read the in-depth articles:
https://www.packworld.com/article/pack-expo-international-2018-innovations-report
https://www.packworld.com/article/report-innovative-new-controls-pack-expo
https://www.packworld.com/article/report-innovative-new-robotics-pack-expo
https://www.packworld.com/article/report-innovative-new-e-commerce-pack-expo
https://www.packworld.com/article/report-innovative-new-pharmaceutical-pack-expo
Companies in this article