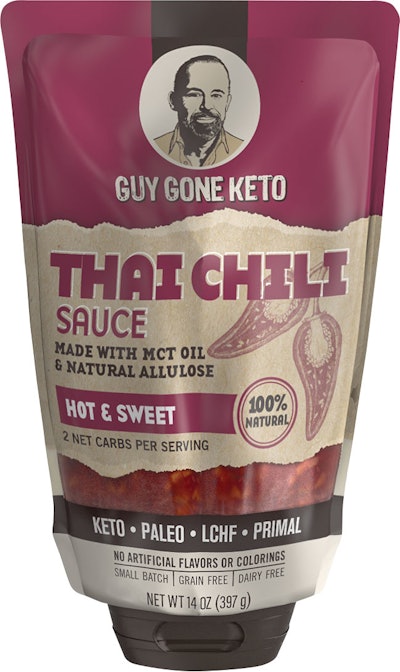 Adopting a lifestyle that includes a diet of 70% fats, 20% protein, and 10% cruciferous (grown above the ground, not below) vegetables, while eliminating grains, fruits, and all sugars, isn't for everybody. But for a significant and growing number people globally, this Ketogenic diet—or "lifestyle" depending on who you speak to—has generated great results in weight loss and health. The guy who wrote the book on the diet, "Guy Gone Keto," is Thom King. He is, quite literally, a guy who has "gone keto" in taking to the Ketogenic lifestyle.
"With the Ketogenic lifestyle, your body becomes what's called fat-adapted; it stops burning carbohydrates as its primary fuel, and starts actually burning fats," he says. "Your body adapts quite well and functions more efficiently when burning fat. Benefits include increases in brain functionality and help in combating metabolic disease and obesity, plus it lends a hand in controlling seizures and diabetes."
King also happens to be President of Icon Foods, Portland, OR, an ingredient supplier specializing in all-natural, certified-organic, GMO-free, soy-free, and allergen-free sweeteners to replace sugars and support food manufacturers in sugar reduction. The consumer brand name associated with Icon is Steviva, a stevia-plant-based sweetener. But the company more recently introduced the ingredient KetoseSweet+, a sweetener that can be enjoyed without affecting blood glucose or insulin levels.
At least in part to demonstrate KetoseSweet's efficacy as a viable sugar-alternative in consumer products, Icon recently introduced a line of products—namely steak and barbecue sauces, ketchup, and similar condiments—aptly named Guy Gone Keto. The move flung the ingredient company into the role of a start-up food CPG, and it needed to package the product not only for shelf appeal and impact, but also practicality in logistics.
"This isn't my first run at retail. Since we knew we'd be doing a lot of direct-to-consumer to start, we knew we were going to be shipping a lot," King says. "We wanted to build brand equity before we even got to the retail environment. First, it gives us a competitive advantage once we do hit the retail shelves, and secondarily, we'll have a first-mover's advantage of being, as far as I know, the only condiment delivered in a stand-up pouch like this one. We were looking for a flexible stand-up pouch that performed well in terms of weight and breakage in direct-to-consumer channels."
One requirement was that the package selected for this condiment product had to withstand being hot-filled. The STANDCAP Pouch using Volpak technology, exclusively licensed in the U.S. by converter Glenroy, is heat tolerant to 190°F, giving Guy Gone Keto and Icon the ability to hot-fill in a flexible package.
"I actually saw the STANDCAP Pouch in Packaging World magazine in a Daisy Brand sour cream application and began researching it after that," King adds. (You can watch a video about the Daisy application from Packaging World at pwgo.to/3937.) "Now that we're growing that brand equity, and we're being shared on social media like we are, I think the packaging will just sell itself in retail because of its shelf presence."
In terms of shelf impact, eye-tracking studies within a retail environment performed by Clemson University and research firm Package InSight showed that the STANDCAP Pouch was noticed 40% faster and viewed 53% longer than rigid packaging.
The premade pack
The company turned to graphic artist Roberta Souto, a veteran in designing for Icon brands, to design the label. She wanted to convey a message that struck a personalized, small-batch chord, hence the Guy Gone Keto (Thom King) likeness.
Holding 14 oz. of product, the STANDCAP Pouch itself is a multilayer, reverse-printed film lamination that incorporates a proprietary layer of clear, high-barrier film designed to protect the integrity of the product and extend shelf life. The product-contact layer provides a heat-sealable surface designed to be compatible with the closure and adds to overall pouch strength. The clear, high-barrier layer provides oxygen and moisture resistance. The exterior layer protects the reverse-printed ink and plays a role in burst strength. Other layers of the pouch provide further burst strength, rigidity, and puncture resistance. Total film thickness is approximately 5 mils.
The Sierra closure used in the pouch system was developed by Aptar. This patented dispensing solution provides the pouch with stability and features an easy- to-open flip-lid closure, built-in tamper evidence, and proprietary SimpliSqueeze® valve technology for superior dispensing performance. The SimpliSqueeze valve provides controlled, drip-free dispensing, clean product cutoff, and "ease of squeeze," making the pouch incredibly easy for consumers to use. The valve also improves oxygen barrier & maintains product freshness between uses. And because different products have different viscosities, the SimpliSqueeze® valve can be fully customized according to the thickness of each product and the desired product stream. In highly viscous applications like the Guy Gone Keto condiments, it was important to use a dispenser that could handle comparatively low-flow products.
The self-made line
Once the Glenroy-sourced preformed STANDCAP Pouches were selected, King purchased a model 430 stand-up pouch filler and sealer from JDA Progress Industries. Oddly enough, this is an auger filler machine originally designed to fill gusseted zipper bags with powder. Icon's engineers removed the auger filler, replaced it with an ACASI TRU-piston liquid filler, and integrated it into the existing bag filler along with a specially fabricated magazine to accept the 1-in tall STANDCAP closure with premade pouch.
"Right now, we can run 45 per minute on a single machine," King says. "While that machine itself isn't scalable, it was scalable in the sense that, once we got the machine down, we could recreate it as many times over as we wanted. We currently run four different lines at a time to increase our throughput to approach 200 bags per minute."
The self-engineered line pulls the pouch from the magazine, opens it, fills the pouch with the piston nozzle, seals it at the top edge, date stamps it, then conveys it to a collection table.
"We're not doing any automated case erection or case packing at the moment on this line," King says. "They're hand-packed into six-pack cases, run through a 3M case sealer, and then added to a master case."
Cases are stacked at 80-cases per pallet on a food-grade plastic pallet, then wrapped with a Pacific Packaging Products stretch wrapper.
So why reinvent the wheel with a self-engineered packaging line? Originally, the Guy Gone Keto start-up portion of Icon couldn't find anyone to co-pack for them because most co-packers' MOQ (minimum order quantity) wasn't low enough—at least at the start of production. Most co-packers wanted to do a minimum run of 100,000 per SKU, and Guy Gone Keto wasn't there yet in terms of volume. But with four lines now, King expects to generate a lot of appeal for similarly small start-ups, and he can imagine doing runs down to 20,000 per SKU as a co-manufacturer and co-packer.
"So we built a machine ourselves that will allow us to pack Guy Gone Keto in our own SQF Level II facility, as well as accept co-packing jobs from companies that are in the same situation that we were in. Believe it or not, I already have several companies lining up to have us co-manufacture and co-pack our recipes under their brands," King says. "We'll be doing some private labeling for these companies, and maybe doing some tweaks on the formulas, but with the backing of Icon's R&D department—all they do is knock out new formulas—any company that has an idea, they can come to us and we can make something work."
King can see these private labelers using STANDCAP Pouches, but the company has other fill lines, like rotary piston fillers designed for glass and heat-resistant PET.
"While we're not relegated to just doing the STANDCAPS, I really think it's a better packaging design," King says. "They're novel, there's a lot less waste for the consumer, there's a lot less weight in storage on them, so it makes them a lot more efficient, particularly in a higher viscosity environment like condiments, like ketchup and barbeque sauce, you're getting all of the product out of the packaging. You're not getting everything out of a glass or PET bottle unless you want to fight with it with a fork or knife. I think it presents a better value for the consumer, and food waste reduction is probably our biggest value-add."
While the STANDCAP Pouch itself is not recyclable, King notes that food waste in the form of content left in the bottom of a bottle renders even PET or glass containers unrecyclable, leveling the playing field. That waste also leaves a bad taste in consumers mouths—one this flexible application aims to eliminate.
Premade STANDCAP Pouches—the players involved
Converter Glenroy is the exclusive pouch converter of the new premade STANDCAP Pouch. Glenroy leverages proprietary Volpak converting technology, available via fellow Coesia company R.A Jones in the U.S., to deliver the STANDCAP Pouch as a turnkey, premade pouch solution, with low cost-of-entry and no capital equipment expenditures required. A unique closure by Aptar provides the pouch with stability and features an easy to open flip-lid closure, built-in tamper evidence and proprietary SimpliSqueeze® valve technology for superior dispensing performance.
The patented STANDCAP Pouch had previously been available to the market exclusively with VOLPAK horizontal form-fill-seal equipment. Manufacturing Solutions International (MSI) has been qualified as the preferred contract filler of the premade STANDCAP Pouch, and Viking Masek completes the supply chain with fill/seal packaging equipment.
Companies in this article