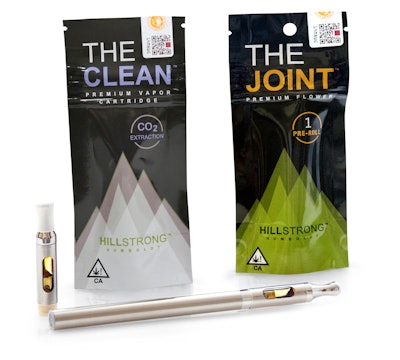 Packaging is an established function within traditional industries such as food, beverage, and pharmaceutical, but in the world of cannabis, that's not always the case. Humboldt County, CA-based HILLSTRONG Collective is looking to change that.
Formed in 2016, the company wants its packaging to lend consumer appeal and meet performance requirements—all while maintaining the flexibility to adapt to the ever-changing regulatory environments, which requires the flexibility to make ongoing package printing and labeling changes as necessary.
HILLSTRONG is taking on these challenges by working with its supplier partners to provide packaging that meets barrier and performance needs and provide convenience for its recreational cannabis products, which are sold in California dispensaries. It sells several cannabis varieties (strain, types and flavors) in the following package types:
• Premium Flower in a 1/8 oz (3.5 gram) size—this is 100% cannabis flower/bud alone in a pouch, which allows the consumer to use it in the delivery method they prefer (i.e. inhalation, cooking, tinctures, etc.)
• Single Pre-roll (0 .7 gram)—a ready-for-use cigarette prepared using a paper cone with paperboard tip/mouthpiece. The premium flower inside is finely ground and packed evenly into this paper casing the way tobacco is packed into a regular cigarette. (Trimming/byproducts of the premium flower production are processed into pharmaceutical-grade, CO2-extracted distillate oil and sold in a 0.5-gram vaping cartridge in this same packaging.)
• Triple Pre-roll (3 x 0.7 gr = 2.1 gram)—three single pre-rolls.
Josh Gatlin, HILLSTRONG's Owner & CEO, explains that the company partners with Budpack, a packaging supplier that "combines internal manufacturing and expertise with partners to provide brand owners with custom packaging for their unique challenges." This includes Dymapak, provider of child-resistant (CR) zipper and CR reclosable pre-cut pouches.
During its first year of operation in 2016, HILLSTRONG learned of Budpack online. "We were in the research-and-development phase," Gatlin explains, "which I imagine we'll continue to do throughout the life of our company. We sought a supplier that aligned with our brand vision. And like many in our industry, we were simply trying to keep up with the moving target that continuously changing labeling regulations created – while simultaneously finding solutions that would protect/preserve our products and be attractive to the consumer."
Before July 2018, he notes, "the cannabis industry was still in the 'wild west' mindset and packaging wasn't scrutinized by regulatory agencies like it is now. It seemed many packaging suppliers offered products that covered some—or even all—of the regulatory bases but did not give us ample dimensional space/surface area to allow for good branding/design. Nor did they allow for easy opening, resealing, and sufficient odor suppression. In addition to these problems, many products were lacking a singular required component or feature (i.e. child-proof, tamper-evident, smell-proof, opacity), which would disqualify that product as a viable option."
Budpack not only provided technical and design advice for HILLSTRONG's packaging, but also delivered artwork and actual samples, using digital printing to provide quick turnaround times. The packaging selected by HILLSTRONG is odor blocking, opaque, and child-resistant. This is achieved with a metalized non-easy tear film structure with a resealable CR zipper from Dymapak.
Following quality control, sorting, and weighing procedures, HILLSTRONG packs all product by hand. The company manually affixes a 1-in. x 2 5/8-in. primary panel label to each pack. Printed details include the cannabis strain name, laboratory analysis of THC and CBD levels in both percentage and milligrams per package, a barcode for easy stocking and point-of-sale inventory changes, and a QR code that links the customer directly to HILLLSTRONG's website. This label is placed on the package at the distribution warehouse after the quarantined batches of fully packaged product has passed state-mandated analysis.
Cannabis market issues
As Gatlin points out, the cannabis market is rapidly developing. Asked to assess where the market stands today and where he might see it advancing in the next five years, he says: "With the legalization of both medical and recreational marijuana use across the country – and, in fact, the world, I can imagine that in the next five years, and maybe much sooner, there will be a more commoditized industry with more standardized production methods. We are already seeing this all over California and in Oregon and Washington."
He expresses concern around the overproduction of cannabis. "This can lower wholesale prices far beyond what many can endure long-term. The viability of many small farms is going to be at great risk. However, I believe there will always be room for some boutique and artisan producers that can offer the connoisseur and other discerning consumers qualities that the larger, more industrial farms may not be able to produce on a consistent basis."
Gatlin notes, "We are always going to keep our eyes and ears open to the changing requirements, but it's branding and customer satisfaction that truly drives our taste in packaging options. We plan to launch other products, such as edibles, single-gram cannabis flower packages, and skin creams like salves and muscle rubs. Being open to the new ideas and creativity that packaging brings—and not growing complacent—is going to be an essential part of efficiently and effectively distributing our products to the consumer."
SIDEBAR
Flexibility, Digital Printing, Visual Cues Key to Cannabis Packaging
The combination of changing regulations and evolving product branding strategies results in HILLSTRONG working with Budpack, a company that includes a network of strategic supply chain partners in bringing its cannabis to market.
Budpack provides, child-resistant stand-up pouches for popular cannabis flower weights such as gram, eighth, quarter, ounce, medium exit and large exit. These meet ASTM classification standard D3475 and are lab-certified using CPSC standards defined in 16 CFR 1700 poison prevention packaging.
Pouches typically include laminated polyester (PET) and polyethylene (PE), but can also incorporate metallization or nylon to address product barrier concerns such as light, moisture, odor and shelf life, as well as tamper-evidence features. Film thickness is commonly 5 mils but can vary by state or local regulation.
Films can be printed via rotogravure or flexographic presses in up to 10 colors to provide high-definition graphics and color management. The process can be economical for longer printing runs.
Budpack can provide both preformed pouches or rollstock film options. Digital printing is especially suitable for quick turnarounds caused by ever-changing labeling laws or short time-to-market product launches. Films can also be printed via rotogravure or flexographic presses in up to 10 colors to provide high-definition graphics and color management. These processes can be more economical for longer printing runs.
Asked what makes the HILLSTRONG application unique, Budpack Product Manager Sierra Liggett asserts, "Cannabis. The product has been legally unavailable for so long that consumers may be intimidated or unfamiliar in how to buy from legitimate sources. Our packaging conveys a sense of familiarity. Customers are searching for recognizable cues, similar to the way in which they read labels when shopping for medicine or food. They want to understand how the package should be handled, how it can be used to store unfinished product or doses. Fortunately, there are time-honored best practices from which we can draw. Similar to food and pharmaceutical packaging, we consider factors such as child-resistance, tamper-evidence, and shelf life. Packaging is an opportunity to convey messages that are educational as well as comforting. Consumers want to be assured that they are purchasing something that will fulfill their need in the best way possible whether they purchase in-store or online."