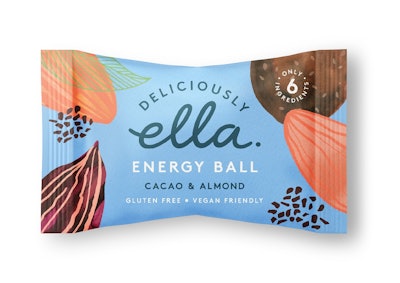 Deliciously Ella's online tagline is "Live Better. Be Useful. Make vegetables cool." To do the latter, the London-based firm recently unveiled a colorful brand refresh for its range of plant-based foods, with creative design and strategy by Here Design.
The redesign provides a strikingly different appearance from previous packaging and includes packaging for energy balls, oat bars, oat bar multipacks, peanut butter balls, cereals and cereal pots, and frozen meals. However, no manufacturing or packaging details were provided.
Refreshed packaging for the vegan-friendly ranges incorporates bright hues reflecting the depth of flavor of the foods in an effort to inspire consumers to try new taste profiles and experiment with the simple and accessible range of offerings. Brought to life with bold watercolor and line-drawn illustrations of the ingredients, the packs strive to be both joyful and delicious.
Tess Wicksteed, Strategy Partner, Here Design, says, "We wanted to work with the Deliciously Ella team to help spread the word and amplify their message that plant-based eating is about diversity, abundance, and creativity—there's not a whiff of restriction about it. You can eat anything under the sun!"
Kate Marlow, Creative Partner, Here Design, adds, "Our design intention was to create packaging that was so joyous and colorful that it completely dispelled the assumption that plant-based eating was in some way less delicious or full of variety. The ingredients themselves inspired the illustrations and rich color palette and the visual style can be translated across many mediums successfully, from books to kitchenware through to digital animation."
Deliciously Ella's founder, Eleanor Laura Davan Mills, says she founded the company in 2012 as a way to address a medical condition by turning to a plant-based diet that led to a growing social media presence including a blog and an app, as well as a cookbook, a deli, and now the packaging refresh. She writes, "We're only getting started on our journey, but our core purpose has remained the same from when I wrote my first recipe, which is to share the joys and benefits of plant-based living. It gave me my life and health back, and between us [Matt, her husband and company CEO), we can help millions of others, too."
Deliciously Ella products are sold in some 6,000 stores across the U.K., including Starbucks, Tesco, Sainsbury's, and Whole Foods.