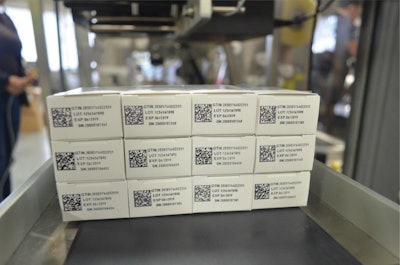 A large international pharmaceutical company recently contacted Pineberry Manufacturing Inc. needing to serialize its products, support traceability throughout its supply chain and aggregate erect cartons, all to comply with the USA FDA Drug Supply Chain Security Act (DSCSA), the EU Falsified Medicines Directive (FMD), and other global market requirements.
On top of those requirements, the pharmaceutical firm, which prefers not to identify itself, has limited physical space. That posed the need for a compact system to print and verify traceability serialized codes on erect cartons and aggregate them into batches of 12.

Aggregation impacts serialization projects on the packaging lines throughout manufacturers' operations and the overall supply chain. Aggregation provides the ability to serialize as a way to prevent the influx of counterfeit drugs into the legitimate community.
As erected cartons come down the pharmaceutical company's conveyor line and onto the Pineberry CartonTrac Serialization and Aggregation System, high-quality print serialization is applied to each carton. A camera vision system scans each carton to verify all the required printed data has been placed, applied correctly, and is easily readable. If there's a print issue, the pneumatic reject system blows any poorly packed cartons off the production line.

Once individual serialization is achieved, the individual cartons move to the front of a gantry robot that gently grabs cartons with its EOAT (end-of-arm-tool) gripper and stacks them, creating bundles in three rows of four. The gantry system can move at speeds of up to 8 m/sec. The servo motors help the robotic system be fast, steady and accurate, with the flexibility to modify the stacking patterns as required.
After cartons are stacked, the bundle of serialized products is transferred through an automatic banding system that bundles the cartons into a single batch using clear plastic wrap.
A second camera vision system takes a picture of the batch, recording all individual serialization pack codes applied previously. The newly formed pack then has an additional label blown onto the plastic banding wrap with the label containing a single QR code that combines all of the data from each of the individual packs of product.
The pack then exits the Pineberry CartonTrac Serialization and Aggregation System to await further packing into a master case where another label is added containing data of all its contents. Further downstream, when the master case is palletized with other such cartons, another label can be added for complete identification of what it contains.
Companies in this article