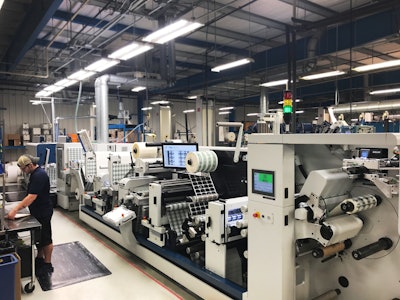 Yerecic Label is a label supplier to the perishables industry, namely meats, produce, dairy, center store, and other grocery store segments in need of labeling. The company is focused on performing at what it calls the Speed of Fresh℠, recognizing the continually changing environment of perishables with unexpected demand and yield, and the short lead times this can cause.
To that end, Yerecic installed its first digital press and in-line finishing unit with partners Domino and AB Graphic International. Yerecic says the Domino N610i and ABG Digicon 3 reflect Yerecic Label's dedication to investing in the most advanced technology to better serve their customers.
"With Yerecic Label's focus on lean manufacturing and serving at the Speed of Fresh, our digital press cell must meet demanding standards," said Art Yerecic, President, Yerecic Label. "The Domino digital press and ABG finishing unit allows Yerecic Label to be even more nimble while achieving the consistent high quality our customers expect."
Yerecic Label spent over a year researching quality, conformance to food safety requirements, capabilities, and equipment speed. After the thorough review process, Yerecic Label selected Domino's N610i digital UV inkjet label press with an in-line ABG Digicon 3 finishing unit. This press cell configuration allows Yerecic Label great flexibility in constructions and capabilities on-press.
"Feedback from current users within our TLMI community was a major piece of the equipment research," says Brian Hurst, Yerecic Label Vice President of Production. "The opportunity to visit fellow TLMI converters, see the press and finisher on-site and talk with operators was invaluable during our selection process."
Speed, uptime, and print quality are key critical to our label makers like Yerecic, and the success of their business. According to the company, Domino has 'engineered out' operator intervention on the N610i digital UV inkjet label press with automated features of printhead cleaning, stitching, and recirculating ink. That equates to more labels in less time with consistent and repeatable high-quality printing.
"We are able to satisfy even the most color-sensitive customers with the high density dual white ink and six color expanded gamut (Cyan, Magenta, Yellow, Black, Orange and Violet) that accurately reproduces over 92 percent of Pantone colors," said Hurst. "The press/finisher speed of over 200 feet per minute was just as important in convincing the Yerecic Label team that it was time to invest in digital capabilities."
When ABG was specifying the digital solution, the Yerecic team impressed upon them that finishing the product in-line was critical to their needs. Yerecic chose added value for their customers, flexibility and most importantly, automation that would allow products to be turned around very quickly, reducing the chance of operator error.
The ABG Digicon 3's fleyeVision 100% camera inspection and glueless turret rewinder ensures Yerecic can prepare smaller rolls for immediate dispatch straight from the machine, safe in the knowledge the product has been inspected and passes stringent quality control requirements.
"As configured, we've already identified over 300 constructions our digital press cell can create in one pass," said Yerecic. "We hope to add to our TLMI Print Awards with our new digital capability. With Yerecic Label's 50thanniversary coming in 2019, we're looking forward to continued success with our digital partners, Domino and ABG."
Companies in this article