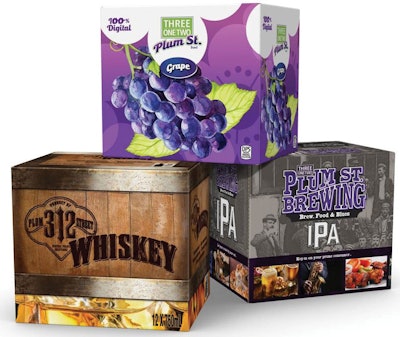 New developments in digital printing and finishing as it relates to packaging are unfolding at such a rapid clip these days that anything resembling a comprehensive overview would be difficult at best. But here are a few highlights in the main substrate categories—corrugated, flexible film, labels, folding cartons, enhancement—where digital printing is making its presence felt in a big way.
Corrugated might be the best place to start, since a number of things are happening in both pre-printing of linerboard and post-printing of sheet-fed corrugated. We begin with DS Smith, whose Featherstone facility in the U.K. was the first to commercialize the HP PageWide T1100S from HP in Spring of 2016. The T1100S ink-jet web press permits high-speed CMYK pre-printing of 110 inch wide (2.8 m) corrugated linerboard at 600ft/min (198 m). A second T1100S was installed in Smith's Fulda, Germany, plant around January of 2018. But then just a few months later, HP and DS Smith announced a change in plans. The T1100S that DS Smith was installing in Fulda will be upgraded to the T1190. Introduced at FESPA 2018 in Munich, the T1190 prints not only CMYK but also Orange and Violet, thus extending the color gamut to meet additional brand colors. It features HP A30 water-based inks as opposed to UV-reactive chemistry, so corrugated linerboard printed on it is food safe. The T1190 also offers a big increase in throughput compared to the T1100S: 1,000 ft/min (305 m).
Elsewhere on the pre-print for corrugated front, Georgia-Pacific got its feet wet with a 2015 installation of the HP PageWide Web Press T400S. After experiencing strong demand and confirming the value of digital preprint both for its own box-making operations and for converter customers who buy preprinted linerboard for their box-making operations, GP expanded its capabilities in two ways. It invested in an HP PageWide Web Press T1100S, and it created a whole new digital-only division called Hummingbird. Sergio Morales, General Manager of Hummingbird, explains why.
"The experience we had with the smaller T400S made us realize how dramatically different the business model needs to be if you really want to capitalize on the value proposition of digital," says Morales. "With digital it's all about speed to market and flexibility in the supply chain. It's not like analog, where customers order four months of inventory well in advance to optimize set-up time and get the price point where they want it. So rather than try to change the culture of an analog business, we created a separate business that's completely dedicated to helping customers transition from analog to digital and help them capitalize on the value that digital brings."
Hummingbird produces quality that is comparable to offset print processes and can bring greater color consistency throughout the print run. One of the notable advantages of a 110-inch wide (2.8 m) press is the ability to produce high-quality, large-format packaging and pre-printed rolls with no need for offset or flexo labels. For example, Hummingbird can handle everything from large-format TV boxes to pumpkin bins and pallet skirts, while providing the same speed-to-market and supply chain benefits it offers for smaller packaging.
With more than 40 Georgia-Pacific plants across the U.S. and relationships with other converters, Hummingbird has the geographic coverage for efficient delivery to customers' destinations. Hummingbird can also provide pre-printed rolls directly to plants and converters, enabling suppliers to offer customers the benefits of digitally printed packaging without the need to invest in a digital press themselves.
Postprint activity, too
Investment in new presses for digital printing of sheet-fed corrugated is also on the rise. Two notable "firsts" are at Rondo Ganahl AG in Austria and Dusobox in the U.S.
Rondo is the first to install the sheet-fed Delta SPC 130 printing system from Durst. Capable of print speeds to 100,640 sq ft/hr (9,350 sq m), it's based on Durst single-pass printing technology. Equipped with Durst's Drop-On-Demand print head technology, it has a non-hazardous Water Technology ink system for sustainable and odorless production and an IR/UV drying process designed for high productivity. It can be configured with as many as six colors, printing any length of corrugated or paper medium up to 12 mm (0.47 in) thick.
With this investment, Rondo is responding to changing demands in the corrugated board market that require rapid and flexible solutions for the sampling, versioning, and personalization of promotional activities. In particular, the market is seeking suppliers that can support them with seasonal promotions, special editions, and individualized products in a timely and high-quality manner. While other print service providers in Austria have recognized this and invested in the Durst Delta WT Corrugated Multi-Pass printing system, Rondo is going a step further by relying on industrial productivity and scalability with the SPC 130 and its single-pass technology. For video go here: pwgo.to/3608.
Also offering single-pass post-print technology is HP with its C500 Press. The first converter in the U.S. to install one will be Dusobox of Orlando, FL. Once again, gaining maximum flexibility combined with high quality was a big driver.
The 1.3-m (4.26 ft) wide C500 uses HP's Thermal Inkjet technology. Combined with HP's accurate media motion and robust hold of industry-grade boards for smooth production flow using HP's corrugated grip, the press delivers high-quality digital print.
"This high-volume capacity combined with digital efficiency further establishes an unprecedented speed-to-market capability in the corrugated industry," says John Kelley, Dusobox President. "We continue to challenge and surpass the standard six-week delivery, and with this press we'll be under two weeks."
Dusobox will use the PageWide C500 press for nutritional products, health and beauty products, and a wide range of packaged goods sold through large national and regional retailers. Also included will be food and beverage packaging, both primary and secondary. Food safety in the C500 is supported by HP CV150 water-based CMYK inks and water-based HP Bonding Agents. These fluids are suitable for both coated and uncoated media and contain no UV-reactive chemistries and require no additional barriers.
Another U.S. converter scheduled to install a C500 this fall in its Charlotte, NC, plant is CompanyBox. A key differentiator that comes with the press, says CompanyBox CEO Louie DeJesus, is HP's recently announced One Package workflow portfolio. It will enable Company-Box to integrate mainstream digital print into its fast-paced operations. "Efficient, high-volume workflow is extremely important to our continued ability to meet clients' service level agreements," says DeJesus. "We trust HP to help us look at the big strategic picture, while addressing many smaller ways to enhance our operational efficiency. The PageWide C500 and One Package workflow portfolio give us the ability to scale."
Two last looks at digital printing of corrugated take us to Tennessee and Massachusetts, where digital print technology from Barberan is in action. In Lebanon, TN, Custom Packaging for the last few months has been using a Barberan Jetmaster 1680 press to digitally print corrugated sheet for a range of CPG brand owners. President Rick Darling says that all producers of presses capable of printing corrugated sheet were carefully evaluated and that Barberan was attractive for a number of reasons, including these:
• Barberan ink-jet presses aren't designed for use in a variety of industrial applications, they're designed for just one thing: corrugated.
• Converters operating a Barberan press can purchase ink from multiple sources.
• Barberan encouraged Darling to bring corrugated sheet from local Nashville suppliers over to Barberan headquarters in Spain when it came time to test out the press.
• The Barberan press is fast.
When asked what kinds of customers will benefit from the new press's capabilities, Darling says "we touch a little bit of everything here." He notes that while food companies may be on the list of those ordering digitally printed corrugated, it won't be for food-contact packaging, as UV-cured inks are not permitted by the FDA when it comes to food-contact packaging.
Darling says the press is capable of 75 m/min (246 ft) but that his shop runs it typically in the range of 55 m/min (180 ft). Any corrugated fluting can be handled, including double-wall sheets. As for print-run length, Darling says the "sweet spot" is just about anything under 20,000. "Larger than that," he adds, "and offset is still very viable."
Another Barberan press to be installed recently is at Abbott-Action in Attleboro, MA, where a recent project for Yasso Frozen Greek Yogurt demonstrated how digital can be just what the doctor ordered.
As Quincy, MA-based Yasso prepared to introduce a new pint-sized frozen yogurt, it challenged Abbott-Action to develop a packaging system that would deliver on four key objectives. First, it had to keep the pint-sized containers of frozen yogurt frozen as they made their way to three distinctly different recipients: retail buyers, industry influencers, and 50 key individuals in the media. Second, the packaging graphics had to promote the brand. Third, even though the project called for a mere 1,300 corrugated single-wall C-flute cases, it had to be economically feasible. And finally, the corrugated cases had to be shipped just seven business days after arrival of final artwork.
Abbott-Action responded with three versions of a corrugated cooler pack that each included a die-cut paperboard tray to hold the frozen pints, EPS pads for insulation, a single-wall C-flute corrugated case to hold dry ice, and an outer case of single-wall-C-flute corrugated to carry the digitally printed graphics. The 1,300 cases were produced in three runs (see Figure 1):
• 810 cases each holding eight pints went to retailers
• 440 cases each holding four pints went to industry influencers
• 50 cases each holding four pints went to media outlets such as Men's Journal and Good Housekeeping
"Such a project would never have made economic sense if it couldn't be done digitally," says Chuck Slingerland, VP Sales for Digital Operations at Abbott-Action. "Not to mention that only with digital could we have met the deadlines."
The run of 440 cases each holding four pints was especially suitable for digital versioning because 110 cases were one flavor, 110 were another flavor, 110 were a third flavor, and 110 were a fourth flavor. "The entire 440-unit run was done in one setup," says Slingerland. "In analog production, we would have consumed more print plates and set-up time." And then there's the run of 50 cases that went to media outlets. Digital was the only way to go here, because every single case was personalized with the name of the media outlet for whom it was designed.
Before moving on to substrates other than corrugated, one other notable development should be mentioned: the recent launch of the Euclid IIIC from Highcon. One of the first, if not the first, to offer digital scoring and cutting of folding carton material, Highcon now offers the same digital finishing capabilities in corrugated. The first converter to work with the IIIC is Switzerland's LxBxH.
"We took a close look at where the market is going and one important point was that our batch size was actually declining over the years," says Silvano Gauch, LxBxH President. "Also, in our factory, more than a third of our orders are just-in-time delivery, which means we produce, keep in stock, and wait for the customer to need something. The third trend is towards more complex packaging—more die-cutting, less inline boxes. To address these issues, I wanted to move to just-in-time production, and that was our objective in looking at this digital machine. It meets our objectives."
During a recent demonstration event hosted by Highcon and LxBxH, two jobs were run on the machine: a two-up E-flute wine box and a one-up B-flute inner tray in B1 format.
ePac makes a bold statement in flexibles
Digital printing of flexible films for packaging is well established by now, led to a great extent by the roll-fed HP 20000, whose 30-in (762-mm) web width rivals that of many flexo presses. HP indicates that something like 115 of these systems are in operation around the world. But rarely has there been an announcement like the one that HP sent out earlier this year, when it was revealed that 10 of the 20000 presses had been ordered by ePac Flexible Packaging, a relative newcomer based in Madison, WI, that is a digital-only flexible film converter. The goal, says ePac, is to expand operations across the U.S. through mid-2019. The new order quadruples the firm's production capacity.
"ePac helps simplify how brands of all sizes buy flexible packaging," says Jack Knott, ePac CEO. "Rapid turnaround time, low minimums, customization, graphics quality, and the ability to print to demand—these differentiate ePac from conventional flex pack converters. Printing is the core enabling technology we have built ePac on, with the HP Indigo 20000 serving as the foundation of our manufacturing platform. ePac's collaboration with HP is fundamental to our growth strategy, as we look to adding ePac sites in the months ahead."
Like HP's 30000 press, a sheet-fed system for printing folding cartons, the 20000 relies on HP Indigo's proprietary liquid electrophotography (LEP), where electrically-charged liquid inks are dried and applied to the substrate via a thermal blanket. Ink-jet printing of flexible packaging, by contrast, relies on jetting heads to spray ink onto a substrate, and at the recent Ipack Ima packaging show in Milan there was a notable debut in the digital ink-jet space. Memjet announced that its OEM partner Rigoli s.r.l. has launched the Rigoli MVZ, the first roll-to-roll, wide-format ink-jet printer powered by Memjet and designed for flexible packaging applications. It's positioned as a low-cost solution that lets users produce the colorful, low- to middle-run lengths of customized flexible packaging that are in demand today. And with its small footprint, it lends itself to being placed in-line with finishing equipment, notes Memjet.
"As brands bring an ever-increasing number of SKUs to market, packaging production has struggled to keep up," says Kevin Shimamoto, Chief Marketing Officer at Memjet. "All too often, package printing solutions lack the quality, flexibility, and affordability needed to make on-demand, short-run, and late-stage-customized packaging a reality. The Rigoli MVZ product family marks a dramatic shift in that paradigm, making it faster, easier, and cost-effective for companies of all sizes to make flexible packaging part of their operation."
Zsolt Tarjanyi, Managing Director of Rigoli, believes the MVZ has a unique combination of performance characteristics. "It has the speed, image quality, reliability, and affordability that users demand—and only Memjet technology can provide," says Tarjanyi. "As flexible film suppliers seek to address an increasing demand for varying branding, messaging, sizes, and shapes, the MVZ delivers."
The Rigoli MVZ1000 can support media widths of up to 1,067 mm (3.5 ft). The printer includes an industrial unwinder and rewinder that can accommodate jumbo rolls. The rewinding options are printed-side-up or printed-side-down, which improves efficiency. The MVZ printers can also be equipped with a buffering unit that allows them to be installed in-line with other finishing equipment, including slitting and laminating systems as well as filling equipment.
According to Memjet, the quality produced by the Rigoli MVZ printers rivals that of offset. Powered by Memjet's single-pass wide-format technology, the solution produces 1600x1600 dpi printing resolution at 9 m/min (29.5 ft) or 1600x800 dpi at 18m/min (30 ft).
Rigoli and Memjet aren't the only OEMs partnering as they bring new digital printing solutions to flexible film converting. Italy's Uteco and Kodak of the U.S. announced April 23 the availability of Sapphire EVO. It's a digital press utilizing Kodak Stream Inkjet Technology in what is essentially a Uteco press. First to install the new press is Nuova Erreplast of Italy.
"The writing system is Kodak's, as is the image quality system that checks color-to-color registration," says Dan Danofsky, Business Development Director at Kodak. "But it's Uteco who takes the final product to the market, and it's their gravure pretreaters, their flexo postcoater, their film transport, and their drying system."
Sapphire EVO is positioned as a solution that combines the capabilities of flexo (print quality and speed) with those of digital (plate-free printing means changing from one job to another is a snap). Capable of printing roll-fed film or paper up to 650 mm (2.13 ft) wide and offering CMYK printing as well as options for in-line priming and varnishing, it prints at more than 9,000 linear m/hr (30,000 ft).
"I think there are two things about this press that make it truly revolutionary," says Danofsky. "First, because it uses Stream Inkjet Technology, it's printing flexible film four times faster than any of the electrophotographic digital systems can. And compared to other ink-jet systems, this is the first to print with water-based inks on flexible films. The others are printing with UV-curable inks, which are both more expensive and are not approved for indirect food contact as we are. All of which, though impressive as it is, would be moot if print quality suffered. But it doesn't. Print resolution is at 600x900, so detail and densities are all very good. Which is why we feel we can compete with analog technologies when it comes to print quality, meaning this a press that's suitable not only for short runs, which has long been the sweet spot for digital, but also for medium to long runs."
"As the demand for mass versioning and customization of packaging grows globally," says Stefano Russo, COO of the Uteco Group, "hybrid flexo, gravure, and digital printing is becoming a very important part of a packaging provider's offering. The combination of Uteco and Kodak technologies not only delivers a competitive option for digital short-run printing but also competes in medium to long print runs."
Though Russo refers to this as a "hybrid" press because it combines digital, flexo, and gravure print stations, it's not really a "hybrid" in the conventional sense because the only laydown of ink is done by the Kodak digital ink-jet print heads. At Nuova Erreplast, where the first Sapphire EVO is being commissioned, Sales Manager Anita Palmentieri sees it as a great fit for a number of customers, but especially for private label customers who want to customize or personalize their packaging.
The folding carton scene
HP Indigo paved the way in digital printing of folding cartons with its sheet-fed 30000 press, built to accept a wide-format 29.5 x 20.9-in (750 x 530-mm)sheet size. See pwgo.to/3609 and pwgo.to/3610 for our past coverage of this ground-breaking press.
More recently, two other notable players, Heidelberg and Landa Digital Printing, have introduced and installed their versions of digital presses aimed at the folding carton market, and it's these we look at here.
Heidelberg, of course, is a legendary name associated with offset printing presses since 1912, and many of its machines are in operation around the world. But at drupa 2016 the German press maker entered the digital printing arena with the introduction of its Primefire 106. It's a B1-format (41 in/1,050 mm wide) seven-color ink-jet press designed specifically for folding cartons in runs of up to 1,500 sheets. While Heidelberg made the main press platform, the machine is a collaboration between Heidelberg and Fujifilm, which builds the ink-jet print engines in a "co-development" process along with Heidelberg. Water-based inks are used, which makes the press safe for food packaging.
The first Primefire 106 installation was at the Obersulm, Germany, facility of Multi Packaging Solutions, a recent acquisition of WestRock. This past April, Rondo AG, part of the international Korber Group, began conducting the world's first beta test of the press in the area of pharmaceutical packaging. The digital printing system is described as the final piece in Rondo's Supply on Demand solution.
"Trends in the pharmaceutical industry are heading towards ever declining runs and shorter delivery times in response to personalized medicine, increasing language and country versions, and much shorter delivery times for medicines," says Joachim Hoeltz, CEO of Rondo AG. "Our production consists entirely of secondary packaging. Through process automation and close IT integration we offer our customers a just-in-time service and by doing so help them to optimize their own supply chain."
In addition to the possibility of producing pharmaceutical packaging from batch sizes of one at the lowest possible cost, the Primefire 106 is also impressive for its ability to add variable data such as serial numbers while the packaging is being printed. A development project for the Primefire 106 consists of being able to print custom serial numbers in order to prevent counterfeit medicines under the EU Counterfeiting Directive.
"We stand for customized developments and for innovations," explains Hans-Peter Süßlack, Business Process Manager at Rondo. "Offset printing has its limits when it comes to the personalization and run lengths of just one pack. That's why we took a serious look at digital printing. We tested quite a few systems in the past four years. We saw the Primefire 106 at drupa 2016 and opted for this machine after various tests."
As for Landa, the first European customer to install a Landa S10 Nanographic Printing Press is Edelmann Group of Germany. The Nanographic Printing process, also called Nanography, differs from other printing technologies because it uses an innovative system and printing process that employs Landa NanoInk colorants, a proprietary water-based ink with nano-pigment particles that measure tens of nanometers in size. Unlike ink-jet printing, where ink-jets transfer the image directly onto the substrate, Nanography first ejects the Landa NanoInk dispersions onto a unique heated blanket, and only then is the ink transferred from the blanket to the substrate in the form of an ultra-thin film. Substrates, it should be noted, can be of the off-the-shelf variety requiring no pretreatment or priming.
The single-sided B1 (41 in/1050 mm) format press enables just-in-time mainstream efficiency for the printing of folding cartons or corrugated sheet. Capable of 6,500 B1 sheets/hr, the press is said to have a higher throughput than any other digital sheet-fed press out there. Landa also claims that Nanography offers unprecedented dot sharpness and color uniformity compared to ink-jet or offset lithography.
Other news in the folding carton sector comes from Scodix, a leading provider of digital enhancement solutions for the graphic arts industry. The firm has announced the installation of a Scodix E106 Enhancement Press at Grafinpack, an Italian manufacturer of high-quality folding cartons.
The order illustrates the market desire for digital enhancement in a larger format, just weeks following first shipments of the press. Previewed atdrupa2016, the Scodix E106 was developed specifically to deliver digital enhancement solutions to folding carton converters needing a B1 (1060 x 760 mm or 41.7 x 29.9 in) format.
"The decision to invest in the Scodix E106 press was a natural one for us," explains Manuel Turini, Managing Director at Grafinpack. "We carried out an ROI study indicating that the Scodix E106 could deliver significant savings on 80 percent of our jobs in comparison with our existing process of hot-foiling in-house. The business has to becost effective, but print quality is equally important to us and our customers. Scodix technology opens up new possibilities for improvement in both facets. The E106 will serve our existing enhancement needs as well as allowing us to take on new work and create new enhancement effects. This is an important stage in our company's evolution, and werealizedthat the time is now to invest in the technology, in order to stay ahead of our competitors."
According to Scodix Head of Packaging, Nigel Tracey, Scodix is on a mission to duplicate in the folding carton industry the success it has enjoyed in the commercial digital print sector.
"Having installed more than 300 Scodix presses during the last eight years," says Tracey, "Scodix now has the right technology and format for folding carton enhancement, following five years of rigorous development and testing. The result is the Scodix E106, which offers customers totally new applications and an overall more efficient way to produce their existing range of carton enhancements. Be it foil, spot varnish, or high-build UV effects, the Scodix E106 can replace multipleanalogmachines, four in one. It's for these reasons that Grafinpack decided to invest in the Scodix E106 to become one of the first carton makers to benefit from this new technology. Already we are seeing some of the ways they are exploiting the Scodix E106 to enhance their current assortment of work." Here's a link to video footage: pwgo.to/3611.
It all started with labels
It was in label printing, of course, where applications of digital printing in the packaging space really got started, and today there is still plenty of investment occurring in this sector. One good example in the U.S. is at Minneapolis-based Meyers, a $60 million converter of label, card, and retail marketing solutions.
"With this new hybrid press, we feel that we have something unique that gives us a competitive edge in the marketplace."
That's how Gregg Temple, President of Meyers, describes the potential he sees in his firm's recently installed hybrid flexo/digital press. Called "MPS EF SYMJET powered by Domino," the flexo press comes from MPS and the N610i digital press is from Domino ().
"The selling point for my team with this press is really the versatility that it has in being able to provide unique graphic enhancements, as well as the digital ability to move from one version to the next quickly and efficiently from a make-ready standpoint," says Eric Pohl, VP Sales & New Business Development at Meyers. "But more than anything, it's really the enhancements that we can put on the labels. For example, being able to hit a specific PMS or logo color of a client, and then move into the Domino digital to do the four-color process imaging or variable printing, the two hits of opaque white, to be able to add textures, and then to be able to add cold foil to the label. Those are the things that the Sales team has grabbed onto and is promoting."
"We had the press configured for maximum flexibility," says Dave McConnon, Vice President of Manufacturing. "At the front end of the press we have two flexo stations to be able to print white on film if we are using an underlying color. We chose the seven-color Domino unit with white to be able to have extended gamut printing. After the Domino unit, we configured with two additional flexo units so that we could print multiple varnishes or additional spot colors. We have a delam/relam unit so that we can print on the adhesive. We have a turn bar for backside printing. We have a cold foil unit that we can configure into any one of the flexo stations. And we configured the press with Kocher+Beck's quick-change die unit so that we can quickly change between one die shape and another."
McConnon values the new press from a nuts-and-bolts perspective. He observes that too many of the early hybrid offerings were nothing more than an ink-jet system bolted onto a flexo machine, so that the two systems had to be run independently. This is not the case with the MPS EF SYMJET powered by Domino. "When we learned about a year ago that MPS, our preferred flexo press supplier, and Domino, our preferred digital press supplier, were teaming up, that's when we really got excited about a hybrid solution," says McConnon.
Kees Nijenhuis, Vice President of MPS, articulates the simplicity of this highly-functional piece of equipment. "This hybrid press is a future-proof press, and it combines flexo with converting and digital UV ink-jet, all inline integrated in one machine."
Temple sees the new press fitting nicely into the prime label market, where SKU proliferation is ongoing and brand owners need more than ever to differentiate themselves. "This hybrid press allows us to bring the best of both worlds to brand marketers and give them a label that stands out in the marketplace," he adds. See video of the hybrid press here: pwgo.to/3612.
Meanwhile, out in Orem, UT, Kala Packaging LLC is growing its digital printing fleet with the recent addition of an HP Indigo 6900 Digital Press, the newly released narrow-web press driving data for labels and packaging with higher speed and performance.
Kala recently rebranded from the name it formerly flew under, FlexTech, and it will operate five HP Indigo labels and packaging presses for its growing business. Now roughly 90% digital, Kala serves the nutraceutical, cosmetics, and food and beverage sectors.
"HP Indigo digital technology enables us to offer data-rich applications for brands to deliver value to their customers, including with variable-data printing, personalized packaging, and hyper-localized campaigns," says Maui Chai, President and CEO, Kala. "The advanced capabilities of the HP Indigo 6900—including the new high-performance print server, Pack Ready for high-resistance labels, and integration with the HP Indigo GEM for digital embellishing—will serve as a growth platform for our innovative narrow-web label printing services."
Chai also likes the HP Production Pro for Labels and Packaging, the new Digital Front End onboard the HP Indigo 6900. It delivers five times faster RIP power as well as higher productivity and scalability, including management of digital production across multiple presses. Kala has already expanded into flexible packaging with an HP Indigo 20000 Digital Press, adding pouching lines and offering high quality with fast turnaround. In 2002, the company purchased one of the first Indigo digital presses in North America and has built a business that has radically simplified print packaging, gaining an international client base.
Elsewhere in the labels arena, Altrif Label, one of the leading companies in label printing in the Benelux and part of the St-Luc Labels & Packaging group, has increased its output with the Xeikon CX500. As the first beta-tester of the Xeikon CX500, Altrif Label aims to stay ahead at a technological level.
In its 35-year history, the company Altrif Label has acquired a solid reputation as a high-quality and reliable label producer, with customers in more than 16 countries. COO Dion Goderie states that his company can meet every demand, especially since Altrif Label has joined the St-Luc Labels and Packaging group. "This group has printing companies in the Benelux and France, employs around 250 people, and has a yearly turnover of 45 million euro. We can provide our customers with self-adhesive labels, booklets, multilayer labels, folding boxes, shrink films, and flexible packaging. We can handle any assignment in the label and packaging field. Together with St-Luc, we offer offset, flexo, screen printing, and digital printing. Our digital printing presses make us even more versatile. With our team of experts, we can produce short runs and short delivery time. We even print flexible packaging and shrink sleeves digitally. And we never compromise on quality."
Altrif Labels produces labels for brand owners, including several multinational corporations. The pharmaceutical industry is a large customer. "We see a clear increase in the demand for digital print," says Goderie. "Our customers are interested in good quality at a fair price and are not so much concerned about the techniques we use to make our products. Digital print, however, gives us the tools we need to meet the demand for short runs and fast delivery."
Market developments and the availability of new technology has radically changed the demand for labels and packaging. Today, a job of 10,000 labels is considered as a short run production. You can have 20 variants of the same brand on one label format, says Goderie. "It's even possible to print unique personalized labels at full production speeds. The demand for variable print is growing immensely. This requires in-house prepress and years of experience."
When the Xeikon CX500 was launched, Altrif Label was happy to perform a beta test. "We need to stay ahead of the market, so it's always good to be the first to try a machine like this," says Goderie. "The Xeikon CX500 is as fast as the Xeikon CX3, which we also use. But on top of the full rotary printing speed of 30 m (98 ft) per minute, the Xeikon CX500 has a unique web width of up to 520 mm (1.7 ft)."
In terms of productivity, the Xeikon CX500 outperforms all high-quality digital label presses for the production of larger sized labels and labels requiring opaque white or extended gamut. Goderie is very pleased with how the pilot test is going: "Quality must never be compromised, and at this point the Xeikon CX500 exceeds our expectations."
With its dry toner technique Xeikon stands out, says Goderie. "The Cheetah technology is great for printing on unconventional substrates. When it comes to opaque white, the dry toner technique beats liquid toner every time. Some of our customers are part of the chemical industry, so we do a lot of production on synthetic substrates. Especially in that case dry toner gives us the quality we need."
Xeikon describes its machine as easy to use and says the Xeikon CX500 is Industry 4.0 ready. "We can have a new machine up and running in full production within a matter of weeks," says Goderie. "The new possibilities of Industry 4.0 are tremendous."
Altrif Label has a longstanding relationship with Xeikon. In 1998, the company was the first user in the Benelux of a digital Xeikon web press. Goderie: "Xeikon has always been a reliable partner. The lines of communication are short and they are there for us 24-7. We are always on the lookout for new markets and new techniques to meet new demands. The Xeikon CX500, again, gives us a head start. That's why we consider investing in more Xeikon CX500 presses in the near future."
PackReady's North American debut
One of Canada's premium flexible packaging manufacturers, Swiss Pack Canada, has signed a BETA agreement with HP for PackReady Lamination, a new technology that created some serious buzz when it was introduced at interpack 2017.
Developed jointly by HP and Karlville, PackReady is designed to maximize the value of Indigo digital printing of packaging materials. It's a speed-to-market boost because it eliminates the need to let multilayer laminations cure for several days before slitting them and putting them into a pouch or bag-making operation. A thermoplastic resin on the film is put through an optimized thermal lamination process that works perfectly with HP Indigo Electroink. Under heat and pressure, the heat-activated Pack Ready resin entangles with the Electroink polymer chains to create new mechanically interlocked molecular architecture. As a result the Pack Ready film strongly bonds to the HP Indigo printed film, creating high lamination bond strength instantly. The laminated film is ready to be slit and heat sealed for pouches immediately.
What Swiss Pack is doing for Canada's The Healthy Crunch Co. and its kale chips line is a good example of how the converter marries digital printing to the PackReady system to meet super-fast turnaround requirements if a customer has them. Step one, which takes place on an HP 20000 press, is surface printing of a two layer adhesive lamination of 12-micron AIOx-coated polyester and LLDPE. A roll of this printed film is then fed into the Pack Ready system to be laminated to a 30-micron matte oriented polypropylene. The finished three-layer lamination is finally taken to a slitter and then made into pouches sent to The Health Crunch Co. There the chips are filled into the pouches by hand because they are unusually fragile.
"We can order runs of 100,000 pouches all the way down to runs of as few as 50 pouches if we want to test something brand new," says Julie Bednarski, Founder and President of the Mississauga-based snack firm. "And if we really need them, the pouches are delivered in a few days of ordering. This will come in especially handy this year, as we expect to test 30 new products."
Also on site at Swiss Pack is a vertical form/fill/seal machine, says Swiss Pack General Manager Phillipe St-Cyr. Combined with the PackReady technology, it makes Swiss Pack North America's fastest end-to-end packing solution because it puts everything under one roof—from design to printing to converting and right through to packaging fulfillment.
"If a customer needs filled pouches tomorrow, we can do it," says St-Cyr. "We could never have dreamed of such a thing in the past." Here's the link to PackReady video footage: pwgo.to/3607.
Direct print on rigid containers
Digital printing directly onto rigid containers, sometimes called Direct to Shape (DTS), is picking up steam. Among those supplying these digital decorating systems is Germany's Hinterkopf. Three of its D240 systems are in operation at the German cartridge producer Ritter GmbH.
Introduced recently by Hinterkopf is the Model D240.2, one of which will be installed in North America in 2018. Offering 360-degree printing with no overlap at speeds to 240 parts/min, the D240.2 prints directly onto cylindrical hollow bodies—aluminum, steel, PE, PP, or PET. Print resolution is 1,200 dpi, and the changeover from one image to another takes just seconds.
The precision rotary indexing machine is equipped with 16 double-mandrel print stations. Special UV-cured inks made by Hinterkopf are used, and ink-jet print heads specified by Hinterkopf are from an unnamed Japanese supplier. (See video at beginning of article.)
Companies in this article