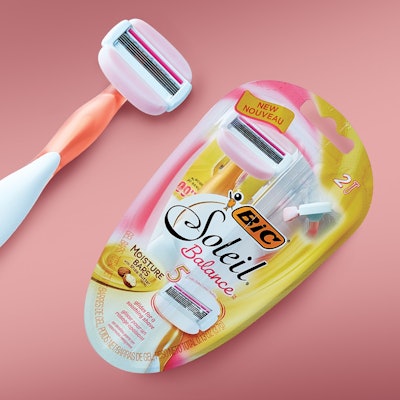 Around the globe, some 32 million BiC products are purchased every day, including 20.3 million stationery products (think ballpoint pens), 7.3 million shavers, and 4.4 million lighters. The BiC brand has become one of the world's most recognized, with products sold in 160+ countries.
In business for more than 60 years, Clichy, France-based BIC aims to provide high-quality, affordable consumer products. As part of the BiC Soleil Razor design refresh, Smith Design provided an extensive design exploration, refinements, and final art for a new premium razor within the company's shaving portfolio.
BiC Soleil Balance is a new five-blade disposable razor with moisture bars that employ flexible blades that adjust to the contours of the body. The shea butter-infused moisture bars lather when wet, eliminating the need for shaving cream.
The refreshed BiC Soleil portfolio has a cohesive look and consistent architecture that allows each pack to highlight the brand, product name, and functional and emotional benefits, as well as the razors themselves. As part of its design exploration, Smith Design presented a range of colors and treatments that visually communicate moisture (and Moisture Bars made with shea butter) as well as a friendly, feminine and easy-to-read treatment of Soleil Balance.
The BiC Soleil Balance design incorporates colors and visuals that evoke a smooth and creamy feel, while fitting with the BiC Soleil brand personality (bright, confident, and colorful). The product benefit is linked with the razor head imagery and the transparency on the pack allows consumers to see the razor heads clearly.
Although package suppliers were not revealed, packaging includes the following:
• Thermoformed blister to hold product
• Front non-forming film is printed in eight colors via gravure, using a 150 line screen
• A two-sided paperboard backer card is offset litho-printed in four colors, with a 150 line screen
• Two white ink layers are used in tandem on the front film to create a window for the razor to show through, while also providing a bright white color designed to hold up the BiC Soleil logo effects
According to Smith Design, the primary printing challenge is to keep the transition clean as the two spot colors that run around the outside of the package blend/fade into each other.
Companies in this article