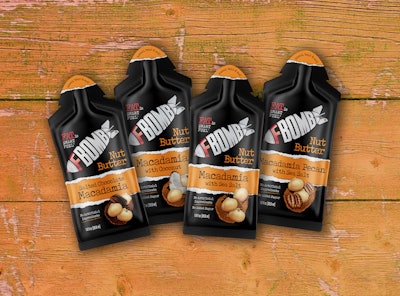 FBOMB premium macadamia nut butters were recently released in new packaging—replacing a more rectangular version—to make carrying and consumption easier and more convenient for consumers.
FBOMB (not to worry, the "F" is for fat) products are designed to give the body the nutrition it craves, but without the carbs. FBOMB is a brand of Love You Foods, LLC, which is owned by Disruptive Enterprises, LLC.
"FBOMB is a mobile, low-carb, high-fat [LCHF] snack for active people," points out Todd Cantrell, Chief Marketing Officer for Disruptive Enterprises. "We tapered the top of the packet to make consumption a better user experience."
The new three-layer, custom-made, extra-durable funnel-shaped pouch was designed explicitly for comfort in a consumer's pocket, with an easy-tear top, ensuring a trouble-free eating experience so that the all-natural, low-carb/high-fat healthy snack can easily be consumed on the go.
The 4.26-mil custom-laminated multilayer film, whose structure includes foil, is supplied by Glenroy. The film is flexo-printed in different numbers of colors, depending on product variety, with a combination gloss/matte finish, providing a product image and more color appeal than the previous pack.
The structure provides a 15-month shelf life, delivering the following barrier properties:
• Moisture Vapor Transmission Rate: < 0.005 g/100 in. 2/24 hrs 37.8ºC/90% Relative Humidity
• Oxygen Transmission Rate: < 0.005 cc/100 in. 2/24 hours 23ºC/0% Relative Humidity
"Because we didn't want to add any preservatives, and because macadamia nuts are fairly fragile and will change taste—or even go rancid—when exposed to oxygen, it was important to find a very impermeable film to keep oxygen penetration to a minimum," notes Ross Taylor, Love You Foods' Co-Founder. "The shape was driven by a need to provide convenient on-the-go nutrition options for our customers. The combination of shape and film ended up being a win on both fronts, as our product stays fresh and is easy for active customers to carry and use."
"Ketogenic consumers often face a lack of eating options when traveling or on the go, but FBOMB closes that gap," notes Amanda Dahlby, Marketing Manager at Glenroy, Inc. "The custom-shaped, squeezable pouch has an easy-tear opening that allows consumers to simply tear away the tapered tip of the pouch, and easily consume the product without any utensils required. It's also a perfect solution for ketogenic athletes who need a quick source of energy while racing, hiking, etc. The lightweight, squeezable pouch allows the user to access virtually every last drop of product from the package, and the flexible packaging structure preserves the high-quality taste of the product inside, without allowing the reactive fatty oils to be negatively impacted by oxygen, light, or moisture."
During package development, Glenroy engineers factored in properties such as barrier, tear propagation, burst strength, stiffness, sealing requirements, expected lifecycle, distribution methods, and the ability to run well on die-cutting and form/fill/seal equipment. Also considered were product ingredients, resulting in a multilayer film lamination that met all FBOMB's stringent requirements.
The company markets the products as "deliciously creamy, low-sugar macadamia nut butter[s] with just the right amount of nut bits, made using a special cool-grind process. FBOMB is peanut- and gluten-free, non-GMO, vegetarian, keto- and paleo-friendly."
The 1-oz snack comes in three vegan-friendly flavors—Macadamia with Coconut, Macadamia with Sea Salt, and Macadamia Pecan with Sea Salt—and one Salted Chocolate Macadamia non-Vegan option the company sells "for when you want something sweet." It's available for purchase on their website and through Amazon in a box of 10, for $24.99.
Companies in this article