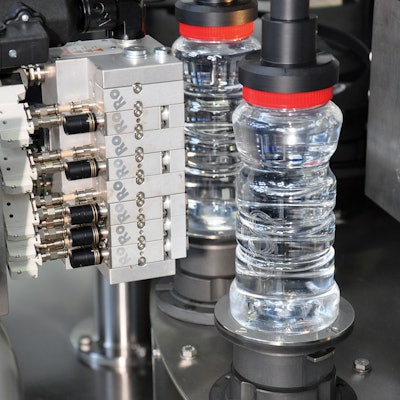 P.E. Labelers, founded in Italy in 1974 and now a part of ProMach, builds a variety of labeling equipment, including both pressure-sensitive and glue-applied labelers. Recently the firm received a request from a North American customer for a custom version of P.E.'s MODULAR TOP machine. The customer, a producer of peanuts, wanted a nozzle-application system as an alternative to the conventional glue roller for the application of pre-cut paper labels on PET containers. The customer hoped to achieve three things through this approach: reduced maintenance, a savings on the cost of adhesive, and significantly greater flexibility in format changes.
The engineers at P.E. decided to use the LabelStar M hot melt nozzle system from Robatech to meet these customer objectives. With it comes Robatech's Concept Diamond tank melter for thermoplastic adhesives and RobaVis software. All were integrated into a MODULAR TOP labeling machine designed for a maximum label height of 140 mm (5.51 in). The machine is capable of handling a variety of different label heights because the SX 8/EL/F/NV/SP spiral application head contains five jetting elements for the label pick-up function. If a label's height is modest, only as many of the jetting elements as necessary will be activated. But if a label's height is near the 140-mm maximum, all five jetting elements can be activated.
Unlike a roller application, this gluing process involves no contact with the bottle. The first of two application heads, the aforementioned spiral application head, applies a small spiral of glue onto the bottle. The bottle then advances to the magazine of paper labels and contacts the lead label, thus picking it from the magazine. A second application head, the ETV 140, then applies a thin line of glue over the end part of the label that makes up the final overlap to complete the labeling of the bottle. To see a video of the labeler in action, go to pwgo.to/3451.
Using a robust bracket system, the position of the application heads can be easily adjusted by the operator without the need for tools. This simple, safe, and fast conversion to other container formats and label sizes is what makes this labeler so flexible. And, from a controls perspective, centralized control of the entire labeling operation is realized using the Shareware RobaVis Host developed specifically for this purpose.
By integrating the LabelStar M hot melt nozzle system into the MODULAR TOP labeler, P.E. was able to deliver to its peanut-packing customer a maximum labeling capacity of about 14,500 containers/hr. Adhesive savings, meanwhile, are in the range of 40% compared to a conventional roll-fed solution. These performance characteristics exceeded even the requirements of the customer
Companies in this article