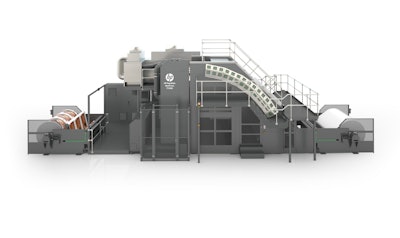 For DS Smith, the issue of digital printing is of strategic significance in creating maximum value for its customers as well as enabling continued market growth in the future. Being a pilot customer of HP, DS Smith was the first enterprise from the packaging industry to produce digital corrugated board pre-print. From now on, middle and large runs can also be digitally produced in an economically reasonable way. This investment follows the installation of the first HP PageWide T1100S in the UK at DS Smith's Featherstone site in the U.K.
Per Vinge Frederiksen, DS Smith Managing Director of the Germany & Switzerland region, said: "Our customers take center stage in all our investments. We're committed to boosting our customers' turnover, reducing their costs, and minimizing risks. Investment in this revolutionary digital printing technology will help us to achieve these goals in the future and add value for our customers."
Stefan Kunzmann, Sales & Marketing Director at DS Smith in the Germany & Switzerland region, further commented: "The digital printing process requires no printing plates, meaning we are able to make last-minute changes and quickly react to current promotional campaigns and events. This can be of particular advantage when implementing marketing campaigns. A significantly shorter time to market is another crucial advantage of digital print for our customers.
"Displaysthat differ from region to region or are individualized for different distributors are now easy to implement, as is personalized packaging. Since ink coverage rather than the number of colors is decisive, packaging that used to be provided with monochrome print can now be printed in color.Especially in the field of e-commerce, packaging with attention-grabbinginner print with the brand design can make the shopper's 'moment of truth' significantly more positive.
"Another important aspect for many of our customers is that of product safety. The new printing method enables us to implement track & trace technologies, i. e. traceability of products, as well as serialization and anti-counterfeiting technologies to ensure protection against product piracy. This is how we help our customers to boost their turnover and to minimize risks."
"Unlike some other digital printing alternatives," says Eric Wiesner, General Manager, HP PageWide Industrial Division, HP Inc., "HP PageWide Water-Based Inks are free of UV-reactive chemistries. Therefore, these inks enable robust and trusted food-safe printing for both primary and secondary corrugated packaging. This should be an important benefit for DS Smith's food brand clients."
DS Smith is investing a total of approximately 15 million euros in the printing press, which has dimensions of 40 x 5 m and is currently being installed at the DS Smith site in Fulda, Germany.Specifically for this purpose, a hall has been gutted and furnished with new foundations. The digital print produced in Fulda will then be transformed to attention-grabbing display and packaging solutions not only by the German and Swiss DS Smith sites, but also by the adjacent European DS Smith plants to supply products to customers throughout Europe. The official unveiling of the new digital corrugated board pre-print machine is scheduled for thesecond quarter of 2018.
Companies in this article