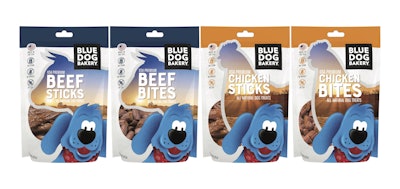 For those of us who love our dogs and treat them like children, it's rewarding to buy treats to help keep them healthy and happy—a purchase made especially easy when the treat packaging delivers shelf appeal as enticing as Blue Dog Bakery's new treats.
Packaged Facts' "Pet Treats and Chews in the U.S., 2nd Edition" estimates that sales of pet treats and chews reached $6.4 billion in 2017. "Pet marketers looking to tap into 'pet parenting' dollars are on fertile ground when it comes to dog and cat treats and chews," says Packaged Facts, "with treat time serving an important role in the human/animal bond."
Seattle-based Blue Dog Bakery is just such a marketer, making all-natural treats for dogs. Recently the company launched redesigned package for its Beef Sticks and Beef Bites and Chicken Sticks and Chicken Bites to help consumers understand what's inside the package before making a purchase—specifically low-fat treats that contain no animal byproducts, no artificial flavors or colors, and no artificial preservatives.
Recognizing the competition among natural dog treats in a rapidly growing market, Blue Dog Bakery invested in packaging to help build awareness for its natural treats.The company has crafted messaging to resonate with pet parents, such as listing "Made in the USA" and "No Corn, No Wheat, No Soy" on the front of the package.The refresh also adds a clear window, natural scenery and exploded product images to showcase the product inside the pouch.
Eric Koppelman, Chief Revenue Officer at Blue Dog Bakery, says, "With the launch of our USA Premium Chicken Sticks and Bites, we had an opportunity to redesign the packaging for our Beef Sticks to bring to life our all-natural selling point in a visually enticing way. When consumers scan shelves for dog treats, they can quickly understand that our pure meat snacks are a healthier option to treat their dogs better than anyone else."
What is the significance of the window? Koppelman says, "Pet parents have a lot of choices when it comes to dog treats, and we want to make it as easy as possible for them to make a quick and educated decision. The clear window on our all-natural meat snacks packaging shows consumers exactly what they're getting before making a purchase. We have always embraced transparency in our treats, and you can't get more transparent than a clear window!"
Design partnership
The company introduced Beef Deli Sticks in 2015. "Our customers loved the treats," Koppelman explains. "We realized we could create a new destination for Blue Dog Bakery in the meat dog treat section, in addition to the biscuit section we've always been in. We were thrilled to expand the product line with chicken snacks to give pet parents more flavor options, as well as new sizes in sticks and bites to help pet parents find the best treat option for their dog."
To achieve the multifaceted goals it had for the package redesign, Blue Dog Bakery partnered with St. Louis-based brand development agency MarketPlace. Says Koppelman, "MarketPlace is a strategic partner of ours with deep design capabilities and a history of experience in the pet category. They are helping Blue Dog Bakery come to life in multiple ways across the media mix, from packaging to trade show booths, as well as activating our brand socially and digitally with a new website launching soon."
The supplier of the preprinted pouches is considered proprietary. The pouch for the 7.8-oz size measures 9.25 in. H x 1.6 in. deep and is used for four varieties. Blue Dog Bakery also sells one treat variety in a 4.8-oz size. Pouches are 4.48-mil thick. The 0.48-mil clear PET/adhesive/4-mil clear ethyl vinyl alcohol/linear low-density polyethylene coextrusion provides oxygen and moisture barrier. Blue Dog Bakery describes the print method as a seven-color process.
The redesigned package also comes with an improved self-service tray for stores to easily market and display the treats.The tray is designed to make it easier for retailers to display products and for consumers to pick up pouches. These trays measure 14 in. L x 6 in. W x 4 in. H, fitting eight pouches each. The paperboard tray is printed in four colors. Graphics include the Blue Dog Bakery pup on the front of the tray, with a red bandana that conveys the farm-raised aspect of the company's pure meat snacks. The self-service trays are enclosed in a fluted board master shipping case.
Blue Dog Bakery makes and packages all of its meat snack products at its Midwest smokehouse, reporting that the redesigned pouch packaging process did not require new equipment.
Looking at the overall pet treat market, Koppelman notes, "Today's pet parents are treating their pets better than ever before. As we eat more natural and wholesome ingredients ourselves, so do our pets. We see a massive shift in the market away from fake meat and continuing to transfer over to real meat. Consumers are seeking out better-for-you products for their pets, such as Blue Dog Bakery's pure meat treats. Packaging designs for both dog treats and dog food have followed this trend by showing more natural scenery, animals and individual ingredients that go into the wholesome products inside."