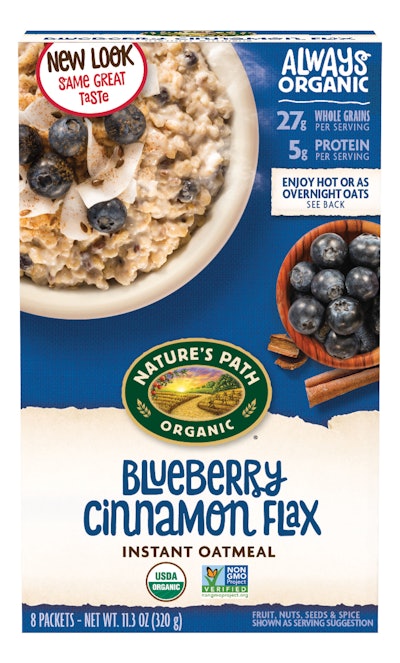 For more than 30 years, passion has powered Nature's Path Foods, which considers itself "North America's largest certified organic breakfast and snack food company" with a product line of more than 150 cold cereals, granolas, hot oatmeal, waffles, bars, and cookies.
Family-driven and focused on sustainability for the planet, the Richmond, BC, Canada-based firm recognizes that packaging plays a primary role in attracting consumers. To accomplish that, the company reintroduced in December 2017 a bright, bold new look for the outer paperboard cartons of its organic brands. Nature's Path uses different packaging styles for the cartons, sourcing materials from different companies. Its cereal cartons are provided by Graphic Packaging Intl.
"We want our packaging to stand out and reflect how Nature's Path is different from your standard cereal and breakfast company," says Arjan Stephens, the company's Executive VP. "We're different: We're independent, family-owned and from day one—over 32 years ago—always organic. We want this message to literally jump off the shelves. Our new packaging is exciting, innovative, and fun."
The company says bold colors and clean designs "pop" on shelves, making it easier for consumers to spot their favorite products. Nature's Path uses front-of-pack imagery that focuses on the visual aesthetics of the food, highlighting the deliciousness of the product inside the package. The back of the package features improved product descriptions, tells the story of the company's origin, and outlines the benefits of choosing Certified Organic and non-GMO products.
Nature's Path's mission is not only to sell product, but also to educate, advocate, and champion organic foods, which it regards as better for people and the planet. Throughout the years, the brand has built trust with consumers via transparency about sourcing and sustainability.
The redesigned packaging is replacing older versions as items are sold and store shelves are restocked, resulting in a zero write-off brand refresh, since product with old packaging will not go to waste. According to the company, this is the most sustainable, environmentally friendly option, and supports its mission of always leaving the earth better than they found it.
"Nature's Path's previous packaging design was introduced six years ago," explains Stephens. "Since then, our company has evolved, and so have our consumers, who've expressed a desire to choose organic foods from companies they trust. We wanted our packaging to stand out by being bold and exciting, thereby making it easier for consumers to find their favorite products."
For its previous packaging design, Nature's Path worked with Wallace Church.
The branding and design firm was subsequently contacted for the design refresh. Says Stephens, "One of the options not selected at that time was used as the basis for our current design refresh. Its clean and bold and speaks directly to what we are trying to accomplish which is to really stand out on store shelves. After the concept, our in-house design team executed the redesign of our full product line."
As a part of the Nature's Path brand refresh, the company's EnviroKidz line is also receiving a redesign. The new EnviroKidz look features brighter, playful packaging and a more integrated logo, which aligns with the new Nature's Path packaging. The new EnviroKidz design preserves the fan-favorite element on the box—the animal illustrations. The kid-friendly and informative packaging highlights information about the animals and how consumers support conservation efforts when they choose EnviroKidz. It also provides parents with important nutrition information on an updated front panel and nutrition panel.
The company fills products at its production facilities in Blaine, WA, and Sussex, WI.
Companies in this article
Videos from Graphic Packaging International