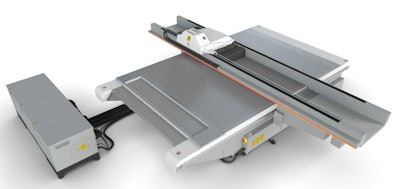 Developed to address the short run corrugated packaging and temporary POP (Point of Purchase) display market, the new High Flow Vacuum configuration makes the Océ Arizona 6100 Series ideal for dynamic, versatile large format printing applications.
Available for both the 6-color Océ Arizona 6160 XTS and 7-color Océ Arizona 6170 XTS models, the new High Flow Vacuum configuration extends the award-winning printing capacity of the Océ Arizona models, and allows users to develop applications traditionally served by screen printing or lithographic lamination. Additionally, users can now load and print on various forms of challenging media, such as highly porous corrugated fiberboard and warped plywood, without taping or mechanically constraining it in.
Key benefits of the new media capability include the following:
• New High Flow Vacuum capability for Océ Arizona 6100 Series printers will support robust and reliable printing of difficult-to-constrain media types.
• Enhanced Océ Arizona print quality with speeds over 1,000 square feet per hour for uncoated corrugated fiberboard, plywood and rigid fiberboard printing applications.
Featuring unrestricted air ways and an Océ-patented airflow management system designed to bring all available airflow to bear instantly, the new High Flow Vacuum configuration makes loading even severely warped media easy and efficient. This enables plywood, MDF, and other fiberboard and wood printing applications that would otherwise require mechanical constraint of the media to handle effectively. To better support the printing of 5.2 ft. wide paper fiberboard media such as Re-Board® or Xanita®, the new configuration boasts an even larger print area than standard. An expanded vacuum surface of 8.2 ft. x10.4 ft. allows for 2-up printing of 4 ft. x 8 ft. boards, while the standard pneumatic registration pins ensure easy, repeatable rigid media loading.
The new High Flow Vacuum configuration for the Océ Arizona 6160 XTS and Océ Arizona 6179 XTS is now available.
Companies in this article