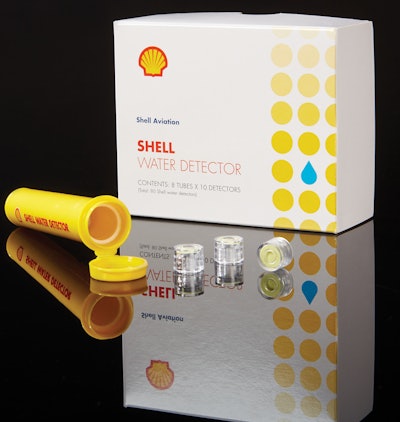 B.H. Brawn & Co., Ltd, Wellingborough, Northants, UK, has expertise in the manufacture of aviation supplies and a range of plastic products and components. One of Brawn's products is the company's long-established and internationally used Shell Water Detector, designed to determine the presence of dispersed free water in aviation fuel that cannot be detected by visual inspection.
Free water can lead to ice formation, causing filter blockage and consequent engine failure. It also can result in microbial growth in fuel tanks, causing fuel spoilage and corrosion damage. The Shell Water Detector is a crucial tool. It is used to undertake more than 13 million tests annually on Jet A1 fuels around the world.
Improving on success
Even a good, well-established product can get better with improved packaging. Baltimore Innovations are experts in humidity and moisture control and specialize in incorporating desiccants into protective packaging. For more than a decade, the company had been supplying Brawn with small 0.5-g silica gel desiccant sachets that were inserted at the end of the Shell Water Detector aluminum tube vials. Baltimore Innovations recognized an opportunity to enhance the performance of the Brawn Shell Water Detector device with the collaboration of packaging solutions gurus at CSP Technologies, Inc. The proposed idea was to develop a desiccant-lined plastic vial that would eliminate the need for sachet insertion.
Brawn considered the idea of a built-in desiccant lining and decided it had potential. At that point, CSP Technologies and Baltimore Innovations went to work to develop a cost-efficient, desiccant-lined vial that could enhance product performance of the Shell Water Detector. Samples of the previously used aluminum tubes were closely examined by all three companies who jointly decided that a custom-designed plastic vial was in order. And because a sachet no longer would be needed for insertion into the vial, more space would be freed up to increase vial holding capacity from eight detector capsules to ten.
CSP suggested another key enhancement—replacing the existing twist-off vial cap, which was cumbersome for operators wearing protective gloves to open and reclose, with an easy-open flip-top cap.
In the first phase of evaluation of the new plastic vial, tests showed that the formulation of desiccant type and level was too aggressive. It caused the test detector paper inside the water test device to dry out and change color, making the device unfit for use. To correct the level of humidity in the vial, CSP's Auburn, Alabama-based R&D Team was brought in to construct a series of experimental models and potential formulations, including a different desiccant type and a slower adsorption profile.
Other crucial considerations included the need for the vial to comply with strict quality assurance standards in a humidity-controlled facility and for the device to achieve ISO 9001:2008 accreditation for quality management, covering manufacture, assembly, packaging, and supply.
There also were printing challenges. Harsh conditions on an airfield, such as the presence of kerosene and vapors (powerful solvents that ordinarily could dissolve print inks), could erase critical data, including product expiration dates. CSP Technologies identified systems from Diamond Photofoil Ltd. UK/GPE Ardenghi suited to apply special thermal transfer printing onto the plastic tube vials and incorporating UV-cured over-lacquer to withstand these harsh conditions.
Team effort triumphs
The multi-year process required to develop the new packaging was complex, and staffers from Brawn, Baltimore Innovations, and CSP Technologies worked closely together to ensure that the transition from the old package to the new proceeded smoothly. The newly developed plastic vials are two-shot injection-molded, with the interior layer being a customized desiccant formulation and the exterior layer polypropylene. They are manually filled and loaded into the cartons.
Revamped cartons contain the same number of capsules (80) as the old ones. But now there are 8 tubes with 10 capsules per tube versus the previous 10 tubes with 8 capsules each. This packaging reconfiguration, made possible by using a desiccant liner instead of a sachet, allows Brawn to reduce packaging materials requirements. So, while cost-per-unit of the new boxes is slightly higher, the reduced packaging material usage renders the new concept cost-neutral.
Richard Brawn, Director of B.H. Brawn & Co., Ltd, comments, "We are extremely pleased to have moved over to CSP to provide our packaging solution. We were impressed with the level of customer service provided by CSP to ensure that its product is right for our needs, both in terms of usability for our customers and also moisture absorption performance for our product. We feel that we now have world class packaging that enhances product quality and customer confidence and convenience."
Companies in this article