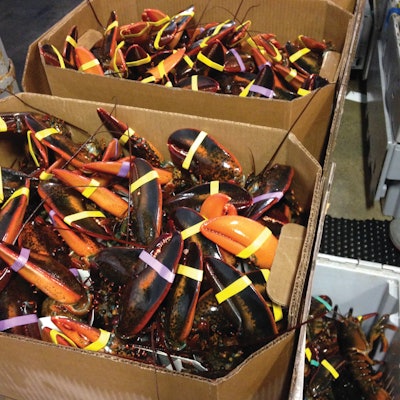 Ready Seafood, Portland, ME, sources millions of pounds of lobster annually from the Gulf of Maine and the Canadian Maritimes, and ships live lobsters all over the world. The company operates 24/7 to accommodate these global markets.
Ready Seafood had been using standard self-locking corrugated shipping cases. But the lobster wholesaler was looking for something a bit different, a bit more distinctive that could still fully satisfy consistency of case performance through the refrigerated transportation chain. After evaluating various other shipping case options, Ready Seafood selected the 10" Super Brawn Ice Pak™ corrugated case system supplied by SCHC, based on CVP Alpha Pak Perma-Lock Technology from Innovative Design Concepts, Inc.
Making the case for conversion
Sam Sholes, Operations Analyst for Ready Seafood, says, "We received our first delivery of this box in early May 2017, just in time for the busy Summer season. We had worked with SCHC and their CEO Heller Cozac in the past, and we worked directly with Heller on this order. Heller was offering this box at an affordable price. With the combination of price and stacking strength, this case was something we were happy to use. The cases are shipped to us flat. We manually erect, load, and label them."
These new easy-to-assemble cases require 10% less corrugated board than some alternative self-locking (no staples required) designs, making them more environmentally friendly. At the same time, these angled-corner containers are engineered to provide up to 40% more stacking strength. They contain proprietary liners and are wax-treated for extreme moisture resistance. So the boxes maintain their integrity, even in a wet environment. They can be custom-produced to handle a broad range of loads/sizes and include full-skirt, safe-lock top covers. These interlocking covers ensure that the case tops are tightly secured during transport.
Due to the reliable strength and moisture resistance of the cases, Ready Seafood has averted crushing damage, allowing high-quality condition of the shipping cases at their destination points. Sholes notes, "It's a great shipping case. Looks good, stacks well, and provides good strength at a competitive price versus some more traditional case designs."
Companies in this article