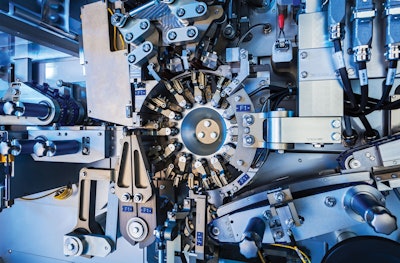 The remarkable functionality that servo motors bring to packaging machinery was on display at interpack, and nowhere was it more forcefully demonstrated than at the Loesch Pack booth. On full display was the RCB-HS, which wraps small chocolate products in a way that combines a hermetically sealed pack style with a traditional fold-wrap look. Olaf Piepenbrock, Managing Partner of parent company Piepenbrock, calls it "unique in this segment." The magic behind the machine is in the control cabinet, which houses 12 Lexium 62D servo drives and a PacDrive controller from Schneider Electric. Each of the 12 drives is a double-axis drive, so each one governs two rotary servo motors out on the machine. The net result is a premium look and a hermetic seal at 600 bars/min.
Elsewhere at interpack, it was linear servo motors that commanded the attention of show goers. No matter which technology supplier they come from, these devices all rely on multiple independently controlled and magnetically propelled movers on straight or curved paths.
Flexibility in format changeover is the key benefit of this kind of technology, and Israeli OEM Lead Technology Ltd. took flexibility to a whole new level by integrating a Beckhoff XTS (eXtended Transport System) in its Modular Feeding System at interpack. As can be seen in the video available at pwgo.to/2967, Lead Technology mounted a Beckhoff XTS on a wheeled cart that can be wheeled into a cartoning machine and quickly connected if the XTS module is desired or wheeled out just as easily if a more conventional end-load module is what's called for.
A.M.P Rose was demonstrating its own X-Pax two-in-one flowpack and case packer, complete with Beckhoff's XTS. A.M.P Rose, like Lead Technology and other packaging machinery OEMs, is trying to meet the needs of customers looking for ways to handle comparatively complex collation for multipacks.
Meanwhile, Festo and Siemens' joint Multi-Carrier System (MCS) project was in action at the COESIA exhibit, specifically on an original, cosmetics-focused machine by SACMO. The company required a filling and capping machine with the flexibility to handle increased SKU proliferation. The builder aimed to get different functions with different time scales off of a constrained time increment. SACMO found Festo and Siemens' MCS, with independently movable carriers, to be the solution.
Others operating in this linear servo motor space are B&R and Rockwell. B&R demonstrated SuperTrak—another versatile, intelligent conveyor system claiming unprecedented levels of OEE and reduced TCO. B&R says this operator-friendly intelligent conveyor technology based on long-stator linear motors is unique in offering true industrial-grade reliability and serviceability. Its independently controlled shuttles allow mass production of highly customized products, while also minimizing time lost on stoppages and product changeover. See video at pwgo.to/2965.
As for Rockwell, their linear servo technology is called iTrak, and interpack attendees had a good opportunity to see it in operation on the Cama IF318 robotic cartoner. A total of 20 movers are incorporated on this particular iTrak. Each operating station—carton forming, carton loading, carton closing—can work independently of the other stations. Thanks to buffer zones located before each station, cartons are held by the movers, which stop and wait for the next programmed working step at the following working station. On the IF318 at interpack, at the forming station, a robot picked up flat blanks from the magazine and formed and glued the cartons. It finished its cycle by putting three formed cartons on iTrak movers, one carton per mover. These movers are conveyed to the first buffer zone, where they wait in the desired quantity before moving to the loading station. A multiple-pocket infeed system then brings products—think flow-wrapped bars, for example—into position at the loading station so that the second robot can load these individual units into the cartons in the required configuration. After moving through the next buffer zone and past Nordson hot melt glue nozzles, the loaded cartons are taken by their movers into the closing station. Here is where the third robotic head came down on four cartons at once to press them closed and then lifted the finished cartons from their iTrack movers onto a discharge conveyor. It's a completely pitchless carton indexing system, so moving to another carton size is done in minutes at the HMI screen, where PackML-compliant design brings added benefits. Rated speed: up to 75 cartons/min. See video at pwgo.to/2966.
Also capitalizing on the enormous flexibility that comes with the Rockwell iTrack was Gebo Cermex, which used interpack for the global launch of its CareSelect patented universal and modular shaped-bottle infeed and collating system for case packers. Capable of speeds to 400 bottles/min, the system delivers shaped bottles to the packaging machine with precision and care in the correct orientation and pitch, turning each bottle 90 deg. Even unstable shaped products are smoothly and individually handled via the independent iTrak movers. Fully automatic bottle size changovers take less than a minute, with no need for mechanical adjustments. Adaptation of movers and product guides is carried out automatically, without manual intervention, tools, or changeparts.
Finally, Bradman Lake debuted a packaging line composed of a VGR2000 vision-guided robotic pick-and-place line, which loads products into the infeed of a FT120 Multipack Flow Wrapper using two robots. After the required collation has been created and flow wrapped, the products enter the IMSL End Load Cartoner, the company's latest machine. The compact-footprint IMSL incorporates a Rockwell Automation iTRAK unit to create a fully integrated product infeed system that uses minimal product transfers.
AR/AV—are they here to stay?
Many companies took advantage of interpack to provide a look at what's to come. This included virtual reality (VR) as a sales and demonstration tool and augmented reality (AR) glasses, not only for maintenance but also for more connected systems for improved OEE.
A visit to ARPAC's corner of the Duravant booth was a trip into a virtual space, as interested users were able to tour a virtual end-of-line packaging setup modeled after a real-life packaging line.
Other suppliers spotted using 3D VR simulators included tna, Intralox, TetraPak, and many more.
Demonstrations of things to come was a recurring theme at interpack, and among those things were machine diagnostics, part ordering, connection to SAP, step-by-step repair instructions, and remote monitoring from the OEM. This is where AR is making its way into daily use for maintenance, wear part ordering and inventory, and even remote access where and when an end user allows it.
One OEM in particular, Cavanna, demonstrated capabilities along these lines. The firm employs Smart Glasses to accomplish:
• Remote Assistance: Smart Glasses that communicate with a dedicated program to offer assistance and solve problems; they are included in the maintenance program and are part of a package that supplies other services and advantages.
• Preventive Maintenance: In the service area, users can see a new application software that will indicate when a mechanical component must be replaced. It is possible to have a precise view of the wearable components on some lines exhibited at the stand.
• 3D Interactive Catalogs and QR Codes: New 3D Spare Parts Catalogs are replacing the standard 2D used previously. New QR codes cover some key points of the machine such as sealing wheels and crimpers. Clicking on a tablet, one can see the exploded technical drawing. It is possible to spot the worn component to replace. All of the above with the aim to facilitate maintenance and spare parts identification with clients worldwide.
Still, some industry insiders note that the largest Smart Glasses manufacturer, Google Glass, may not be robust enough for industrial applications. Most booths with the technology were featuring the Holo Lens headset from Microsoft. Still a few years off for practical application, the current headset model is very heavy and apparently too bulky to really allow an operator or maintenance tech to "get inside" the machine. High cost and limited battery life are barriers, as well. But technology and battery life will improve, and prices will come down. And these suppliers are investing heavily and dedicating their best minds to further development. Many suppliers noted that pharma is starting to demand better OEE, and these high-tech tools will go a long way toward delivering these long-awaited operating efficiencies.
Labelers, cobots, stretch wrappers
At the Espera booth was a patented pressure-sensitive print-and-apply labeler dramatically unlike all other such labelers at this or any other packaging exhibition.
Aptly named the Multi-Roller Printer, the ES 7800 holds five label rolls at once. So within a confined space, up to five different labels can be selected, printed, and applied with the use of only one machine. The flying cassette-change feature means that a single label cassette can be removed and loaded with a new label roll with no stoppage of production. Now using the machine is a meat packer in Germany that is able to run cases of a wide variety of products through one labeler rather than installing multiple machines for the task. See video at pwgo.to/2968.
Collaborative robots have been the stars of the past few packaging-related trade shows, as one robot supplier after another saw what Rethink Robotics and Universal Robots were doing and decided it was time to get in on the "cobot" game. One interesting development at interpack was the presence of at least two exhibitors who were featuring cobots capable of handling a considerably heavier payload than the cobots we've seen earlier. At ABB's interpack booth, the robot-monitoring software being debuted was SafeMove2. "Historically, fences or cages have been used to separate man from machine in an effort to keep them out of harm's way," says Dr. Hui Zhang, Head of Product Management, ABB Robotics. "SafeMove2 allows robots and operators to work more closely together by restricting robot motion to precisely what is needed for a specific application."
Meanwhile, at Gebo Cermex, a "fenceless cobotic" version of the FlexiLoad robotic solution for loading a case packer's magazine feed featured a Fanuc CR35 robot. It's capable of handling a 35-kg payload, which makes it, says Gebo Cermex, "the world's strongest collaborative robot." The reason it's collaborative and fenceless is because special sensors detect how close the nearest human is. A series of zones are in place. If a human is sufficiently far away, the cobot operates at its full speed, and a green light shines on its end effector. Come closer and the light turns to yellow, and the machine slows down. Come closer still, and the light turns to red and the machine stops altogether.
There was no shortage of stretch wrappers at interpack, and one that was especially notable was the Ring-250, a ring-style stretch wrapper from Wulftec. It was impressive for the 30-in. wide film roll it uses to apply stretch film to pallet loads. Wulftec claims 20 inches has been pretty much the limit so far until this machine was developed. Because the stretch film is applied from a wider roll, the machine doesn't have to work as hard, says Guy Lopes, Director of Operations at Wulftec. See video at pwgo.to/2969.
Paper as a replacement for plastic
Given the popularity of sustainability, paper is being used in innovative new ways, sometimes replacing packaging traditionally made from plastic. In 2014, BillerudKorsnäs introduced its FibreForm 3D cold-formable paper, which enables up to 10 times the embossing depth compared to traditional papers. The latest addition to the FibreForm line, launched at interpack, is FreeFormPack®, a stretchable, printable, paper-based lamination that can be used to produce containers and closures with unique shapes and embossed designs. When compared with a glass jar of similar size, the FFP is said to require just 92 pallets/delivery versus 864 for glass, take up three trucks versus 26, and emit 2 kg CO2 compared with 12.7 kg of CO2 for glass. Complementing the FFP was a reel-fed forming station from Curti Costruzioni Meccaniche S.p.a. that can produce the FFP in different diameters and heights.
Elsewhere at interpack, BillerudKorsnäs joined with Bosch Packaging Technology to show sealed-paper technology aimed at sugar and flour producers both large scale and small. On display for sugar manufacturers was the SVE 2520 ZAP, Bosch's first continuous-motion vertical form/fill/seal machine now capable of producing dust-tight, sealed paper bags. Flour producers took the upgraded PME mandrel wheel machine with ZAP-Module.
"The positive reaction of the market to the launch of Sealed Paper Packaging in 2016 led to an extension of the ZAP-Module within our portfolio. By offering two alternative technologies now equipped with the ZAP-Module, we are not only able to answer the individual needs of dry food producers, but also give them the possibility to differentiate themselves by offering consumers completely recyclable paper packaging—at the same time improving product quality," says Bernhard Bruhn, Product Line Manager Dry Food at Bosch Packaging Technology.
Until now, mono-material paper packaging was only possible with glued, premade bags or formed paper bags on a mandrel wheel. But while the general vf/f/s concept is flexible with formats and pack styles, it previously only allowed bag production using polymer film or fully coated paper. With the ZAP-Module from Bosch, it is now possible to process mono-material paper on vf/f/s technology with a dust-tight seal.
Axello®ZAP paper from BillerudKorsnäs, specially developed for this application, combined with the ZAP-Module from Bosch Packaging Technology, allows for heat sealing. The ZAP-Module partially applies a minimal amount of the sealing agent during the packaging process, thus permitting heat sealing of the paper on the vf/f/s machine. Now this new sealed paper packaging is also available for the mandrel wheel technology to improve the traditional paper bags produced on this type of machine by making them dust-tight. As a result, retailers and consumers profit from clean shelves and enhanced product protection from contamination.
Among Mondi's new products was a paper bag option called SKOG (Norwegian for "forest"). Developed in cooperation with SILBO, SKOG is made from FSC-certified paper and is designed to replace plastic packaging for stable plastic pellets, animal feed, and other applications. In the past, Mondi says, paper could not provide the needed barrier or heat-sealability for these applications. The SKOG bag uses Mondi's cornstarch-based Sustainex® extrusion coating on both the inside and outside of the bag, reducing polyethylene use by 70%. The package can be produced in-line on f/f/s equipment and can include a window made from bio-based polylactic acid.
At the World Packaging Organisation's WorldStar Awards presentation event, held the first night of interpack, Sappi was recognized for its Algro Guard OHG papers, which provide barriers against oxygen, water vapor, grease, aroma, and mineral oil, without the need for additional coatings or adhesives. An alternative for foil and plastic packaging, Algro Guard OHG is made from 80% renewable materials and is optimized for flexo and gravure printing.
First to adopt the paper packaging was Belgian chocolate manufacturer Delafaille, which chose the material for its Amusette brand of luxury chocolate bars to improve product safety, user-friendliness, and the overall aesthetics of the final product. The package uses a similar design to a teabag envelope and offers a soft, tactile feel. According to Delafaille, the use of Agro Guard OHG optimized its manufacturing process and resulted in fast, cost-effective mass production of Amusette.
Sustainability a strong theme
Sustainability is, and will continue to be, a prominent theme at any packaging show, and interpack was no exception. Braskem, which has been a supplier of sugarcane-based polyethylene—I'm green™ Green Polyethylene—since 2010, rolled out a number of new commercial applications at the show. One of them was a Green PE bag for coffee for Netherlands-based coffee roaster Peeze. Resulting from a partnership formed in 2016 between Peeze and Braskem, the bag has reduced Peeze's footprint significantly. According to Braskem, for each kilo of Green PE used to package the coffee, more than 4.5 kg of CO2 are captured in the atmosphere. Also at the booth, Braskem displayed a milk jug for an African dairy, and beauty care bottles for Germany's Speik and Italy's L'Erbolario.
Not brand new, but certainly of note, was a bio-based material from PaperFoam made from, according to the representative at the booth, "industrial starch, fiber, water, and 'pixie dust'" (watch video at pwgo.to/2893). The material is manufactured by PaperFoam using proprietary injection-molding technology and can be used for protective and primary packaging for a range of applications. The lightweight material is both 100% biodegradable, recyclable, and compostable and is made from locally sourced ingredients. According to the PaperFoam representative, the market for this material is still very niche, as the packaging can be cost-prohibitive. "Looking at cost, it's a challenge," he said. "The packaging is custom-designed and requires custom tooling. Most of the packages are very intricate."
One example on display was a PaperFoam tray for Austrian water company KVELL for its Waterdrop microdrink, which is a compressed cube that adds flavors and vitamins to water. PaperFoam provided a tray to hold the 48 Waterdrops and the outer box. The package was recognized in the Sustainability category in The Dieline 2017 Awards.
At a press conference held by Tagleef Industries, the company unveiled its new Nativia NESS bio-based film, a potato-starch and PLA-based white voided bio-based film. The material was originally designed for confectionary firm Mars, in cooperation with Mondi and Rodenburg Biopolymers. Mars is still evaluating the film for its flow-wrapped candy bars and has exclusivity on some aspects of the wrap.
Nativia NESS has been in development for four years as an alternative to petroleum-based films. The film is voided, which Tagleef describes as involving a proprietary process that traps gas within the layer to lower the density of the film and provide a higher yield, as well as provide a white pearlescent appearance on both sides that reduces show-through. Rodenburg Biopolymers formulates the resin using starch created as a byproduct of potato processing, along with polylactic acid.
Tagleef extrudes the resin into a three-layer lamination that offers twist and deadfold, is suitable for cold-seal adhesive, can be gravure- and flexo-printed, and can be used for hf/f/s and vf/f/s applications. Mars is testing using a gravure-printed Nativia NESS film on existing machinery, cold-sealing the film after flow wrapping.
The next interpack, sponsored as always by Messe Düsseldorf GmbH (www.interpack.com), will be held May 7 to 13 in 2020.
Bringing flexibility to the packaging process
Gebo Cermex at interpack was on to something with their ideas about finding ways to handle "semi-finished goods," to "dematerialize packaging line layouts," to "mutualize" their equipment, and to make better use of AGVs than ever before—all in the interest of bringing unparalleled flexibility to the packaging process. The whole idea is to shape the factory of the future, where agility and quick changeover from one SKU to another replaces the production of huge orders—with no drop-off in efficiency or addition to cost. It offers an opportunity to prevent having to produce finished cases and pallets in large quantities only to have those cases and pallets broken down at great cost by third-party providers simply because Costco wants 10-ct cases while Target wants 12-ct and Walmart wants vanilla, chocolate, and strawberry combined in a 12-ct. It's a fascinating approach that hinges to a great extent on late-stage customization. This is what Gebo Cermex means when they talk about a packaging model and philosophy built on "semi-finished goods." That is to say, don't slam primary containers into their secondary and tertiary packages at breathtaking speeds in enormous volumes. Keep primary packages on accumulation tables, stay nimble, respond to the consumer's insatiable desire for personalization, and rely on digital connectivity, smart technology, and robotics to move quickly into secondary and tertiary packaging according to real-time marketplace conditions. They call it "the extended factory," and it's mighty interesting stuff.
Companies in this article