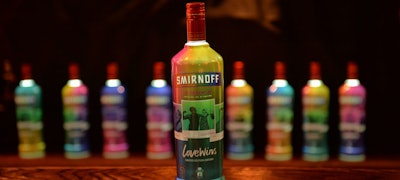 The Smirnoff Co. has launched a new limited-edition 'Love Wins' bottle for Smirnoff No. 21 Vodka that celebrates inclusivity, acceptance, and love in all its forms. The Smirnoff brand has supported the LGBTQ community for several decades, and the new bottles are the latest representation of its commitment to equality. The brand will donate $1 per bottle made, with a minimum of $260,000, to the Human Rights Campaign (HRC), America's largest organization working for lesbian, gay, bisexual, transgender, and queer equality.
Each Love Wins Smirnoff No. 21 bottle and carton is unique, with its iridescent rainbow aesthetic and new LGBTQ Smirnoff logo; no two bottles are identical. Each bottle features different images of real love and real people, created and photographed by San Francisco-based photographer Sarah Deragon, the creator of the Identity Project, which examines how people define their gender and sexuality.
"Simply put, the Smirnoff brand stands for inclusivity," says Jamie Young, Smirnoff Brand Manager. "Whether it's gender, race, or in this case, sexual orientation, we believe the best times are when everyone is included. We are proud to support the HRC and the LGBTQ community, and to celebrate all kinds of love out there."
The HRC represents a grassroots force of more than 1.5 million members and supporters working every day to make LGBTQ equality a reality, a cause that directly relates to the Smirnoff brand's core belief of inclusivity. Smirnoff, as well as its parent company Diageo, have had a long-standing partnership with the HRC; Diageo has been named one of the Best Places to Work for LGBT Equality and has received a perfect score of 100% on the Corporate Equality Index for nine consecutive years.
"We are grateful to Diageo and Smirnoff for their continued and generous support of LGBTQ equality, and proud of our longstanding relationship," says Adam Marquez, Associate Director, Corporate Development at HRC. "It's always inspiring when brands take action to encourage positive change, especially at a time when we are working harder than ever to push back against anti-equality forces. The Love Wins bottles are showing the country that love truly conquers hate—and that we celebrate you, no matter who you are or who you love."
To add an additional layer to the Love Wins launch, Smirnoff is asking couples over the age of 25 to submit their photos to a microsite for the opportunity to be featured on the next bottle design in 2018. For every eligible photo submitted between May 23 and September 30, Smirnoff will donate an additional $1 per photo to the HRC (up to $10,000).
The Smirnoff No. 21 Love Wins bottles are now available in 750-mL and 1-L bottles, comparatively priced with standard Smirnoff No. 21 vodka.