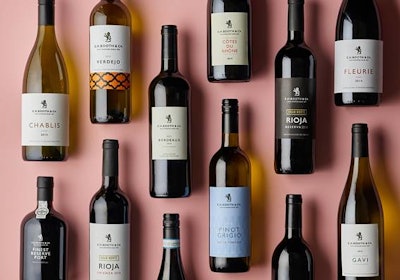 Packaging for Booths' own label wine recently underwent a redesign, led by Smith&+Village. Smith&+Village played on the U.K. supermarket's heritage as a wine importer, which contributed to an increase in sales of 4.3% during the Christmas season in 2016.
Smith&+Village elevated the range by using the supermarket's crest on the front of the label with its original name EH Booths & Co to reflect its history as a wine importer.
Exuding confidence
Smith&+Village's strategy to boost sales was to move away from the brand's supermarket wine design, and reposition the retailer as a wine merchant. The supermarket has been importing wine for almost 150 years.
Smith&+Village wanted to create a bottle design that customers would want to display on the dinner table. "Whatever supermarkets do to counter it, there is still some stigma in customers' minds about putting supermarket wine on the table at a dinner party," says Richard Village, Director of Smith&+Village "We've got around that by playing on Booths' heritage as a wine merchant. They have imported wine since 1870 and for the most part work with smaller, independent wine makers who are often family businesses like them. Playing with this and putting the brand mark centre stage on the front of the bottle makes it exude confidence."
Grand designs
A variety of finishes, papers, and colors, as well as text, direct print, varnishes, and pearlescent inks make the supermarket's own label range stand out. The package design doesn't include the frequently used wine category design cues of illustrations, vineyards, and chateaux. The font is based on a Gill Sans in light regular or semi bold, which is an old English font selected for Booths' logo.
"From a design and visual point of view, supermarkets tend to go for a derivative, cookie-cutter look. We chose packaging design, which would make it stand out from the competition," says Debrah Smith, Creative Director, Smith&+Village.
New packaging boosts sales
The rebranded 50-cL Vintage Port was the best performing redesigned product, exceeding last year's sales of the 75-cL bottle, with a volume sales increase of 440%.
The premium wines, such as Chablis, saw the second largest growth, with a 162% increase. Rioja increased by 147%, and the Bordeaux Rouge by 46%.
Companies in this article