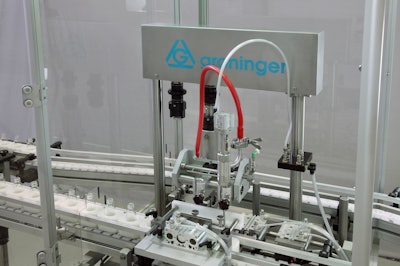 Who's not looking for the "next big thing?"
In the areas of cosmetics and skin care manufacturing and packaging, Northwest Cosmetic Labs treats this search as "a way of life that envelopes every aspect of our company," according to its trustncl.com website.
Driven by innovation, the Idaho Falls, ID-based contract manufacturer recognizes the significant role packaging plays in its efforts "to push the boundaries of the cosmetic industry," says the website, "allowing NCL to become a trendsetter."
Within the past year the company added to its packaging capabilities by purchasing one lite-F filling machine and one lite-C capping unit, both from groningerUSA. A second filler is in NCL's capital plan for 2017.
'Cosmovation' process
The equipment is critical in the company's Cosmovation Process™, which NCL says takes a project from "ideation to actualization."
"Starting with an idea developed by NCL in the Innovation Center or developed by the customer, the process begins with collaboration to determine characteristics of the formula and the desired end result," says Bryce Rasmussen, the company's Director of Operations. "While the formula is created by an experienced chemist, the packaging project manager will work with the customer to decide on the ideal packaging for the formula."
Next in the process, NCL's Quality team ensures proper testing is completed on the formula to give the customer peace of mind. Once testing is completed, an order is placed and NCL's software, monitored by customer service personnel, completes the process of ordering and scheduling the necessary supplies for the new product.
When the scheduled product is nearing production, raw materials are pulled and precisely weighed as part of the compounding process. Formulas are compounded with accurate measurements and instructions, creating an identical scale-up of the lab-created samples. Finished bulk product is subsequently tested per customer specification. Once that step is passed, the green light is given to begin filling on the production line.
Packaging prowess
For NCL, innovation extends from the lab to production and packaging. The company employs a packaging specialist in-house and a dedicated team of purchasers. The company website notes, "We have come to stand by the idea that innovation is not just about formulations. Our dedicated packaging specialist is ready to work with you to build on your vision once more—with the perfect packaging."
That, Rasmussen believes, provides NCL an important point of differentiation. He says, "We believe we are among a select few contract manufacturers with a dedicated packaging specialist. It gives us a competitive edge in that we are aware of the packaging trends and the newest packaging innovations."
NCL recently added 80,000 sq-ft of space to its facility, which now includes two buildings. With the increased space, the company runs more than 40 packaging lines, which include 23 single-head filling machines.
Before the addition, NCL ran five tube-filling lines and four deodorant lines as well as lines to fill lip balm, lipstick and other products. With its new building, NCL also runs three sample pack/pouch lines and the two groninger lines for filling liquids and crèmes into bottles and jars. The new lite-F filler was installed in June and the capper in September.
"We first met about six years ago," Rasmussen says of NCL's relationship with groninger. He says the groninger equipment did not replace previous equipment, but was added to provide new capacity, noting, "NCL is experiencing tremendous growth of more than 40 percent this year." The groninger equipment handles filling and cap-tightening functions upstream of shrink-sleeve operations.
Filling and capping
The lite-F filling machine is specifically designed for small private-label, R&D and contract manufacturing. The equipment aims to fill the gap between manual tabletop units and fully automated high-speed production lines. It's a two-headed filling unit that can fill up to 2,700 units/hr with a filling range up to 500 mL/16 oz.
The lite-F accommodates both glass and plastic containers of virtually all sizes and shapes, permitting quick changeovers between sizes. The units are equipped with 12-in. multilingual touchscreen HMIs.
Meanwhile, the lite-C closing machine, also designed for small private-label R&D and contract manufacturing applications, allows the processing of screw caps, press-on caps, applicators and dispenser pumps. The machine provides torqueing, alignment or push-on modes, torque monitoring for every closure, minimal change parts, recipe management, puck or puck-less operations, industrial PC control and a customizable conveyor.
Similar to the lite-F, the lite-C fills the gap between manual tabletop units and fully automated high-speed production, again permitting quick and easy changeover between sizes and a 12-in. multilingual HMI touchscreen.
The lite series accommodate startup operations and contract packagers, where a batch or lot size can be as low as 500 to 1,000 pieces, or where changeovers can occur several times in a single shift. The equipment provides the flexibility to handle smaller runs and be ready within a few minutes for larger runs.
What specific benefits does the groninger equipment provide NCL? "From a filling perspective the fill weights are spot-on, very accurate," says Rasmussen. "From a capping standpoint, the machine applies caps with an application torque we can specify. We feel this is a nice feature that we can apply to manufacturer specifications, where we used to go off of removal torque. Now we have data for both that we can share."
In all, Rasmussen provides a glowing assessment of the new filling and capping equipment. He says, "We are very pleased with the groninger machinery and what it has done for increasing our capacity and producing our orders on time. We reached our ROI is less than one year and we plan to purchase at least one or two more machines in 2017, adding at least another in 2018."
Companies in this article