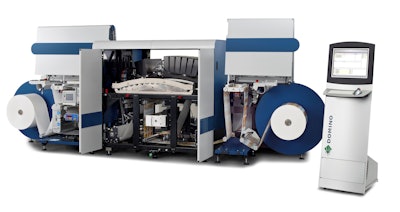 The N610i seven-color digital UV ink-jet label press from Domino, says Argent President and CEO Lynn Perenic, means a lot to this Plymouth, MI-based business.
"The Domino is a game changer for us. We can now go after label jobs that we could never go after before. It opens new markets for us. My sales team is energized and excited, all focused on the things we can do…all of the possibilities that the Domino provides," says Perenic.
Argent Tape & Label has eight flexo label presses, and produces 45 million labels per year with about 75% of their label business in the automotive industry. The desire to grow the business into other markets, such as Food & Beverage which tend to require shorter runs combined with a large number of SKUs, helped fuel the need to add digital. What this means for brand owners is that Argent Tape & Label provides beautifully printed, color-consistent labels with a quick turnaround on their label jobs.
The Domino N610i 7-color digital UV inkjet label press runs at a minimum 165 fpm, and up to 246 fpm. Print resolution is 600 x 600 native dpi, the extended color gamut achieves over 90% of the Pantone range, and the white that has an opacity over 70%. Domino N610i delivers the highest digital productivity, the best digital UV inkjet quality, the most consistent print results, and is a simple operating model. At Argent Tape & Label, the Domino runs in-line with a Delta ModTech finishing system.
There are a lot of digital label press providers, so why did Argent Tape & Label choose Domino? "I wanted the best. I wanted something that wasn't going to change overnight. I wanted a company that was going to support us, and if you read what the economists say, now is the time to position your company for growth. I see that with Domino. I see Domino as our partner," says Perenic.
Companies in this article