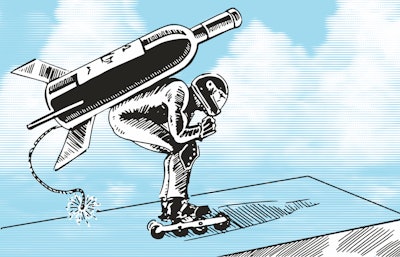 You've made the perfect wine, to the perfect style, at the perfect price point. This is usually the time my design firm receives an e-mail that says, "Now we just need a label." In actuality, what is needed is a stand-apart brand. Large and small producers alike make the following mistakes when they set out to build and launch a new wine brand:
1. Don't say you make your wine in the vineyard. Although this may be an irrefutable truth of good winemaking, it's how nearly every winery describes their process, thus rendering it virtually meaningless to consumers.
Instead, mine your own authentic story for memorable details. On the back label of a bottle of Layer Cake, California winemaker Layer Cake Wines describes how the owner's grandfather made wine for 80 years and that the soil where he grew his grapes was stratified like a layer cake. The winemaker could have decided to do a literal tribute to his grandfather and name the wine after him, or even put a photo of him on the label. Instead, he mined a small phrase from his personal story and created an instant association for anyone who has ever eaten cake. The metaphor of a layer cake not only describes the character of the wine, but it also simultaneously weaves it back to the winemaker's heritage.

2. Don't name your wine before you've considered the label design. If your name is already set in stone, this doesn't apply to you. But if you've recently tried to brainstorm a legally protectable brand name, you've learned that nearly every purely descriptive and metaphorical name for a wine was swooped up long ago.

Instead, start with an image. Recently, Skinner Vineyards asked us to help them name and design a new wine brand that would appeal to the Millennial market. The Skinner family's ancestor, James Skinner, was a local gold miner turned winemaker. They wanted to create a brand that would continue their family legacy and reflect the history of gold mining in their region. We decided to focus on the lurid world of the gold mining camps and the dark and dangerous practice of hard rock gold mining.
We began our naming session by printing out images of a sultry saloon girl, a miner with a headlamp, and an antique detonator box. We hung these images on the wall and brainstormed words to describe them. The moderator directed the group to explore the image of the detonator box and how the device was used. Someone from the naming team quickly responded, "To blast something to smithereens." The name "Smithereens" was available as a brand name, and it was a simple one-word name that played off the rustic image in an unexpected but memorable way.

The power of this approach lies in the fact that more-abstract names can be used when they have the support of a strong image. Beginning with an image allows you to generate a longer list of less obvious words, thus increasing your likelihood of creating a new legally protectable name.
3. Don't treat your case shipper like an afterthought. Although few would argue the importance of a well-designed label, the humble case shipper often doesn't receive the same amount of love. Whether you're a boutique producer or a mega-brand, the more attractive your case shipper, the greater the likelihood you'll receive a coveted floor display.

Instead, make your shipper a showstopper. The average 12-bottle, 9-L case shipper has nearly 700 square inches of usable image area on which to convey your brand's story. With the advent of retail chain clean-store policies forbidding the use of promotional case cards and the like, the exterior image area of your shipper is more valuable than ever.

Sometimes the brand story and label is so simple and bold, that replicating the graphic elements of the label onto the shipper is the best strategy. For example, the vibrant color and dancing typography used on the Butter & Jam brand translates beautifully from their label design to a case shipper with bold visual stopping power.
While the focal point of the Josh Cellars label is the brand logotype in a simple handwritten script, the shipper adds a large, sepia-tone image of the winemaker's father, Josh. Adding photography to the label design would likely make it feel less premium, but its addition to the shipper creates great visual impact while revealing another layer of the Josh story.
4. Don't ignore how your brand touchpoints fit together. Just because you've nailed down your story, selected the perfect name, and designed the perfect label and shipper doesn't mean your work is done. Creating sales collateral, retail promotions, mobile-responsive websites and social media presences so they convey a consistent message and look can be a daunting task.
Instead, designate a design lead. Whether you're a small, family-run operation or the director of innovation at a large wine conglomerate, this applies to you. Although packaging design firms, retail promotion agencies, and digital agencies are often their own distinct entities, it's important to have a single point of view to ensure that the brand's narrative look and feel translate well across all consumer touchpoints. The person you designate for this role should have enough experience in each medium (packaging, promotions, and digital) so they can translate your brand's story across them as seamlessly as possible.

Being consistent for consistency's sake is not the goal—being credible and engaging is. Whether your wine brand's personality is completely authentic or wildly imaginative, your consumer touchpoints should convey a coherent, compelling brand image.
In conclusion
With the advent of social media, branding and promotional efforts are no longer the one-way conversations they once were. As brand builders, we do our best to convey our story through these touchpoints, sometimes referred to as our brand's "promise." Although we do our best to tell our story through them, the addition of social media creates a two-way conversation that can inform us (and other consumers) on how well we've delivered upon our promise. The quality of that initial promise (and the quality of your wine) will determine the length of that conversation and ultimately the success of your brand.

Christopher Hayes is the Principal & Creative Director of Forthright Strategic Design.