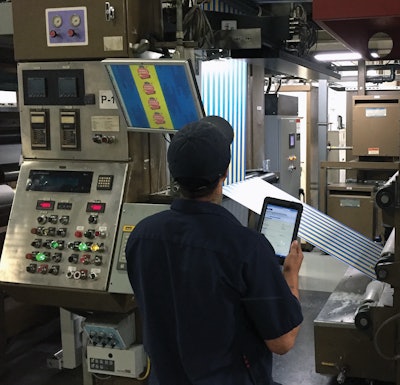 Hart Industries—a flexographic printer and converter of twist wrap, margarine wrap, and other specialty paper packaging materials used by confectionery companies and various consumer packaged goods companies—has found software an effective ally in coming to terms with the Food Safety Modernization Act (FSMA). In addition to adopting a Computerized Maintenance Management System (CMMS), the Owings Mills, MD-based firm is using a SaaS solution to manage customer artwork and approvals. Both implementations were helpful in Hart's Safe Quality Food Level III certification process this past November.
Let's begin with the CMMS. Over the past 18 months, Hart has moved from a home-grown email and paper-based work-order tracking system to Maintenance Edge from FacilityDude, which Hart's team of 25+ technicians and other plant professionals now access on a daily basis. The effort has helped the company comply with FSMA and secure its Safe Quality Food Level III certification (Hart received a 100% on its first audit). It's also been critical to the company's preventive maintenance program.
"We have about 51 employees in two locations and have sales of a little over $27 million annually," says TJ Hart, Quality and Regulatory Compliance Officer. "We were finding that once certain maintenance activities were completed, there was an awful lot of documents that had to be inspected before that area could be released back into production. Sanitation, maintenance, foreign material control, pest control, training, calibration—most of it was documented on paper. So we started looking for a maintenance solution that would be more automated. Some options we saw were too rigid, or they'd have required a big upfront capital expenditure, not to mention training and implementation. Then we came across FacilityDude. It's Web-based, flexible, and easy to use. I think we received our login on a Friday and started using it that Monday."
Work orders for maintenance needs, supplies replenishment, sanitation requirements, and anything else designated in the system are no longer communicated on paper or in meetings. Now it's all automated through the FacilityDude program, with employees using tablets or smart phones. Hart provides an example of how a technician might use a smart phone.
"There's an app called FacilityDude Work Center where the technician can see the work orders assigned. Once he begins the work, he clicks a 'start' button so that the program monitors and records the time spent performing that function. When he indicates the task is complete, an email is automatically sent out to the relevant supervisors who can inspect the area and then close the work order and release that area or that equipment back into operation."
According to TJ Hart, the key business benefit is having real-time information on all the different projects that are underway. This information is instantly communicated across the board to all the supervisors in an email. "We have records of all those email notifications, which makes it very auditable. So when our customers, or the SQF certification body, comes in, we have a convenient timeline of everything that's been done. It says 'The following people were notified,' and 'This person closed the work order,' and so on. We do things the same way every time, too, which brings a big dose of standardization. That's a big benefit right there. What it really comes down to is the difference between demonstrating FSMA compliance on screen and having to do it by plowing through a big binder full of paperwork."
Getting back to FSMA compliance, TJ Hart notes that because Hart Industries deals with six of the top 13 candy makers in North America, the food-contact materials it sends to these manufacturers are considered an indirect food additive. Even though Hart is not a registered food facility, the firm's compliance with FSMA is based upon its customers being able to validate that Hart is providing good and safe materials that comply with FSMA.
TJ Hart also finds it interesting how his firm has been able to expand the use of the Facility Dude product. "The software dumps the data according to whatever recurring frequency is desired," he notes.
Customer artwork and approvals
The other software solution that Hart Industries is leveraging revolves not around maintenance but rather around managing customer artwork and approvals. Hart's two- year subscription to Esko's WebCenter Software-as-a-Service (SaaS) solution has allowed Hart to effectively establish a customer item database and implement a graphics specification review and approval system for all of its current and future customers.
Operations Manager Rick Rosenberger arrived at Hart with decades of experience from some of the largest companies in the industry, where he worked closely with several graphics departments. Hart's Graphics Department performs all graphics work internally for its customers, taking full advantage of equipment such as Esko's Cyrel Digital Imager (CDI) while also utilizing Esko's DeskPack Powerlayout plug-in program. The DeskPack program provides Hart the ability to step and repeat artwork and add dynamic marks where required. The CDI allows Hart to proceed from artwork to press in a single day. The challenge that remained for Rosenberger and the Graphics Department was the ever-changing nature of consumer products and frequent adjustments and necessary approvals required for production.
Rosenberger describes the original artwork correspondence this way. "Our Graphics Department historically sent artwork via email to the customer for approval. Usually, the customer would email, in parts, explanations of what details, adjustments, or amendments they required. We would then respond to the customer requests via email. This process would go back and forth until final approval. The problem was that the email approvals were sporadic, sometimes unclear, and not as concise as we would like. While the customer would send a message saying 'art is approved once you make this change,' it's really not the kind of approval an art department wants."
The various formats of approvals created confusion and an unnecessary margin for error. The demand for an effective interface between Hart and its customers significantly increased in the time leading up to Hart's SQF Level III certification process this past November. The SQF certification reflects heightened consumer concern for greater food safety requiring package suppliers to provide verifiable proof that a robust quality and safety control system is implemented. Under the rigorous codes and regulations of this body, Hart is required to present an artwork and specification approval for each of its current items. This is an important aspect of traceability and validation.
To successfully meet this requirement and remedy the miscues from the original system of communication, Hart's Graphics Department began exploring alternative solutions for its approval process. Rosenberger recommended WebCenter as a useful tool that he previously used and found to be a productive and beneficial tool. When Hart's Esko representative introduced WebCenter, Hart was immediately interested in the program.
Testing before investing
Rosenberger's familiarity with the program gave him insight into how to manage the subscription and utilize its full capability as soon as possible. He says, "We couldn't rationalize purchasing software and paying for outsourced IT support. We were much more comfortable testing an SaaS solution. Esko offered a very affordable monthly subscription proposal. As soon as it was approved, Esko set up our WebCenter and gave us full and complete control of the application. They took care of the IT and archiving, and if the system ever goes down, they maintain it for us."
To begin implementation, Hart Industries systematically went through its graphics archives in order to upload artwork onto WebCenter and review which items previously had unclear or missing artwork approvals. Uploading all of the artwork not only created an organized structure for an active item database, but it also provided Hart with the ability to easily confirm approvals through the web-based interactive platform. The one-up graphics and step files for every SKU were deposited into the database along with item specification sheets identifying product attributes and item properties.
The smooth development allowed Hart to open up customer access to its WebCenter in less than three months. WebCenter immediately served as a standardized format for Hart to interact with a wide variety of customers effectively. The customization of users and groups enabled Hart to "provide customer access to their respective space," Rosenberger explains. "If they want to see what is current, they can access the information right in WebCenter. The customers really like the interaction, the ability to make comments on their items, and the general personalization of their portal. The customers can see the artwork, the specifications, colors, trap between colors, how the files are stepped, and how the end product will look when it is produced. We get nothing but praise for it, and it gives Hart a professional look. There are no more confusing emails."
Hart Industries found that the implementation of WebCenter opened up new advantages in its own production. With remote access, graphic designers can use WebCenter anywhere at anytime. This feature also allows for Hart to outsource their ITR (in the round) plates. While Hart makes all of their flat plates internally, a plate supplier creates the seamless plates by easily locating stepped artwork on WebCenter and making the plates. The dynamic ability to customize the use of WebCenter significantly expands the capabilities of Hart's Graphic Department.
Hart Industries signed a two-year SaaS contract. "We are subscribing to the SaaS system because we need time to get used to operating the many components," says Rosenberger. "However, we will likely purchase the system when our contract expires. While we are currently using WebCenter in its basic form, we intend to visit Esko and learn advanced features. Ultimately, we want customers to interact and place orders with us via WebCenter."
Through the use of WebCenter, the artwork process at Hart has transitioned from a reactive to a collaborative procedure. "I think WebCenter is an essential program for graphics," says Rosenberger. "It simplifies the entire workflow process. It's a great communication device. All our supply chain partners know where a job is, can make notes about graphics, and approve projects. Web Center is the perfect production tool for Hart Industries."
Ink blending system of the future
The Ink Blending System at Hart Industries is the NovaFlow N20. It represents an online vertical process integration for color management, ensuring regulatory compliance and repeatable conformance to Consumer Brand Color Specifications, which are developed and verified through numerical spectrophotometer measurements. Additionally, the Ink Blending System and Standards Database incorporates an online formula and color database accessible to customers/brand owners, vendors, and quality technicians, thus promoting transparency, efficiency, and quality assurances to customers and suppliers. This system substantially assists with regulatory compliance by ensuring full traceability and calculating a detailed breakdown, by percentage, of components present in finished packaging materials. The detailed calculation of component percentages and packaging material composition affords accurate evaluation against FDA Food Contact Substance requirements and compliance thereof. Complete traceability, a cornerstone of all modern Food Safety Regulation, is automated by instantly pulling stored inventory lot identification numbers for each component utilized in blending a specific batch of ink, then automatically assigning an identification number to the finished batch, and recording the printing production run(s) that consumed the specified finished batch.
Companies in this article