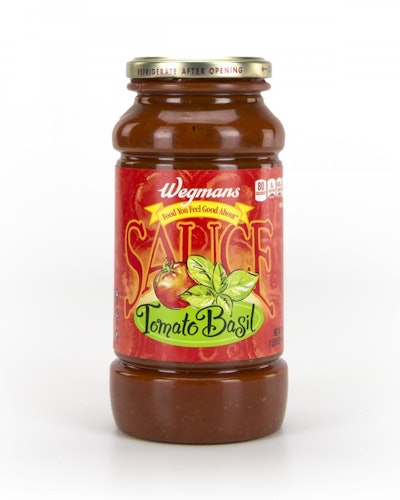 New levels of performance in PET
Winning top honors in the 2016 DuPont Awards for Packaging and Innovation was the ThermaSet® Blow Molded PET Container, an injection stretch blow molded PET jar for hot-filled or retorted food products that, for the first time, can be paired with a traditional vacuum-sealed metal cap. Developed by Graham Packaging, the package was first commercialized by LiDestri Food and Beverage of Fairport, NY, which recently launched a private label hot-filled pasta sauce under the Wegmans Food Markets brand. The 37-g container holds 24 oz of sauce and has a 63-mm neck finish. LiDestri is now in the process of transferring its own-brand Francesco Rinaldi pasta sauce into the same pack.
Almost 90 percent lighter than a comparable glass jar, the ThermaSet PET jar is produced on injection stretch blow molding equipment supplied by SIPA. The container is able to deliver a two-year shelf life at ambient temperatures thanks in part to a nano-thin gas barrier layer of silicon oxide applied to the interior of the container after it is blown. Graham uses the Plasmax system from KHS to apply this barrier layer, which, it's important to note, does not prevent the PET containers from being 100% recyclable. Go to pwgo.to/2289 for a video showing the Plasmax process in action.
In addition to being shatterproof, because the package is so much lighter than glass, that means trucks can pack nearly 39 percent more trays in before reaching their maximum weight. That takes trucks off the road, cuts costs, and reduces the environmental impact of shipping.
"The ThermaSet PET jar offers tremendous benefits throughout the supply chain," LiDestri Co-President John LiDestri says. "In the end, it offers consumers a much lighter, shatterproof package with the same satisfying safety button pop from the metal caps people are used to."
"We're excited to have commercialized this new technology with LiDestri," says Michael Reed, Business Director at Graham. "In order to make PET work at these high temperatures, we had to create another way of understanding the resin morphology."
The ThermaSet blow molding process alters the molecular orientation of the PET resin, driving greatly enhanced performance into the blown container, including thermal stability above 300 deg F and 50 percent greater sidewall rigidity than standard PET. Another performance benefit is that in the hot-filling or retort process, the thin-walled containers can be heated up and cooled down quickly. This minimizes the total amount of time that the food product is exposed to elevated temperatures, thus optimizing both flavor and nutrition profile.
"For all its revolutionary benefits, one of the most appealing aspects for manufacturers is that it's a drop-in solution," says LiDestri Co-President Stefani LiDestri. "ThermaSet PET works on existing filling lines, so there's minimal investment required to start reaping the benefits of a lighter weight package."
This video from Graham Packaging (pwgo.to/2288) shows how the ThermaSet container is made.
Digital comes to post-print foiling
Winning the newly inaugurated Leadership in Innovation Award in this year's DuPont Packaging Awards Competition was a digital spot UV and hot-foiling technology for next-generation post-print digital package decoration. Featured in a product series called the JETVarnish 3D/iFoil Digital Enhancement Presses, it comes from the MGI Group.
Among the first to install one of these game-changing presses is MARRS Printing & Packaging Inc. Making MARRS all the more interesting is that the California converting company was also among the first to install an HP Indigo 30000 sheet-fed digital press. This press was a breakthrough in the package converting business when it first came out in 2012 because it accepts a 29.5 x 20.9-inch sheet size, thus bringing a wide-format capability to sheet-fed carton converting. By installing both this digital sheet-fed press as well as MGI's Digital Enhancement Press, MARRS positions itself to take full advantage of the ongoing trend toward package personalization combined with rapid speed to market and relatively short runs.
Getting back to the MGI technology, fundamentally it works like this. The JETVarnish 3D/iFoil presses use a special ink-jet print engine to apply to a sheet or roll-fed substrate a clear UV-curable polymer ink to which roll-fed foil sticks. MGI's Kevin Abergel, Vice President of Marketing & Sales, describes it this way.
"We can apply the clear varnish ink in a thin layer if the desired effect is foiling without any element of 3D enhancement. Or we can pile the ink on to achieve a high-build thickness as high as 200 microns on an individual pixel basis, so that when the foil is applied you get a 3D embossed quality. Whether we're doing a low-build or high-build, next is what we call a UV pin cure—it makes sure that the clear varnish ink gets more or less frozen in place so that it doesn't droop back down and lose fine details. Afterwards, we fully UV cure the ink. As it's being cured, it goes into the next in-line module, which is called the iFOIL. This is basically a heated, rubber roller that will come down and soften the surface of the varnish so that it becomes slightly tacky. Then it's a matter of pulling the foil back from the roll as the substrate is indexed forward. Wherever there is varnish, the foil sticks to the varnish. We're rolling the foil on, not hot-foil stamping in the conventional manner."
So in what sense is this a "digital" process? Abergel explains.
"The intelligent print engine depositing the UV-curable varnish is fully digital and, thus, capable of decorating each piece with variable data, text, and images. So every sheet or label that goes through can be different. Different names, different images, different thicknesses--and many different dimensional textures. The technology is very advanced. It lets us map each drop of varnish and each pixel of foil to the printed image."
The significance of this technology is best appreciated by considering how foil enhancement has always been done in the past. It starts with a screen-printing process, and it's usually a three- to four-hour setup time for a single screen. Then you would send out to have a die made for a foil-stamping machine, which might take up to five days and cost maybe $400 per die. And once that die was produced, you could begin foiling.
Needless to say, the process allowed no opportunity for producing the variable data that is the heart and soul of the package personalization trend. What MGI is doing is eliminating screens, dies, and set-up time and doing it digitally all on one machine in a single pass. The opportunities for personalization are enormous. Customers get really excited, says Abergel, when they realize they can run a personalized embossed foil run of many thousands of packaging pieces or labels with unique names of people, messages, and images on every one.
"Think about giving a 50-year-old bottle of scotch to someone for their birthday or anniversary, and right there on the gift box is that person's name embossed in foil," says Abergel.
At MARRS Printing & Packaging, the operational work flow and shop floor is organized so that sheets from different presses—including work printed on the HP Indigo 30000—can be directly and immediately processed for enhancement on the JETvarnish 3D/iFOIL system. The JETvarnish 3D/iFOIL system is designed to embellish printed output from any digital, offset, or flexo press. So the MGI solution acts as a digital, postpress finishing hub for their entire packaging production environment.
MARRs Sales Director Maria Jones-Sechrest says that applications in the cosmetics and Health & Beauty Aids space have been some of the more interesting ones to date. "It's probably because cosmetics manufacturers require a lot of prototyped packages for meetings with large retailers like Sephora and Ulta," says Jones-Sechrest. "But a number of those prototypes turn into production runs. We're doing a really nice piece now where the way the foil lies on the substrate and picks up design details has our customer really excited about it."
MARRS installed its HP Indigo 30000 digital press about two years ago and its JETVarnish 3D/iFOIL press right after it. Also part of the firm's equipment arsenal is a Tresu inline coater that prepares material for finishing and converting.
Jones-Sechrest also points out that the foil embellishing that MARRS used to do was outsourced to a third party. Now that foiling is done in-house on the MGI system, "It helps us control the schedule of each job so much more effectively. Price-wise it has helped, too, but the biggest thing is being better able to control the job quality and scheduling."
Worth noting is that the original JETVarnish 3D/iFoil press is designed for the B2 sheet size format (20x42 inches). But at last month's drupa 2016 in Dusseldorf, MGI unveiled its B1 + size format (29x47 inches). This larger machine, called the JETVarnish 3D Evolution, is designed specifically for the packaging market, giving converters the ability to run fully personalized short, medium, or long runs in a cost efficient and "dieless" manner.
Scoring with uniquely geometrical packaging
Nike Sport Ball packaging, developed in collaboration with OIA Global, earned DuPont Diamond Awards Finalist status for its creative combination of geodesic design and origami elements. The unusual prism design, achieved with conventional corrugated fiberboard and simple fold-glue processing, consists of a series of ten alternating equilateral triangular patterns. An open geodesic socket allows the packaging and the ball inside the packaging to hold onto each other with minimal packaging material and allows high product visibility.
Nike wanted a sustainable, efficient, and cutting edge package that would be revolutionary in the marketplace. The packaging is being honored for reducing packaging material costs, minimizing carbon footprint, enhancing product appeal to consumers, and elevating the brand name.
No-mess, precision dispensing provided by sour cream squeeze pouch
Impressed with both its standout technical design and its novel shelf appeal, judges for the DuPont Awards recognized Daisy Brand's Daisy Squeeze sour cream pouch, along with Daisy packaging partner Aptar Food + Beverage, USA, as a Diamond Finalist winner. Says DuPont, "With its inverted, wedge-shaped pouch with innovative, flip-top dispensing closure, Daisy Squeeze represents an outstanding accomplishment in packaging innovation across all three award criteria: Technological Advancement, Responsible Packaging, and Enhanced User Experience."
The 14-oz flexible pouch, introduced to all major grocery outlets in the U.S. in February 2015, was five years in the making. As Daisy Brand Director of Marketing Craig Ziemkiewicz explains, Daisy became more aware of the opportunity to enhance consumers' experience with its sour cream product through packaging innovation in 2010, but took a very deliberate approach to development in order to fully understand and address consumer needs.
"From a functional perspective, consumers use sour cream in two ways: as a topping and as an ingredient," he explains. "The traditional cup supports ingredient use well, but is less ideal for topping usage. As a result, precise application of sour cream for topping occasions was the primary goal. However, the package also had to be usable for ingredient purposes."
Other requirements for the package included full dispensing of all product to minimize product waste, family-friendly ergonomics for younger children, a patentable design that reduced contamination, and visual appeal that would convey strong branding on shelf.
Continuum Innovation kicked off the project by conducting market research around available packaging formats, consumer needs, and product requirements, and then designed the pouch concept based on their findings. Continuum also helped Daisy identify packaging suppliers.
For the delivery system, Daisy and Continuum worked with Aptar to engineer an integrated closure, valve, and ring-pull that together provide dispensing functionality and tamper-evidence.
Says Dave Johnson, Strategic Business Development Manager for Aptar, "As with many design projects, repeated iteration and testing were required during the development of the dispensing solution. The final inverted squeeze pouch rose to the top as the ideal package from a user experience perspective. It allowed for condiment application that worked to keep the product contamination-free, it dispensed sour cream at an expected consistency, and it gave consumers a desired level of product, no matter what they were using it for—topping, cooking, or baking."
The custom, two-piece flip-top closure is injection-molded from polypropylene and features a unique, square base that provides the inverted pouch with stability on the store shelf and in the refrigerator. Aptar designed the closure to produce an audible click when closed to assure the consumer that the lid is securely shut.
Incorporated into the closure is Aptar's SimpliSqueeze® silicone valve, which forms a self-sealing membrane that prevents drips and spills. According to Aptar, the valve-in-closure technology makes it easier to evenly dispense the sour cream on foods such as tacos and baked potatoes. For baking purposes, however, the sour cream can still be dispensed into a measuring cup, without having to dirty another utensil.
To protect the product and maintain its freshness while providing tamper-evidence on-shelf, Aptar designed a custom polyethylene ring-pull seal under the closure. Aptar says key consumer testing and insights were used to develop the ring pull to ensure a safe and easy user experience.
For the laminate/film structure and conversion of the pouch, Daisy selected Sonoco Flexibles. According to the entry form submitted by Aptar to DuPont, specification of the film structure was key for the Daisy Squeeze pouch. Says the entry form, "Daisy needed light barrier in the film to protect the product quality and prolong shelf life. At the same time, Daisy also needed the pouch to be a bright white color to match the color of their white plastic cups."
To achieve both the required barrier and the bright white appearance, Sonoco developed special materials and ink systems that are also robust enough to survive drops and rough handling, and protect the product through distribution, retail, and consumer use.
While details on the construction of the pouch are proprietary, Daisy describes it as "the first inverted flexible foil package used in dairy." Pouch material is gravure-printed by Sonoco and supplied to Daisy as rollstock, which is formed, filled, and sealed on "first-of-its kind" equipment. To achieve its wedge shape, the pouch features two triangular seams, with the opening of the pouch sealed or welded to the pouch closure.
In terms of its environmental performance, when compared to alternative packaging formats for sour cream, Aptar says the pouch offers a number of eco-friendly advantages. Among them, it consumes less energy and fewer natural resources; generates fewer CO2 emissions; results in a higher product-to-package ratio; and requires fewer trucks for transportation, resulting in less fuel usage and fewer emissions. The package also reduces food waste, as it allows consumers to evacuate all the product.
Visually, the pouch is a standout on the refrigerated dairy shelf, where it is marketed next to Daisy's traditional sour cream cup package. Says Aptar, "The functionality and 'fun' factor of squeezing sour cream motivates repeat purchasing. The package design also allows for a wider and unique billboard effect from the package."
According to Ziemkiewicz, the response to Daisy Squeeze from both consumers and retailers, who have been hungry for innovation in the dairy category—"especially in a category like sour cream that has lacked packaging innovation"—has been exceptional.

Squaring up for material cost and space efficiencies
Square-shaped, lightweight PET bottles for Fortune Edible Oils & Foods, developed in cooperation with Adani Wilmar Ltd. India, was a DuPont Diamond Award Finalist. Designed to replace more conventional oval containers, the 18- and 12-g square bottles exhibit excellence across all three awards criteria—Technological Advancement, Responsible Packaging, and Enhanced User Experience.
The square-shaped, 25% lighter-weight, comparable-strength bottles maximize cube efficiency and shelf space usage. They also slash resin usage. The bottler, India's leading producer of edible oils, has enjoyed an annual reduction of approx. 855 MT (metric tons) in PET raw resin material consumption. Production costs have been reduced by about 60%, logistical transportation costs have been cut by about 15%, and container "grip" handling and pouring ergonomics for consumers have been improved.
Dropping manual shrink labeling in favor of in-line roll-fed BOPP labeling also enhances production efficiencies, while giving the containers a more premium look with the light-reflective diamond-faceted decoration. On-line bottle blowing of the short-neck, preforms, labeling, filling, and screw-on capping is being accomplished at approximately 100 bpm.
The packaging was commercially launched into Indian markets in September 2013.
Brew-in-bag pouch for coffee or tea offers premium experience
With its product and package painstakingly engineered to provide the most convenient and sustainable experience for consumers who are looking for a method to brew gourmet-quality coffee or tea anywhere, anytime, the new Grower's Cup-brand Coffeebrewer/Teabrewer stand-up pouch from Coffeebrewer Nordic A/S has been recognized by DuPont as a Diamond Finalist Winner.
Launched commercially in March/April of 2015, the product concept was in development since 2004, when Ulrik Skovgaard Rasmussen, founder and CEO of Fyn, Denmark-based Coffeebrewer Nordic, first asked the question, "Why on earth does it have to be so complicated to brew a decent cup of coffee?"
Rasmussen, at a loss one day when he went to prepare a cup of coffee with his drip coffee maker and found he was out of filters, began that day experimenting with teabags filled with coffee to try and understand the extraction process. "I asked myself, how can you combine the convenience of instant coffee with the quality of a French press?," he recalls.
Working with four or five different innovation routes, Rasmussen concluded that a stand-up pouch with a filter inside to hold the coffee was the best option. In 2008, Coffeebrewer Nordic began development of both the packaging materials and the machinery to convert and fill the pouch.
"It was a very long process to get it right," says Rasmussen. "There was nobody in the market that could give us what we wanted in terms of the materials and the technology. Basically we had to do everything from scratch."
With functionality in mind, the company designed the pouch with a three-layer extrusion-laminated film made (from the outside) of 100-g Kraft paper/0.6-mil polyethylene/0.6-mil chlorinated PE, supplied by a Danish company. The laminated Kraft outer layer provides insulation and keeps the pouch from becoming too hot to the touch, while the CPE inner layer offers pouch stiffness. Coffeebrewer Nordic says the pouch can keep the beverage inside hot up to 30 to 40 minutes.
The Coffeebrewer pouch uses brown Kraft for the front of the pouch, while the back is made from a very thin, transparent Kraft that allows the user to see how much hot water they are adding, enabling them to customize the strength of the brew. The Teabrewer—the same concept as the Coffeebrewer—uses transparent Kraft on the front and back of the pouch to showcase the colorful, premium tea blends, some of which feature chunks of fruit within the mix.
The filter is made from a woven, micro-perforated PET from Fibertex that the DuPont Award entry form says, "allows for perfect flow-through, extraction, and filtering with a minimum of dust in the cup as well as the same rich taste profile known from pour-over and French press coffee." Structurally, the filter is attached inside the pouch in such a way that after the consumer has poured the first cup of coffee or tea (the pouch holds two cups), the remaining product in the pouch is below the filter, stopping the brewing/steeping process. The pouch for both products has a zipper closure on top offering access to the pouch to add the hot water. The pouch can also be reused, with consumers adding their own ground coffee or tea leaves.
The pouch is decorated with four-color flexo-printed front and back glue-applied labels.
When Coffeebrewer Nordic selected the pouch components, Rasmussen says sustainability was also a big consideration. "We use a lot of materials for our product compared to almost any other coffee product on the market," he notes. "So we said, 'Given that we use a lot of materials, we have to use the right materials.' We don't have any aluminum in our package."
He adds that, for the time being, Coffeebrewer Nordic has chosen not to use biodegradable materials as long as there are doubts about the CO2 consequences of the these materials, which emit more methane gas in landfills than conventional packaging. "However, the moment we have documentation for new standards and a new generation of biodegradable materials, we will make the shift," he says. In 2017, the company will be switching to wind power-generated energy and will be looking into programs that will allow it to become carbon-neutral by 2020.
As for the technology to create and fill the pouch, Rasmussen shares that it took three iterations of custom machinery before Coffeebrewer Nordic found the right solution. The company now uses a proprietary horizontal form/fill/seal machine, engineered in cooperation with Bossar of Spain, that Rasmussen says is the only equipment of its type that can work with six different materials.
With its meticulous engineering, the Grower's Cup pouch is a premium package, meant for a premium product. The Coffeebrewer/Teabrewer not only allows consumers to brew a hot beverage on-the-go, but it also enables them to brew a hot beverage on-the-go that uses single-estate, micro-roasted coffee beans and whole-leaf premium tea blends. Says Rasmussen, "The whole idea behind Grower's Cup coffee is that you are guaranteed that the coffee comes from a named coffee farm with 100% traceability.
"We believe in social sustainability in the sense that if you want to change this world for both consumers and coffee farmers, then people should take some interest in where their coffee is coming from. When you buy single-estate coffees, like specialty coffee, it is more expensive, but coffee farmers can actually make a decent income from it."
Coffeebrewer Nordic currently offers 10 single-estate coffee blends and 12 tea blends, which are sold online as well as at specialty, outdoor, and lifestyle stores. The company is also producing a private-label product for Trader Joe's in the U.S. The products are priced at $1.50 for the Coffeebrewer pouch and $2 for the Teabrewer.
To read about the Method award winner click here.
The read about the Bemis Latin America award winner click here.
See the Dupont Gold & Silver Award Winners at pwgo.to/2279.
Companies in this article