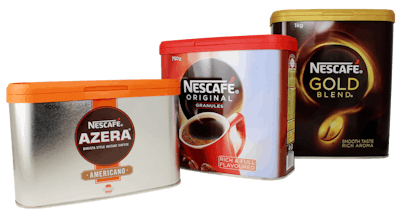 Nestlé Professional worked with CROWN Aerosols & Specialty Packaging Europe, a business unit of Crown Holdings, Inc., to create a new packaging format for the NESCAFÉ® range of coffee brands in the UK professional market.
Nestlé sought to deliver market leading innovation across its NESCAFÉ® Original, NESCAFÉ Gold Blend and NESCAFÉ Azera brands, approaching Crown knowing its in-house R&D team could meet the demands for a new packaging shape to replace the current round composite containers.
The new container, refined and manufactured by Crown, is developed in three sizes—500g, 750g and 1kg—and is comprised of three parts:
• A three-piece tin with a rounded, rectangular shape
• A resealable hinged-lid plastic cap, developed by AptarGroup, Inc., which uses "Click to Close" technology to keep contents fresh and lock-in flavor
•Crown's PeelSeam™ peelable end, which consists of a thin, flexible aluminum foil lid heat-sealed to a rigid steel ring. Offering quick and easy removal, consumers grasp the small tab on the lid to open the package with a simple, fluid gesture
Consumer research, carried out by Nestlé, produced some of the most positive results seen by the company for any packaging format, which is testament to the collaboration between the two companies.
Consumers were impressed with the premium feel of the metal packaging, the functionality of shape and the resealable hinged lid that further protects the product within.
Crown designers and engineers worked in partnership with Nestlé, from initial concept to final completion, to develop the container and to improve on the brand's existing packaging style—a composite, cylindrical shaped tin with a plastic overcap.
The resulting shape is a more ergonomic and user-friendly format, allowing consumers to easily hold the container in one hand for greater convenience and ease of use. Metal also lends itself to a crisper, more premium finish in terms of decoration, making it suitable for the high quality graphics on Nestlé packaging.
The tins are produced by Crown's Mansfield (UK) plant, which has been equipped with new production capabilities to accommodate specifications for the coffee containers.
"Once again metal has presented itself as the go-to material for a world-leading brand," says Véronique Curulla, Marketing Director, CROWN Aerosols & Speciality Packaging Europe. "We are incredibly proud of what we have achieved with Nestlé—the new tins represent a truly collaborative effort between Crown's European teams and Nestlé's own creative group. The feedback received from consumer research speaks for itself and demonstrates that working in close partnership with our customers can deliver outstanding results."
Companies in this article