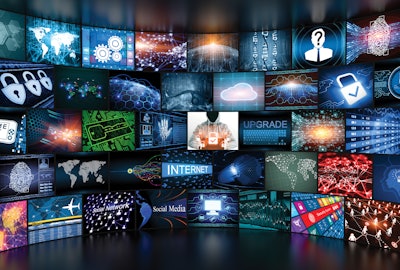 The Industrial Internet of Things has moved into the pantheon of 21st-century packaging buzzwords alongside RFID and Sustainability. Internet-enabled systems bring a new level of flexibility, performance, and cost advantages to processing and packaging facilities throughout the supply chain.
"There is no doubt that the Internet of Things is becoming a must in current and future manufacturing operations in order to remain efficient and effective in an ever more competitive world. These smart and necessary tools enable us to gather data, analyze that data, and use the data to remain competitive," says Richard Larsen, Vice President, Facilities & Equipment, Honeyville, Inc.
For the IoT to work, however, equipment needs to interact seamlessly for an effective data exchange. Are packagers and processors ready for this change?
According to a study conducted by research firm The MPI Group, the answer is not yet. Manufacturers have only incorporated smart devices or embedded intelligence in 25% (median) of their production equipment and processes. Despite the benefits, few manufacturers have the network infrastructure to accommodate IoT machine-to-machine (i.e., sensors in one machine trigger actions of another machine) or machine to enterprise communications (i.e., machine sensors send data to corporate business systems).
This type of connectivity comes at a cost. "Cost justification remains a big issue when real operational data and objective results aren't readily available to justify investment in IoT systems," says Roy Greengrass, PE, Corporate Engineering, Del Monte Foods, Inc. "Food manufacturers operate with lean staffs and low margins, and they can't really absorb the inherent risks and potential for downtime that come with IoT investment the way that other capital intensive industries can," says Roy Greengrass, PE, corporate engineering, Del Monte Foods, Inc. "If the price for IoT goes down considerably, food companies may then be able to justify these systems."
Change on the way
There is hope for change, however, as the study predicts 76% of manufacturers will increase use in the next two years. The top five objectives for incorporating this technology are to improve product quality, increase the speed of operations, decrease manufacturing costs, improve maintenance/uptime and improve information for business analytics.
One way equipment suppliers and their customers are currently able to use IoT is to remotely monitor equipment to diagnose problems quickly. "Service data shows that 70 to 80 percent of machine problems can be diagnosed and remediated remotely," says Mark Ruberg, Vice President, Pro Mach Business Process. "But the monitoring side is where we really see the benefits. Data analytics provide real-time information that pinpoint problems before customers experience downtime."
At Del Monte, they are putting systems in place with remote monitoring of overall equipment effectiveness (OEE) in mind. "We have focused on connecting our packaging line machines via Ethernet data highways with existing PLCs to a cloud and plant-based system that monitors our downtime and operation from an OEE perspective," Greengrass says. "The data is available either locally or is accessible from any remote location. In addition, new sensors for our process are often ordered with an Ethernet connection to allow remote monitoring and future connectivity."
But measuring OEE is just the beginning. To help manufacturers gain a better understanding of OEE and the various factors that can impact this key performance indicator, the OpX Leadership Network—a community of manufacturing, engineering and operations professionals convened by PMMI, The Association for Packaging and Processing Technologies dedicated to operational excellence—released an OEE Starter Tool along with an OEE Benefits Calculator that calculates the product cost impact from your improvement efforts. "The OpX Leadership Network provides the OEE fundamentals from an industry perspective, and the calculator enables you to do the calculations. It really shows you the size of the prize," says Katie Moore, Global Industry Manager-Manufacturing, GE Digital.
Pro Mach has also adopted the OpX Leadership Network tools. Customers report productivity gains simply with the implementation of OEE measurement tools and reports. "Studies show that customers report five percent productivity gains just by implementing the system—just the fact that plant workers are aware that there are tools monitoring productivity," Ruberg says.
So how does one get started down the IoT superhighway? "You can get started simply. The key is getting visibility for a relatively nominal price; we are not talking about huge investments to start seeing improvements. We are talking about implementing software solutions to make systems more efficient; this is a way to maximize your capital investments," Moore says.
All about security
But despite all the benefits, every discussion about IoT begins with security. "Security with availability in mind," says Rob Dargie, electrical engineer, Amway. "Industrial control networks are a target rich environment."
And while you need to consider the security of your system, it is important to consider the security of your suppliers' systems as well. "While the intent is efficiency and accuracy, the issue is that the connection is utilizing the Internet now to communicate. Anything connected to the Internet has a level of exposure," says Mike Muscatell, information security manager, Snyders-Lance, Inc.
The availability of data in the cloud and on all types of devices increases risk, but awareness can be the first line of defense. "At the end of the day folks just want things to work, but if they were provided with the tool of what to be more aware of in terms of cyber security, then related risks would potentially be reduced," says Muscatell.
According to PMMI's Vision 2020 Report, attracting and retaining quality talent in manufacturing is far and away the greatest challenge facing manufacturing today. With the advent of IoT, the skill set for manufacturing facilities is changing. "Manufacturers will need more technology-based degrees, a different skill set than they are employing today. IoT is really about people, process, and technology, people being the critical part of that equation," Moore says.
The technology IoT brings to the plant floor can also be used in training. "IoT can be a great training tool. If Internet communication is available with download training material at the equipment location or if operators can go to OEM sites and receive training on operations, safety, service, etc., this would be a great tool," Larsen says.
PMMI's Certified Trainer program, a train-the-trainer program customized for manufacturing, fosters the partnership needed between machinery manufacturers and their customers. "In order to effectively implement technology such as IoT, the partnership between suppliers and customers is critical, and our program provides a framework for that communication and collaboration to happen," says Stephan Girard, director, workforce development, PMMI.
As the industry strives to realize the full benefits of IoT technologies, collaboration on all levels will be necessary. By connecting people through networking communities, such as the OpX Leadership Network or the PACK EXPO trade shows, and by providing critical information through industry research and education and workforce development programs, PMMI is positioned to assist manufacturers at all stages of their investigation and investment.