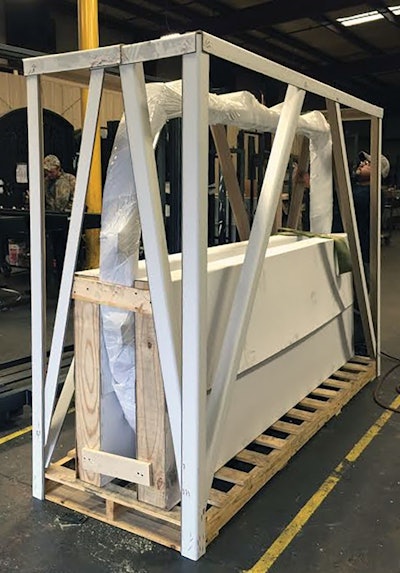 Tuscan Iron Entries, Collierville, TN, is a manufacturer of custom-made ornamental iron doors—some of which can weigh in excess of 1,000 pounds. The sheer weight of the doors can pose a shipping problem. But, more unexpectedly, these sturdy doors, even though packed expensively and labor-intensively in wood crates with metal racks and foam and bubble packaging protectors, occasionally arrived damaged.
Tuscan co-owner Aneel Siddiqui notes, "We were using the shipper packaging that seemed most durable, but the doors sometimes still were arriving at their destination in less than perfect condition. Because the doors are so heavy, we thought the packaging had to be substantial and heavy, too. But with all that weight, shippers often would drag the crates with a forklift, wrapping chains around the doorframes that were partially exposed in the crates. In the process, some doorframes got bent. In essence, the weight of the shipper packaging was contributing to the problem."
Aneel's brother and co-owner of Tuscan Iron Entries, Imran Siddiqui, adds, "The wood crates and the metal racks were very expensive. Plus, it would take two workers a full day to pack a door for shipment. That's 16 man-hours just to get a door out the door. It was ridiculous."
These shipping issues were compromising Tuscan's long-term growth plans. Currently, Tuscan only ships its doors to distributors within close proximity to its manufacturing facility in Collierville, TN, a suburb of Memphis. But the company envisions selling and shipping doors to customers across the U.S. That means using common carriers and exposing the packs to frequent cross docking, making the doors more vulnerable to damage through the wood/metal shipper pack barriers.
Lighter, stronger, cheaper
Tuscan was in discussions with Todd Shaw, VP of Sales for a packaging solutions specialist company Associated Packaging, Inc. about their shipper packing dilemma. Shaw says, "My first thought was a vendor who produced foam blocks. The blocks would be placed on the corners and in the middle of the door and then everything would be wrapped in corrugated board. That would help keep the doors and their frames from being exposed to damage. While it was definitely faster than the foam and bubble wrap they had been using, it still didn't provide the needed protection."
Then Shaw had a serendipitous meeting with Suzanne von Valtier, account manager for Laminations/Great Northern Corp. Shaw recalls, "Suzanne came in for her quarterly presentation—this one happened to feature the protection of large windows with laminated paperboard—and the light bulb went on for me. As soon as I saw how she was using their Laminations® products to protect large windows, I knew the same concept would work for Tuscan's doors."
Shaw took von Valtier to meet with Aneel and Imran Siddiqui at Tuscan Iron Entries. With the help of Laminations' engineering team, von Valtier determined that the packaging solution was going to be a two-step process. First, each door needed to be individually protected to prevent marring. Then, a protective frame (kind of a rib cage) would be required to safeguard the integrity of the door and frame combined.
The plan incorporated Laminations' VBoard®, PF PalletTop®, and FlatBoard®. VBoard is a laminated recycled paperboard with a rigid right-angle shape, available in a variety of lengths and calipers and typically used on box corners to stabilize loads and evenly distribute weight. PF PalletTop is two pieces of notched VBoard riveted together on both ends. When unfolded, they form sturdy square or rectangular shapes to fit tops, sides, or bottoms of palletized loads. FlatBoard is customized edge/corner protection in widths up to 90" and lengths up to 196". FlatBoard is used to wrap each individual door, with foam cubes strategically placed between the door and the FlatBoard.
For the new surrounding "rib cage" design, Tuscan starts with a 110" x 40" wood pallet. On each corner of the pallet, an 80", .500 caliper VBoard is secured vertically by stapling it to the pallet. A PalletTop is stapled to the top of the VBoard pieces, creating a box frame. For added protection, VBoard pieces run diagonally up all four sides of the pallet. Finally, banding and stretch wrapping add even more protection and stabilization to the load.
While this shipper packing process may seem intricate, it is saving considerably on labor time as well as on packaging material costs and weights. Tuscan estimates that the assembly time has been more than cut in half and that packaging material costs now are 50% less. In addition, the use of paperboard laminations has reduced shipping weight on each pack by at least 10 to 15%. And Imran Siddiqui emphasizes, "With our previous packaging process, for every 10-12 doors we'd ship, we'd get one or two calls with a problem. So far, with Laminations, we've not had any calls about damage and no claims."
Companies in this article