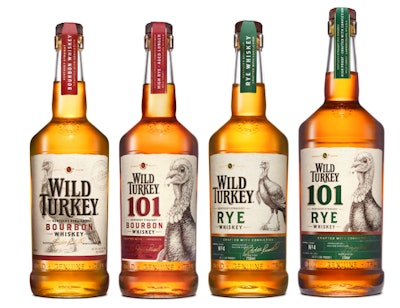 While making no changes to the award-winning liquid, Wild Turkey has designed new packaging for its global family of products that better reflects the core values of the historic brand. A detailed new turkey illustration, found on every expression and most prominently displayed on Wild Turkey 101, depicts a spirited bird that is authentic, proud, and bold – characteristics that have always defined the conviction at the heart of the Wild Turkey brand.
"While sticking with our traditional recipe and authentic values, we are excited to present new global packaging for Wild Turkey. Proudly and prominently featuring our turkey brand icon, this new premium look is the result of in-depth research, consulting with our distillery, and listening to bartenders and consumers," says Melanie Batchelor, Global Vice President for spirits at Gruppo Campari. "With the explosion in interest we've seen in the bourbon and rye categories, driven by classic cocktail trends, we've seized the opportunity for bold premiumization. With this new, proud, and striking design, our packaging for Wild Turkey will now stand out amongst the competition as well as our award-winning liquid has done for decades."
The change of packaging comes on the heels of recent positive attention for the Wild Turkey brand stemming from critical and commercial success of its super premium limited time offerings, including Forgiven, Diamond, and Master's Keep, and is the latest example of Gruppo Campari's efforts to further popularize the iconic brand worldwide. To date, the company has invested more than $100 million to thoroughly modernize and expand the Wild Turkey distillery experience, including the construction of a new visitor center and packaging facility.
The new look for the entire range of bourbon and rye whiskies also reflects Eddie Russell's recent promotion to Master Distiller. The packaging now makes it clear to consumers that Wild Turkey Bourbon (originally named Wild Turkey 81) is Eddie's creation, while his father and living legend Jimmy Russell is the creator of Wild Turkey 101. Eddie's signature is front and center on Wild Turkey Bourbon, while Jimmy's is prominently placed on Wild Turkey 101. Wild Turkey's Master Distiller Eddie Russell noted, "We wanted the new packaging to capture the hard work, craftsmanship, and heart that goes into making Wild Turkey. My father and I have been making whiskey the same way for over 60 years. From hand selecting the grain, to bottling the liquid, and everything in between, we make sure our product is made the right way--the traditional way--at every single stage. We're proud of our whiskey, and we're glad to have packaging that embodies that."
In addition to its range of bourbon products, packaging for Wild Turkey's rye expressions has also been updated. Wild Turkey, as a way of celebrating America's first spirit, is one of the few distilleries that has always produced rye whiskies, long before the rye boom the industry is experiencing today. The new look features rich green colors and a premium split label design -- a nod to the superior quality and character of the whiskey.
Although labels for each expression of Wild Turkey differ, they do share some common aspects that create uniformity across the range.