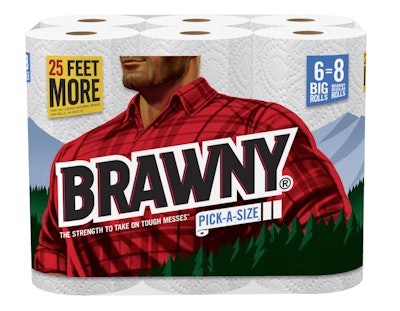 Brawny® Paper Towels' film packaging now features The Brawny Man® and holds true to the Brawny brand values of toughness and strength—evident in the "larger than life" packaging design whose graphic of The Brawny Man serves as what the company says "is the ultimate symbol for rolling up your selves and getting the tough jobs done." The Brawny Man was created in 1974 and has been printed on the product's packaging ever since.
Brawny is a well-known brand from Atlanta-based Georgia-Pacific. GP, and its subsidiaries, manufacturer and market products that include bath tissue, paper towels and napkins, tableware, and paper-based packaging.
The company engaged Turner Duckworth to help develop Brawny's new package design and look. The new brand identity is used across all Brawny packaging—from single rolls to multipacks containing as many as 12 rolls—with that brand identity varying slightly depending on the size and messaging.
Film thickness varies, increasing proportionately as the number of rolls and weight of the package increases. Multiple vendors supply the film, which is printed in 10 colors on wide-web central impression presses. Graphics draw inspiration from classic comic book heroes, and the new packaging infuses strength and confidence back into The Brawny Man, using a silhouette that crops off at his chin to add a touch of mystery.
Packaging also conveys what the company says is "a great deal to be found by consumers inside the eye-catching new packaging. In a time when many CPG companies are shrinking product size, Brawny adds value to consumers through 25 additional sheets per role vs the leading national brand with comparable role and sheet size."
Gary Gastel, Senior Brand Director, says, "This new packaging was a big undertaking and a bold move on packaging to disrupt the category and stand out on shelf. Transitioning nationally in such a fast way was no easy task and we have now also seen consumers engage with packaging, taking pictures of themselves with the packaging and posting them on social media, which we have never seen anyone do."
Companies in this article