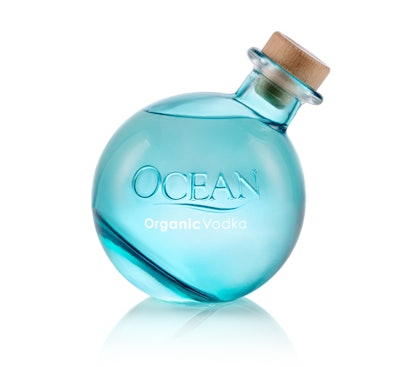 Hawaii Sea Spirits has introduced a custom glass bottle that in every aspect conveys the unique point of differentiation of its ultra-premium spirits product, Ocean Organic Vodka, made with organic sugarcane and blended with ocean mineral water from 3,000 feet beneath the ocean's surface off the Kona Coast of Hawaii.
In 2013, the company began the process of developing the new package to replace a straight-wall, stock glass wine bottle that had been used since the product's launch in 2006. "The branding did not physically convey the product's point of difference, its unique origin or its unique source of ingredients, its ultra-premium position, or its retail price point," says Jim Grannan, partner of RISE Investments Intl. and Interim Marketing Director for Hawaii Sea Spirits. "It was perceived as subpar and did not stimulate thought aside from being another clear spirit priced higher than average."
The biggest hurdle, says Grannan, was dealing with the product name, "as the water source is not only the name of the brand, but also the most defensible element in establishing its unique position." The new bottle also had to comply with mass glass production mandates and needed to accommodate a standard cork opening.
The final form—13 months in the making and supplied by Teamwork Trade Co., Ltd., Global Group of China—takes its cues from "ocean-only" artifacts. The translucent blue bottle is shaped like the hand-blown glass fishing net floats first used by Norwegian fishermen in the mid 1800s. Demonstrating the global environmental significance of the brand, the neck of the bottle is angled to mimic the Earth's axis. Extra glass sediment is added perpendicular and at the bottom of the package to ensure the freshly molded, angled bottle stands upright as it cools on the conveyor belt.
As for the product name, "Ocean" is embossed prominently on the front of the bottle with the words, "Organic Vodka" applied via ink on a transfer plate that is then baked. "The subtle use of branding lends itself to a more sophisticated perception," says Grannan.
Available in Hawaii since September 2014 and in 37 mainland states and Canada since January 2015, in 50-, 375-, and 750-mL and 1-L sizes, the bottle has proven extremely commercially successful, resulting in a 6X increase in sales over the same periods the prior year.