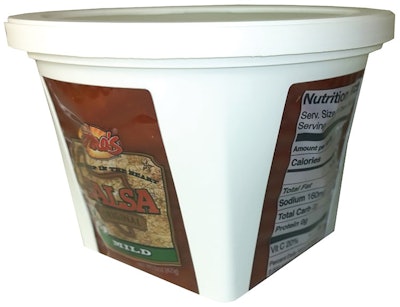 Hybrid plastic tub for salsa takes top honors
This year's 2015 Diamond Award Winner involves one brand owner's leap of faith in a unique innovation in plastic packaging. The hybrid plastic tub, made by injection molder IPL Inc. was described by DuPont Award judges as the kind of thing that "highlights the world of possibilities that exists for packaging." In November 2014, Austin, TX-based fresh Mexican salsa maker Ana's Foods became the first to package its products in IPL's SkinnyPack™, an injection-molded polypropylene container that combines the advantages of flexible film—lightweight, flexible, and printable—with the benefits of a strong, rigid plastic frame.
The collaboration began in June 2014, when Ana's was approached by IPL with a prototype of the SkinnyPack. "We were looking for new packaging to replace our deli-style tubs," says President/CEO of Ana's, Anna Olvera-Ullrich. At the time, the company was using two container formats: a standard, 16-oz round in-mold labeled tub and a 12-oz single-use deli-style tub with hand-applied labels. While the 16-oz rounds met Ana's requirements, the 12-oz tubs often leaked and "did not look very appealing," says Olvera-Ullrich.
The SkinnyPack not only offered Ana's greater shelf appeal for its product, but it also provided them with a more eco-friendly package. The container is manufactured by fusing a multilayer 2.36-mil adhesive-laminated film, constructed of PP/ink/PP, to four rigid PP posts, resulting in a square/round shape, or "squround," that allows for graphics on all four sides. The lighter-weight package uses 54.8% less plastic than a rigid tub and, being constructed completely of PP, is 100% recyclable. The format is also stackable, resulting in cost reductions in shipping and stocking.
"We immediately liked the look of the new tub and felt that it had the potential to replace our existing tub with something that would really attract customers' attention on the shelves," says Jim Ullrich, Senior Vice President of Ana's. "We also appreciated the minimal use of plastic that made it extremely eco-friendly."
Far from being daunted by the prospect of being a guinea pig for the SkinnyPack, Ana's welcomed the opportunity to be the first user. "We felt that it could give us a marketing edge over the competition," says Ullrich. "We knew it wouldn't be smooth sailing, since it was a new design and hadn't been tested in the real world of commerce, but we were confident that IPL and our company could work through potential problems."
One challenge was redesigning Ana's label graphics to fit the complex shape of the SkinnyPack. While remaining the same in concept, the front-panel logos and wording as well as the nutrition facts panel had to be changed in size. Another panel was used to highlight the container's use of "less plastic," while the UPC and "Manufactured for Ana's Foods" copy from the old tub were moved to the bottom of the container. The four-color IPL label, which fills in between the "legs" of the tub and completes the bottom of the container, is converted by Precision Press.
Filling of the new package presented no issues however, as the SkinnyPack uses a standard, 409-dia lid, allowing it to run on existing packaging equipment. The format is also compatible with both pocket and conveyor belt systems.
Ana's engineered the tubs for both its 12- and 16-oz sizes, at a cost that is virtually on par with its former containers and lids. Reports Ullrich, "The end result is that we're only paying a penny more for the twelve-ounce SkinnyPack tub and ready-to-use lid."
In October 2014, just before launching the SkinnyPack on shelves, Ana's conducted a survey of its consumers on the new container. Reports Olvera-Ullrich, "Eighty-seven percent said they liked the design, using phrases such as 'cool,' 'unique,' 'interesting,' and 'I especially like the less plastic.' Eighty-five percent said the design would attract their attention enough to possibly make them want to buy the product. One said, 'The shape makes me want to eat the salsa right out of the tub; it reminds me of a molcajete [the traditional Mexican version of the mortar and pestle].'"
Since being introduced in fall 2014, Ana's Salsa in the SkinnyPack package has been picked up by a range of Texas grocery chains, including Randalls, TomThumb, H-E-B Grocery, Fiesta Market, Arlan's Market, and Market Basket. Ana's also ships its salsa to customers around the country. —Anne Marie Mohan
Squeezable mascara tubes squelch product waste
Unique squeezable mascara tube packaging is the recipient of a DuPont Packaging Gold Award for Excellence in Technological Advancement and Enhanced User Experience.
The hybrid package was developed by South Korea-based AmorePacific, a global cosmetics maker and marketer whose brands include Sulwhasoo, Laneige, Mamonde, Etude House, and innisfree. The package consists of a matte non-toxic silicone tube with a polypropylene shoulder joint and a built-in barrier pouch made of a lamination that includes aluminum foil. The construction is designed to extend product shelf life and enhance product delivery convenience and consistency.
With more traditional rigid/semi-rigid sidewall mascara tube packaging, the high-viscosity product tends to settle along the inner package wall over time, where it dries out and is difficult or impossible to extract. But when squeezed, the AmorePacific flexible tube packaging is designed to create shearing stress on the contents to keep the product softer as it is delivered in measured amounts to the mascara application brush. Product texture and viscosity remain stable through multiple uses over three months or more. So this packaging innovation extends product shelf life, enhances user dispensing convenience, and reduces product waste. It was commercially launched in April 2014.
The tube container mold is adaptable to other cosmetic products, offering significant potential manufacturing savings for a range of applications. —Judy Rice
Ultra-slim functionality
Launched in 2014 and available through retailers such as the CVS chain of pharmacies, Flight001, Bergman Luggage, and others, MiiSTS is a line of products in a uniquely compact carry-size format. The ultra-slim spray container, which comes in a windowed paperboard carton, looks more like a credit card than a bottle, and it's designed to fit into pockets or fashionably tight jeans with virtually no bulge (see pwgo.to/1577). A total of nine products are in the line, ranging from glass cleaner to spot remover to hand sanitizer to sun screen. Industrial design firm HotpotDesign played a key role in this launch.
This bottle consists of four pieces: a top and bottom each injection molded of polypropylene and ultrasonically welded together, a spray pump assembly from an unnamed supplier, and an injection molded spray button that fits on top of the spray pump assembly. The welding challenges were significant, says MiiSTS CEO Alex Meyers. Ensuring tight welds on such thin containers is no walk in the park. "We had to perfect the correct high-temperature double-sided welding technique in order to effectively work with the polypropylene material," says Meyers. The injection molding and welding are done by Kleen Concepts.
When the bottles arrive at the MiiSTS plant in Phoenix, AZ, they are manually placed in a carrier that holds six bottles in an upright position. The carrier moves down a short conveyor until it pauses beneath six filling spouts on a filling machine made by MasterFliex. Exiting the filler, pump assemblies are manually inserted. Then the carrier moves under a custom-made device that presses down on the pump assemblies to snap fit each one firmly into its bottle. This machine won't go much faster than 50 bottles/min, so Meyers says this part of the puzzle is being looked into.
When the innovative containers first hit the market, decoration was by way of front and back pressure-sensitive labels. But these are just now being replaced by front and back pad printing on a two-up system from Deco Technology Group. "I never really liked the labels because they didn't quite adhere smoothly to our bottle's profile," says Meyers. "The pad printing looks better, reduces labor time, and also cuts costs slightly."
One other change that might be forthcoming involves the paperboard carton. "It takes some time to insert the bottle and close the carton by hand," says Meyers. "I'd like to have a molded pulp alternative that would allow us to insert the bottles faster."
The big benefit this container brings to consumers is the enhanced user experience. Not only are the slim containers eminently portable, they each hold about 150 sprays, so they last awhile. On top of that, Meyers says there is no other spray sunscreen, for example, of similar quality for under $.03 per spray. —Pat Reynolds
Laser focused on a specific demographic
A sleek impact extruded aluminum aerosol can won DuPont Gold for Excellence in Technological Advancement and Enhanced User Experience. Unilever Package Development manager David Tropia says the demographic at which this product is aimed, young males, expects innovation on a regular basis. He believes this package design more than meets that expectation.
"There's nothing in the world like this in terms of can shaping," he observes. What he refers to is that the container starts out round at the bottom with a 53-mm dia but finishes square at the top. "A number of cross-functional teams tackled this assignment, one assigned to the can shape and another to the pump and actuator design. "Both represent very detailed and challenging engineering accomplishments, all aimed at one objective: a pleasing consumer experience."
The other very clever thing about this package is an innovative feature that's carried over from the format that's been replaced, which Unilever and UK-based design firm Seymourpowell called "Neutron."Also impact extruded aluminum, that package was round. It was characterized by a twist-action feature that ensured the container would be locked when not in use because the button was flush with the top. Only by twisting the top would the spray button be lifted up so that product could be dispensed. It had sold strongly since its 2005 debut. But because, as Tropia points out, Unilever is such a big believer in continuous improvement, it was time for a change. Seymourpowell puts it this way:
"The Axe customer's world had changed; the explosion in social media, the arrival of smartphones, changes in fashion, and a ground shift in attitudes to all things design had worn away Neutron's edge. It was time for something new. And, of course, on top of all that, it had to run down existing high-volume production lines, use existing can-forming machines, be more sustainable and hit the target price." And so it was that Neutron gave way to Icon2, "an ingenious round-to-square design that flows seamlessly into the actuator top." To see how the dispensing button operates, see video at pwgo.to/1595.
As for comments on suppliers or key vendors other than Seymourpowell that might have been involved in the development of the package, Tropia chooses not to identify them. Tropia says a number of aerosol can suppliers around the world produce the container, and all of them use the same tooling. "It results in great consistency from region to region, so brand equity is assured," says Tropia. —Pat Reynolds
Medtronic's new TAVI system employs unique packaging design
What measures 68x5.5x2.6 in. and can save your life?
The answer: the EnVeo™ R next-generation Transcatheter Aortic Valve Implantation (TAVI) System from Medtronic. The product's enhanced packaging delivers user functionality, containment, protection, preservation, and communication benefits for surgical users. The package earned a Gold Award and was honored for Excellence in Technological Advancement and Enhanced User Experience at the 2015 DuPont Awards for Packaging Innovation competition.
Prent Corp. thermoformed the TAVI system's 0.040-in. thick tray and clips, using white Tritan™ PETG resin from Eastman. "Prent has a good design team that can articulate what we as a customer require," says David Clarke, Packaging Engineering Supervisor, Medtronic Vascular Galway Ltd., in Ireland. "They are consumer-focused and use cutting-edge equipment."
Medtronic explains that TAVI is a relatively new valve technology developed in the first part of the 21st century as a means of treating sick patients who otherwise would not receive valve replacement therapy through surgical means. The first commercial products reached the market in 2007.
Clarke explains that Medtronic involved its Packaging and Labeling, Research and Development, Quality, Marketing, and Human Factors departments in the design and development of EnVeo. The medical device manufacturer also employed end-user input in the development process. Says Clarke, "An ethnography-based innovative tray package is integral to the device therapy."
'Gemba' design approach
EnVeo has been sold commercially in Europe (where it's CE-marked), Latin America, Australia, New Zealand, and other countries since September 2014.
Clarke points out that the product employs, "a novel innovative packaging design. This packaging system defines new frontiers in the medical device field by integrating material, with end-use customer-focused features that enable the package as a value-add to the overall therapy," he says.
EnVeo consists of a porcine tissue valve on a nitinol frame; its heart valve is delivered via a sophisticated catheter delivery system using a minimally invasive technique. It has the ability to recapture the valve prior to full release and a packaging configuration that provides a single user with complete control of the 62-in.-long catheter and additional functionality during the preparation and loading of the valve onto the catheter. The packaging system consists of a tray in a single pouch housed inside a paperboard carton. The premade pouch structure is 20-mm oriented polyamide (nylon)x2/50-mm polyethylene, and is supplied by Steripack Ireland.
In comparison to its predecessor, the EnVeo packaging configuration represents a leap in tray functionality along with a focus on optimizing packaging components and materials. The design team took the opportunity to go the "Gemba" (Japanese for "the real place") to see the current generation product in use and solicit feedback from key stakeholders in the lifecycle of the packaging configuration.
One major need identified was to add functionality to the tray housing the catheter within the sterile field. The team also sought to reduce packaging components and waste where possible. A new pouch configuration was developed that moved to a single pouch as opposed to the previous double pouch configuration. In order to optimize the tray design, finite element analysis (FEA) techniques were adopted to implement features on the tray, which ensured robustness prior to manufacture. The use of FEA helped to accelerate packaging development cycle by four and a half months and resulted in meeting project timelines.
Results
The result, says Medtronic, "was a revolution in packaging design for the TAVI space. The ease of handling in the Cathlab [operating room] was improved through the single pouch configuration. The added functionality of the tray removed unnecessary clutter and tasks from the catheter loading team and helped to streamline the valve preparation and loading process. Visual aids added to the tray design assisted in successful loading of the valve to the catheter," the company says.
Medtronic believes that by using ethnography for contextual observation, Gemba, and "voice of customer" activities of end users, its design team "pushed the boundaries of the tray design and functional requirements. No longer was the tray seen as throwaway packaging in the Cathlab, but as an essential part of the user experience and improving the quality of the overall product for safe and effective use," says the company.
At the Cathlab, trays are manually filled with saline. And while the tray is not labeled with technical information, a "mirror label" is pre-attached to the bath section. This is a reflective label that allows the operator to see under the catheter when loading the valve in the saline. The pressure-sensitive labels are supplied by both Advanced Web and Sealpack.
Medtronic uses a distribution box to hold four packaged products. A pallet holds 18 shipping cases, or 72 units, in all. Sterilization is conducted via ethylene oxide (Et0) gas, and shipped to final customers—hospitals and clinics—either via a single parcel or in bulk quantities.
Clarke says Medtronic has received "excellent feedback from the field," on the new EnVeo TAVI System. —Jim Butschli
Child-resistant, zip slider pouch packaging
Re-engineered for better child resistance, zip slider packaging developed by Pactech Packaging in collaboration with Presto Products, a business unit of Reynolds Packaging Group, is the recipient of a Gold Award for Excellence in Technological Advancement and Enhanced User Experience.
Called Medi-CRREO™ Child Resistant Pouches with Child Guard™ Slider, these pouches are made from high-strength, foil-barrier-laminated film, designed for tear and bite resistance, and are more difficult for children to manipulate and open.
Pactech, with decades of experience in developing child-resistant packaging, partnered with zipper packaging expert Reynolds Presto Products to develop the Medi-CRREO™ with Child Guard™ slider-based closure system that has passed testing requirements set forth in the Poison Prevention Packaging Act. This slider closure system allows certain products that previously only had been marketed in boxes or bottles or metal packaging to be marketed in source-reduced, lower weight, recyclable, reuseable flexible pouch packaging.
The eco-friendly, space-saving pouches are scalable to the size/volume required for specific product applications. And package modifications can be made to accommodate various requirements such as tamper evidence, hermetic sealing, and chemical barriers. The pouches with zip slider mechanisms can be provided to interested customers in a range of sizes from 8.5" x 6" to 14" x 18"—with or without standup gussets. Pouch dimensions enable greater, more impactful use of billboard graphics. Potential application categories include medications, agricultural and household chemicals, and numerous consumer food products. Pactech reports that it is working with a number of commercial users. But roll-outs are in the early stages, so none wish to comment at this time. —Judy Rice
View the DuPont Silver award winners at pwgo.to/1568
Companies in this article