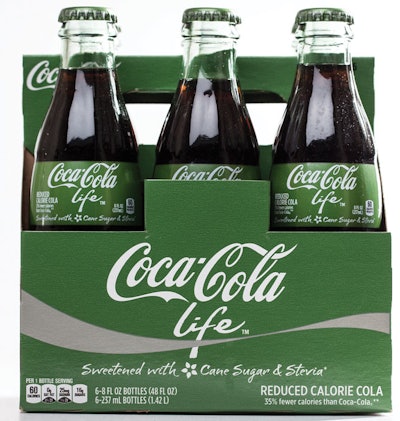 Have you noticed that brands have been "getting real" lately? I'm talking about refreshingly honest, no-BS messaging in ad campaigns and on packaging that tells it exactly like it is. This trend is not surprising. In today's challenging market, honesty is a surefire way to establish reliability and connect with consumers. In fact, according to an October 2014 study on authentic brandsby global public relations firm Cohn & Wolfe, the number-one quality or behavior that people demand of big brands is that they communicate honestly about their products and services. With information about a brand in real time readily available, consumers are now investigative reporters, and companies can't risk having the public discover that something about their brand is dishonest.
We're seeing this trend transcend categories. Under Armour's "I Will What I Want" campaign, in which Misty Copeland proves that not all prima ballerinas are stick figures, and Sir Richard's condoms' ads, with copy lines like, "Let's Change Positions, Not Diapers," are blazing new trails with their honesty and humor. Forget about "beating around the bush," to quote Hello Flo, a brand that mails out care packages for women's and girls' feminine protection needs. This is straight talk, pure and simple.
The movement toward transparency means that consumers are attaching themselves to companies that operate with honesty and integrity, rather than aligning with brands that try to pull the wool over their eyes. And while this kind of transparency first gained traction in advertising, it is now carrying over to packaging design. Companies are using this frank style of language and graphics to stand out on shelf.
Three recent examples of brands that are "getting real" through frankness and intelligence on their packaging are Coca-Cola Life, which touts its use of "real ingredients," Dollar Shave Club, which uses "real talk," and The First Years, which showcases "real people."
Real ingredients
When the biggest beverage company in the world starts getting honest, you're damn straight people are going to sit up and take notice. And that's what happened when Coca-Coca Life launched in South America in 2013 and made its U.S. debut in the fall of 2014. Coca-Cola Life, which is Coke's "natural" answer to the outcry against processed ingredients like high-fructose corn syrup and Aspartame, was created to combat the era of the soda backlash. Coke had to do something to save falling sales and maintain category relevancy.
Coca-Cola Life's packaging is the epitome of transparency, with a green color that is a dramatic departure from its iconic red and immediately conveys that it is something new and different for the brand—something natural (or should we say, more natural). An approachable script font is used for the word "Life," and an icon that closely resembles a leaf draws your eye to the fact that this soda is "Sweetened with Cane Sugar and Stevia."
Coca-Cola Life also claims to be a "reduced calorie soda" that has "35% less calories than Coca-Cola*" (albeit with an asterisk next to that line). Whether or not the product actually is better for you than other sodas has yet to be seen, but in this case, the departure from the brand equities communicates a desire to move away from consumer expectations of the brand and offer them something more real.
Real talk
While Coca-Cola Life is an example of an established brand trying to regain market share through honesty, a newer (circa 2011) brand, Dollar Shave Club, is using a no-BS messaging strategy to build its online subscription business and procure customers. The tag line sums up the brand's mission best: "Shave Time. Shave Money."
Using clever, tongue-in-cheek language, the brand gets right to the point: Dollar Shave Club is a simple and easy way to avoid the cost and hassles of traditional shaving brands. Who wants to engage with the drugstore attendant every time they need a new razor? The brand's message is conveyed everywhere you look. In fact, the words "simple" and "easy" are splashed across all of the brand's touch points. Even back-panel copy on packaging is used to "get real." One moisturizer says it is "the ultimate fix for the disruptive exercise of shaving," while the blade packaging features an on-brand, though fictitious quote, "I like shaving with a dull razor" and then credits it to "No one ever."
And when it comes to real talk, who can deny the honesty of Dollar Shave Club's One Wipe Charlies—certainly the only product on the market dubbed "buttwipes made for men." If the statement, "the civilized way to wipe" isn't transparent enough for you, well then, I don't know what is.
Real people
Since we're on the topic of wipes, The First Years—a brand of infant and toddler products such as potty training seats, dishware, and health and grooming items that has been trusted by mothers since the 1950s—recently rebranded itself with younger moms in mind. Anyone who has kids can tell you that new motherhood does not consist of a picture-perfect baby being fed rice cereal while politely cooing at an immaculate table. More often it's a pretty dirty job. And no consumer group wants to hear the plain truth about that more than Millennials.
Millennials are looking for a real conversation about parenting, warts and all, with on-point information so that they can make informed choices. This isn't the end of an era for them like previous generations felt; it's a new beginning. The First Years gets them excited about this new phase by cutting through the baby poop and telling it like it is, as shown through the "real photography" used on the packaging.
Gone is the Boomer fantasy of old—with angelic babies and perfect parents blissing out in la-la land; The First Years uses casual, often funny, selfie-style photography that a parent might post on Instagram or Facebook showing all the imperfections of new parenthood. By being supportive, friendly, and above all, honest, The First Years forges a relationship with consumers that will continue as their children grow.
Transparency begets loyalty
These brands are telling it like it is for one reason: Because transparency begets loyalty, plain and simple. Of course, if you are claiming to be real, you better make sure that you're really being real.
In recent years, a few brands have learned that the hard way and watched the public turn on them as a result of their dishonesty. In 2011, a public interest group sued Coca-Cola for marketing its VitaminWater brand as a healthy beverage. But the brand's response to that action was even more surprising: It defended itself by saying that "no consumer could reasonably be misled into thinking VitaminWater was a healthy beverage." Which led consumers to ask, "How could Coca-Cola put the word 'vitamin' in a product name and not think that people would assume it had some health benefits?" That the brand belittled its consumers, rather than simply apologizing, was insulting and was reason enough for consumers to question the brand.
Johnson & Johnson—whose legendary credo states that its "first duty is to the doctors, nurses and patients, to mothers and fathers and all others who use our products and services"—lost the trust of those individuals when it pulled 22 products, totaling 300 million bottles, off its shelves beginning in 2009. But the worst part was that Johnson & Johnson didn't even offer its consumers so much as an explanation as to why they did this. Were the products tampered with? Were there quality control problems at their factories? Zilch. Not a peep. And then one day the product returned to shelves—after J&J had lost $900 million in sales. Did consumers return to shelves as well? Only time will tell.
Twenty, or even 10, years ago, consumers may not have held a Johnson & Johnson or a VitaminWater accountable for trying to dupe them. But today, there's no getting around the fact that transparency is the only real way to win the trust of the people giving you their dollars. Whether you're speaking to health-conscious soda drinkers, fashion-conscious men, or Millennial moms, there's no question that getting real is a win-win situation for today's brands.
Rick Barrack is co-founder and Chief Creative Officer at brand agency CBX.