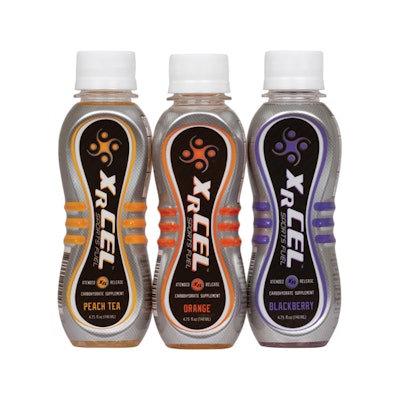 XRCEL is a carbohydrate supplement that uses temperature- and pH-responsive technology to increase and sustain the oral bioavailability of carbohydrates. This technology is said to drive and sustain the performance of athletes during competition and help their bodies recover more quickly after performing. Key to the product is a patented micro-gel delivery system created by brand owner partner company New World Pharmaceuticals.
"XRCEL was originally developed for use by high-performing amateur, college, and professional athletes, but it is equally effective in fueling the body and the brain of anyone engaged in extended physical exertion, both those who are exercising and those engaged in strenuous physical work, such as construction workers," says Fred Sexton, President and owner of the Charleston, SC-based New World companies.
When developing the product, New World realized that an essential part of making the supplement easy for consumers to access—whether they be participating in a sporting event, performing a strenuous exercise routine, or working at a physically demanding job—was a convenient bottle design. The package had to be properly sized, for example, to deliver the right amount of glucose to fuel performance without causing gastric upset or the bloated feeling sometimes associated with higher-volume products.
"The package is as important a part of the XRCEL delivery system as the chemistry of the product," says Sexton. "It had to not simply be a container, but a functional tool, like any other essential piece of equipment that the user would have in his or her sports kit or toolbox."
Following focus group research conducted by New World, TricorBraun Design & Innovation Group, a business unit of TricorBraun, worked closely with Sexton, creating multiple computer concepts and 3D-molded sample bottles. The result is a custom 4.75-oz PET bottle, sized and shaped to fit the hand, with three horizontal molded ribs on either side to give it a secure grip. The bottle is decorated with a colorful, silver shrink sleeve that uses color bars over the ribs to focus attention on them. Bottles are color coded in peach, orange, or purple to differentiate the three XRCEL flavors: Peach Tea, Orange, and Blackberry. The hourglass-shaped container is topped with a tamper-evident, 28-mm closure, ribbed for easy opening with wet hands.
The bottles are molded by Currier Plastics using molds built by TricorBraun, Berry Plastics supplies the stock closure, and SleeveCo produces the shrink sleeves.
XRCEL is sold online for $2.99 per bottle, and through specialty sporting goods stores. The product is also marketed directly to university, school, and professional sports teams.
To see a spin + zoom 360° photo, click here.
Companies in this article