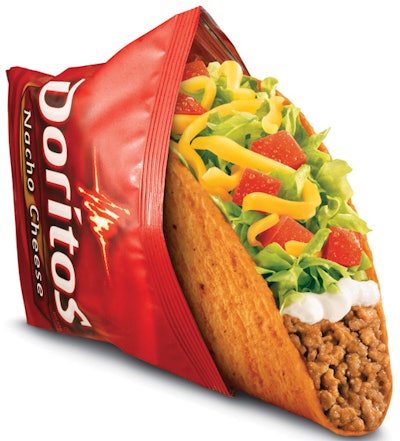 Restless consumers are hunting more than ever for products that deliver additional value, forcing manufacturers to scramble to deliver that value to them. Co-branding a strong national brand with an equally recognized licensed brand is one way to accomplish that. The goal: to pump up volume and to gain a competitive edge by attracting and retaining customers in a highly charged consumer environment.
As a result, there's been a rush to co-brand, with both national and licensed brands looking for opportunities to exploit. At times, it's too much of a rush. Some co-brands are sensations, while others fail to hit the mark. They have to make sense to consumers and represent a real fit, or at the very least, they must have shared brand values to work. Even then, they have to be packaged in a compelling manner so that consumers seeing co-branded products will understand them at a glance.
Successful partnerships, effective packages
If a branded product is well established and does well, co-branding it with a well-recognized complementary brand could create a new product in the marketplace with an established pedigree. One example of resounding success is Taco Bell's introduction of its now famous Nacho Cheese Doritos Locos Tacos, which recently surpassed $1 billion in sales. Company CEO Greg Creed referred to the taco's release as "the biggest launch in Taco Bell history." Not only are the co-branded products complementary, but they also represent two well-known brands that are equally strong in consumer recognition. One could argue that if Taco Bell had launched its own nacho cheese taco shell, it would not have had the same power of co-branding it has had with Lay's top-selling Nacho Cheese Doritos.
When consumers purchase this product, the packaging—which looks like a snack-sized bag of Nacho Cheese Doritos—reinforces the entire concept beautifully. No need to even mention Taco Bell on this packaging, or add the logo. The emergent, over-stuffed taco in the packaging is a visual that has always been associated with the brand.
Co-branding "for a limited time" can create massive consumer demand, even frenzy. Few limited-time brands are subject to as much anticipation as Girl Scout Cookies, which sell out quickly. When Nestlé worked out a deal in 2012 with the Girl Scouts to co-brand its most popular cookie flavors with Nestlé Crunch chocolate bars, the company felt that it could have a hit on its hands. And what made more sense than offering the co-branded candy bars as limited-edition items? Consumer frenzy ensued, and the candy bars became so hard to find that for the 2013 launch, a May article in USA Today urged consumers to go to the Nestlé Crunch Facebook page to pre-order!
The packaging perfectly co-brands Nestlé with the Girl Scouts. The well-known Nestlé Crunch brand identity shares equal billing with the Girl Scouts' logo and the brand's signature green color. A cutaway on each bar shows the luscious cookie flavor inside. To reinforce the nature of the offerings, artwork depicting each cookie on a yellow background states, "Limited Edition Cookie Flavors." Nothing else is needed.
Another example of co-branding is to create unique luxury items for affluent consumers. Fashion maven Kimora Lee Simmons created a line of exclusive, whimsical jewelry in partnership with Sanrio's global phenom, Hello Kitty, beginning in 2008. Many affluent women around the world have such affection for this brand, as well as the designer's aplomb for making unique fashion statements, they've snapped up watches, bracelets, pendants, and earrings fashioned from18K gold and studded with diamonds. The success of this venture is due to the merged star power of both brands.
Packaging for the line is surprisingly simple—the perfect counterbalance for the over-the-top diamond-studded jewelry inside. Stark black-and-white packaging tells the story at a glance: Hello Kitty's sweet face is presented with the two brand names beneath her image, "Kimora Lee Simmons for Hello Kitty." Perfect. The only color is Hello Kitty's red bow and yellow nose—perfect punctuation on purposely downplayed packaging. Inside, a plain oxblood-red package without any brand communication contains the actual jewelry. Simple, clean, perfect.
Elevating a commodity
The proliferation of too-similar consumer products dilutes brands, especially with a sluggish economy. Lower-priced private-label brands continue to take a bite out of national brands. Smart co-branding can elevate a commodity to another level, creating incentive for consumers to shell out more due to higher perceived value. Johnson & Johnson upped the ante with Band-Aid when it co-branded with the Muppets with a not-so-typical consumer product offering.
Thanks to a special app, kids scanning the bandage with any mobile device get a delightful surprise (see pwgo.to/1384). Through Augmented Reality (AR) technology, Muppet Kermit, for example, bursts out of the bandage to sing his famous "Rainbow Connection" to make any child forget about the pain and nastiness of the moment. This is a brilliant way to leverage both brands and to seal the emotional connection they have with children. Favorite characters are one thing, but bringing them to life thanks to AR is brilliant.
Moms can't miss the colorful Band-Aid Muppets packaging. The large Band-Aid brand identity sits on top of the package, with the character underneath. A much smaller Muppets brand identity rests on the bottom right of the character. At the bottom of the package, the Johnson & Johnson brand mark appears with simple brand communication about the product. All the Muppets-based character bandage packages feature AR capabilities once the special app is downloaded to any mobile device. Simple, clear, easy.
Pop-culture hits and misses
Disney-licensed characters, including Princess and Cars, deliver value on an ongoing basis, as delighted children want to wear sneakers or apparel featuring their favorite properties. They love character-branded bedding, toys, and accessories. Do moms think it worth more money to purchase Disney-licensed products? The answer is a resounding "yes," as Disney's powerful properties continue to make it the number one-licensed brand on the planet. On the other hand, Kroger's co-branding of ubiquitous fruits and vegetables for children with Disney fell flat. Mickey Mouse and The Incredibles couldn't save this deal. While the Kroger brand is strong, moms could not correlate how Disney characters added more value to produce to justify a higher price.
This example is proof that brand alignment, fit, and perceived value must all be given careful consideration. To corroborate this, think of wildly successful co-brands. Michael Jordan and Nike have successfully collaborated since 1984. More recent consumer products of note include Procter & Gamble's Febreze co-branded with its own Tide and Downy brands as well as Bissell. Rovio's pop-cult phenomenon, Angry Birds, in a brilliant move, developed a winning game app in conjunction with perhaps the greatest pop culture brand of all time, Star Wars. Cake Boss, Buddy Valastro, licensed his famous name and recipes to Dawn Foods to make his delightful confections available to supermarkets and wholesale clubs. Smart.
Caveats
It makes no difference how strong the appeal of a co-branded product is; it can fail. Consumer expectation is so heightened when co-branded products are launched featuring two strong brands that if the experience falls short in any way, it can torpedo expected sales and even do damage to both brands. When considering a co-branded product, ask yourself the following questions:
• Is it a good marriage? Many co-branded consumer products never take off because they mystify consumers; they simply don't make sense. Even if they aren't a direct fit, there ought to be aligned brand values. Coach leathers in Lexus luxury cars is a great example of this.
• Does the co-branding add value? Even powerful brands can't make magic if the consumer can't justify the additional spend for the co-branded products. Kroger's Disney character-branded produce is a perfect example.
• Too much of a good thing? Some of the most dominant brands have lost their cachet and their loyal customer base due to overexposure. Fashion houses Dior and Gucci can attest to that. Over-licensing the most powerful brands can lead to serious brand dilution, which should be avoided.
• Is the packaging hastily designed? Many consumer products, including those that are co-branded, fail to meet sales expectations and even die on the shelf due to ineffectively designed packaging. The investment in licensing is significant; however, the same cannot always be said of the product packaging. But in order to leverage both brands as they deserve and maximize their full potential, it's truly necessary. Remember, strong co-brands cannot expect consumers, confronted with scores of choices at retail, to immediately home in on and identify a great new offering without the support of strong packaging.
To co-brand or not to co-brand?
There are, indeed, many considerations here. If well conceived and properly executed, co-branding can have a huge upside potential for both brands. Volume and competitive edge is one thing, but the opportunity to create greater brand equity carries even more impetus at a time when so many brands are losing their luster.
Ted Mininni is President of Design Force, Inc. (www.designforceinc.com). He can be reached at 856/810-2277.