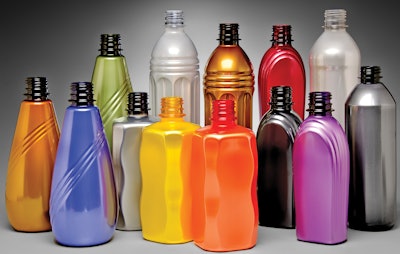 Finding detailed information about packaging innovations planned by major suppliers to Cosmetics and Beauty Care (C&BC) manufacturers is no easy task. Most of them have a way of playing it pretty close to the vest.
Some insight into what's coming next can be gained by attending exhibitions like PACK EXPO 2014. But even there it's not easy to get a fix on things because so many of the exhibitors choose not to show actual equipment, preferring video instead. Still, by asking a whole lot of questions at booth after booth after booth—which is what I did at this recent Chicago show—I've been able to develop this report.
Let's start with stick-type lipsticks, which consist of a molded "bullet" of product that goes into a plastic or metal case. The trend over the last 10 years has been to make the product bullet not in a rigid metal mold but rather in a soft mold made of a silicone rubber compound. The appeal of these new molds is that they produce a perfectly shaped bullet that has high gloss and softer texture and feel upon application. But there are two downsides to such molds. First, they take longer to cool. This means more space needs to be provided in the portion of the equipment that inserts them into their plastic or metal case. The other challenge revolves around alignment. Transferring a freshly formed bullet of lipstick from a rigid metal mold into its plastic or metal case is different than transferring it from a flexible mold. It means that much greater precision and control is required, and to provide that control machine builders are relying more than ever on servo-based control technology as opposed to mechanical systems.
Also problematic is automatic handling of the lipstick case once each case has a product bullet inserted, especially those cases requiring orientation and gentle handling. Weckerle displayed their Flexi-Feeder. It's a robotic system that picks packages from random orientation on a conveyor or tray and orients them for feeding into secondary packaging.
Elsewhere on display at PACK EXPO were new approaches to filling and pressing powders into plastic compacts (those hinged containers that often include an application pad and a small mirror). The new trend is more similar to injection molding than was previously the case. The advantages include not only faster speeds and the ability to do more interesting shapes, but also the ability to produce single-color or multi-color products simultaneously.
I also saw advancements in filling of nail polishes, which remains a hot product category. PKB is offering a new filling system with their rotary indexing machines that can handle glittered products as well. This has historically been difficult because the glitter tends to clog up the nozzles. PKB has come up with a valving system that is specially designed to overcome this challenge.
Fragrances, hair care products, and other personal care items are challenging equipment makers to come up with flexible, higher-speed, and quick-changeover lines. Combining fast-moving robots with vision systems has been an ongoing trend, and it was once again in evidence at Pack Expo. Vetraco and Schubert had such systems on display, while at Groninger and Weckerle there was an emphasis on handling of irregularly shaped containers. Vetraco displayed two modules of their compact assembly line (clam shell packages holding filled pans of powder or makeup) utilizing robotic pickers coupled with vision. The modules shown at PACK EXPO included vision inspection for the pressed powder pans, inspection of the compact, and robotic assembly of the pan to the compact.
Improving the efficiency (and hence the throughput) of high-speed lines that produce commodity personal care products such as hair care shampoos and conditioners is essential to making such products at competitive costs. Monitoring performance via OEE hardware and software was shown by various suppliers such as Parsec and Vorne. Monitoring, however, does not prevent line stoppages. The key to continuous improvement and predictable throughput—aside from improving equipment reliability—is to maintain a smooth operation of production lines. This requires making production bottlenecks significantly less disruptive, which is why some exhibitors at PACK EXPO were focusing on "adaptive" accumulation of products and synchronizing downstream and upstream equipment where slowdown, speedup, and stoppage are concerned.
BW Container Systems' Ambec featured innovative AdaptA Multi-Lane (ML) and two AdaptA Mini-Buffer (MB) Adaptive Buffer modules of single file, first-in-first-out (FiFo) accumulation. In addition to FiFo, the flexible units seamlessly provide pressureless accumulation, which means they can handle irregularly shaped containers without losing orientation. Other advantages to these rail-less magazine-style accumulation tables are: a simple design that is easy to access, operate, and service; a high density footprint; no height limitation; and fast changeover. See for yourself at this video link: pwgo.to/1296.
Modularity and small footprint were also talked about a fair bit. For example, various options for fragrances were shown or discussed at the show. Capmatic showed an integrated line operating at up to 60 containers/min that occupied very little small floor space, while PKB showed a very flexible slow-speed puck line. PKB has also extended the capability of its monoblock Synchro line machines for fragrance filling and assembling by duplexing operations, to reach speeds of up to 80/min. Similar capabilities are offered by Groninger.
Consolidation of OEM companies is still very much a trend, regardless of whether the parties involved have complementary or competing capabilities. These conglomerates provide a single source for integrated solutions and a wide range of stand-alone products. For example, Coesia group has integrated the venerable Jones cartoners into its stable of companies, and ProMach is now made up of 24 different companies. This trend has been partially driven by the desire of many CPGs for turnkey solutions rather than standalone machines. The other driver has been low valuation of many of the smaller companies over the last 5 years due to global recession worldwide, making the purchases supposedly a "bargain" for private equity firms.
New formulations, innovations in delivery concepts, and on-shelf impact of C&BC packaging are critical for their success in the market. But how do CPGs control the cost and appear "environmentally friendly" while attracting the consumer to the products they offer? Here's a few examples.
• Various C&BC products are delivered in squeeze tubes. The problem with this format, especially if decoration is involved, is that it usually requires large runs to make it cost effective, it requires special handling (especially for laminated tubes), and it usually requires long lead time. Mechatronica SC, part of Wifag-Polytype group, displayed the KOMBIS FFS60 (2), which combines tube-making from flat roll-fed material and filling in the same machine. Oval shapes and tube orientation are no longer a problem for filling as the tube body is formed on a mandrel and is supported by it until the filling process starts. The cost of the tube is very low as it is made by forming the tube from a thin preprinted material. This is followed by induction sealing one of several dispensing fitments or caps to the formed tube. The benefits to CPGs are very low cost tubes, short lead time, no storage or the need for careful handling of unfilled laminated tubes, and small-production-run capabilities. The KOMBIS FFS60 is a production machine prototype, up to 60/min, but I was told high-speed machines with quick changeover features are currently being built.
• Viva Healthcare Packaging continues to innovate with injection molding of in-mold-labeled tubes. They now have a dual-chamber tube (3): two formulas in a single tube connected only at the dispensing end.
• The popularity of shrink-sleeve labels continues to grow in the C&BC market. The clear benefits of these packages are significant reduction in inventories and lead time. You start with generic primary packages and customize them during late stages of manufacturing. The other advantage from a shelf-impact standpoint is full container decoration, not possible with other decorating or labeling methods. Sleever International developed new sleeves for mascara that impart 3D looks and a tactile "feel" to the package (such as a leather feel). This is done by very careful laydown of the print. The mascara container shape can be irregular, but thanks to the shrink sleeve, fully decorated.
The increased demand for packages with complex shapes decorated with shrink sleeves motivated the tunnel manufacturers to design better application/shrinking technologies. PDC displayed its KSA-70 Triple Zone Steam Tunnel, built in such a way to focus steam onto specific points of the shrink sleeve packages. Aesus displayed a hybrid Steam and Infra-Red heat tunnel designed for difficult, very precise, and or widely contoured containers. The combination of steam with infra-red gives the best of both technologies.
• Decoration of primary packages in C&BC is divided between direct printing methods and labeling. New digital direct printing technologies on packages have been developed to enhance decorating flexibility, richness and range of color combinations, and the possibility of economical short runs. These technologies also claim to be environmentally friendly as the printing is very thin and is recyclable with the primary package. The technology progress seems to follow the advances in paper printing, where the new equipment is moving away from transferring of colors from screens or drums to the product or labels; instead we're seeing a movement toward direct inkjet digital heads, such as those pioneered by Indigo. Active in this area of direct digital printing of rigid containers are both Krones with its DecoType technology (4) and KHS with Innoprint.
• Direct printing on paperboard or plastic substrates has made significant strides. Much of what was shown is based on the likes of Trident (for up to 100-mm printing height), HP, or Lexmark (now Funai) new-generation ink-jet print heads, utilizing wax-based or solvent-based thermal inks. Manufacturers of coding equipment based on cartridges, such as Weber, displayed a multitude of print head configurations, starting from an independent single-head approach to units that are simultaneously controlling multiple heads.
• Unique bright metallic PET plastic packages—without the use of expensive metallic colorants—were shown by Plastic Technology Inc. and Toyo Seikan Co. The technology is called Fi-Cell (1), and it produces a monolayer container with almost perfectly smooth inner and outer wall surfaces, while also giving the containers an interesting and eye-catching outer finish.
• T.H.E.M. presented Snapsil Technology (5) ideas for a one-time-use, single-hand operation of a squeezable tube (sealed by foil). These are thermoformed and lidded on a Multivac F/F/S system. Snapsil® easy opening "Squeezable" technology can be incorporated into a range of custom shapes and fill sizes ranging from 5 to 3 mL. The pack delivers excellent product evacuation rates for creams and gels, and it can be integrated with backing cards to support new-to-market beauty regimes or travel pack concepts.
Elsewhere at the show were Easysnap (6) one-hand opening monodose sachets (made on Easysnap equipment). Easysnap can be incorporated into a range of custom shapes and fill sizes ranging from 2 to 30 mL This type of package offers cost benefits and even environmental benefits. Since the lid does not need to be peeled off, the lid stock can be cheaper and the containment portion of the package need not be rigid. Thus the containment portion can be made from 50% thinner plastic than peel-top cups. These cost reductions result in a total cost well under 50% that of the cups currently in use.
• Two environmentally friendly large dispensing packages were introduced at the show: "Replenish Refill System" by Replenish, and "EZ-Flo" by CDF Corporation. Replenish is on a mission to eliminate waste and picks up on the "retro" concept where a reusable bottle attaches directly to a concentrate refill pod. This concept will not work for C&BC products as generally the product needs special processing that cannot be duplicated with simple shake mixing; however, the "EZ-Flo" offers a dispensing alternative to traditional squeeze, pump, and spray bottles for such products as hair care and creams. The system can dispense a wide range of products, including thin to heavy viscosities and particulates. The concept is a patented squeeze dispensing container and a refill that is easily placed inside the dispenser. A light squeeze on the dispenser (or dispensing pump) will eventually completely evacuate the collapsible refill. Go to pwgo.to/1297 to see a video showing how it is used. The refill is made of a propriety blend of LDPE, and its contents are airtight from filling until dispensed, thus significantly reducing the potential for microbial infestation. No need to shake or bang the bottle to dispense, there's no spitting or burping while product is being dispensed, and the package may be stored upside down or upright. The current sizes being offered are 100-mL and 15-, 16-or 23-oz.
All in all PACK EXPO was a great show, and one that reinforced the perception that the combination of innovation, productivity, multi-format flexibility, and high reliability is pretty much what C&BC professionals are looking for.
David Hoenig (dave.hoenig@gmail.com) worked for Revlon for 35 years, most recently as VP Manufacturing and Engineering Synergy Worldwide. Over the last four years he has been the principal of David Hoenig DH Technical Consulting, LLC.