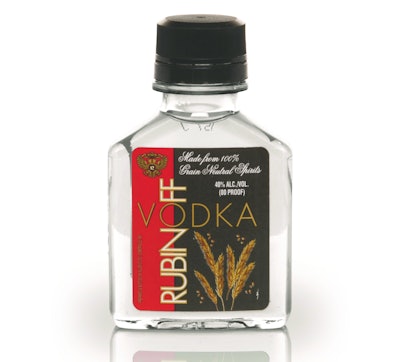 Previously, when switched from glass to PET, its larger bottles had seen increased sales, but changing over the 100-mL size at first proved a challenge. Says John Avigian, Plant Manager of M.S. Walker, "Our previous supplier didn't want to get involved in making a small PET bottle for us because of our low-volume request."
After soliciting other plastics manufacturing companies without success, M.S. Walker hit upon local company Meredith-Springfield Associates, which was willing to research the feasibility of the project. Being a smaller manufacturer, Meredith-Springfield was ultimately better able to accommodate the 100-mL project.
In switching from glass to extrusion blow-molded PET, Meredith-Springfield redesigned the bottle shape to M.S. Walker's specifications. While the glass bottle was concave on one side and convex on the other, the plastic bottle features two convex sides, allowing for easier label application. "We don't have to reposition the bottle to put on a label on now," says Avigian.
A stronger, reshaped bottle neck also allows the package to be hung in liquor stores, rather than just being placed on a shelf.
Offering greater consumer appeal for the company, the new PET bottle also offers sustainability savings for M.S. Walker. Benefits include lower shipping costs, as Meredith-Springfield is local, and lower freight costs due to the package's lighter weight versus glass. "By changing over to plastic, we're able to ship a lot more bottles more easily," Avigian explains. "We have 40 trucks that deliver throughout New England to liquor stores, hotels, and restaurants. The plastic is half the weight of the glass. While the glass bottles were 24 pounds, the PET bottles are 12 pounds." The PET bottles are also 100% recyclable through curbside collection.
Companies in this article