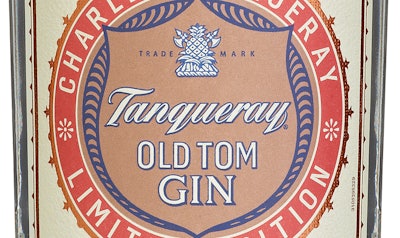 Diageo is introducing a limited edition of its Tanqueray Old Tom gin with a revitalized label and pack designed by Sedley Place. The limited edition pack features a balance in retaining the hallmarks of the original design and introducing new devices to refresh it for the 2014 edition.
Graphics combine the red band and gold shield from the original Old Tom label with the regenerated Tanqueray seal logo and pineapple device.The creative concept also sees the reintroduction of Old Tom gin as a 1-L clear bottle for the bar trade, with a limited run of 100,000 bottles available for purchase.The Old Tom limited edition follows Diageo's successful reintroduction of Tanqueray Malacca gin in 2013.
Relates Sedley Place, it was charged with reasserting Tanqueray's leadership within the gin category as the best-selling bar brandby creating conversation around its credentials. "No other brand has the same heritage and authenticity as Tanqueray, and the revival of Old Tom gin is designed to highlight that," says the company. Additionally, Sedley Place had to design a new label that created something elegant and custom, while keeping true to the brand's origins.
Says Jason Barney, Senior Graphic Designer, Associate at Sedley Place, "With the launch of Tanqueray's first limited edition last year, Diageo wanted to ensure the labeling for Old Tom not only linked to Malacca gin, but also referenced the original design. Having worked with Tanqueray previously, we knew how to seamlessly integrate the classic brand's heritage with a modern design."
The 2014 limited edition work follows Sedley Place's rebranding of Tanqueray to London Dry Gin, which included the physical bottle structure, in 2007.
Companies in this article