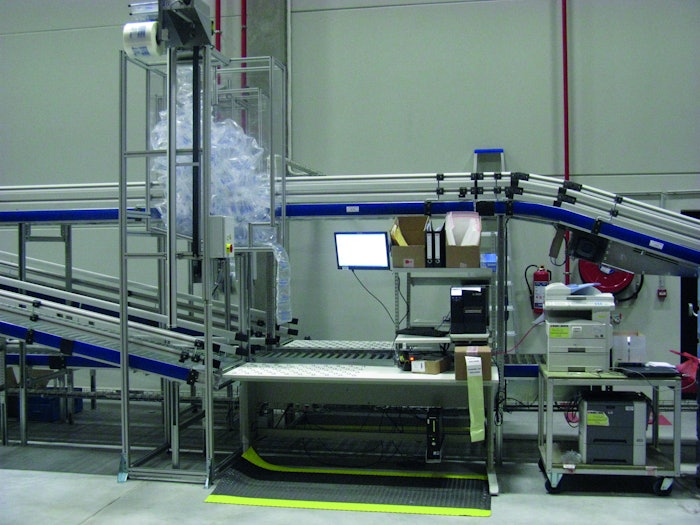 Stanley Black & Decker in Tessenderlo, Belgium, handles the shipping capacities for customers in Benelux, France, Germany, Austria, Switzerland, and Scandinavia. To ensure that its protective packaging solution keeps pace with changing requirements, the distribution center is employing packaging from Storopack. "We have always achieved our productivity targets for protective packaging," says Ludo Lantmeeters, Logistics & Facilities Sourcing Manager at Stanley Black & Decker. Since the summer of 2014, the average performance has been 18,000 shipments per day.
Stanley Black & Decker's extensive range of tools—available under different brands, such as Stanley, Black & Decker, DeWalt, and Facom—are warehoused at the Tessenderlo distribution center. The goods are dispatched to DIY stores and retailers, as well as logistics service providers and regional distribution centers.
About 90% of the shipments are prepared with AIRplus® Void protective packaging air cushions from Storopack. Each of the DC's four in-line workstations is equipped with a silo and a machine from the AIRplus® Mini series, which fills the air cushion from above in the silo. The worker can comfortably and ergonomically remove the air cushions and add them to the pre-packed products in the shipping package.
A sensor controls the air cushion stock. As soon as a signal is activated, the AIRplus Mini restarts its production of air cushions. To refill the roll of film, the worker just has to lower the unit to his or her working height using a lift system.
Ongoing adjustments
This protective packaging solution went into operation in 2012. The concept has proven itself, but a lot has changed at the packing stations, and Stanley Black & Decker has been pursuing its goal to integrate capacities at its distribution center in Tongeren, Belgium, into the Tessenderlo distribution center. Storopack has been involved in this process from day one and has adapted the protective packaging solution accordingly.
The throughput of the workstations has increased from an initial 9,000 shipments/day (10,800 at increased capacity utilization) to today's figure of around 16,200 shipments/day (as high as 19,800 at increased capacity utilization).
To enable this, Storopack introduced a new generation of AIRplus Mini machines with a capacity of 10 m of packaging material per minute. Additionally, the sensor was repositioned so that the silos have a higher filling level. The integration ensures that sufficient packing material is available at all times, even with the higher volume.
Storopack has also supported its customer with ideas for organizing work processes. And together, the partners have been successful at having workers complete a shipment in around 15 seconds.
The service package for Stanley Black & Decker is based on the Storopack process, which includes consulting and implementation of a customized protective packaging solution. Regular inspections enable assessment of changing needs and the incorporation of necessary adjustments.
Companies in this article