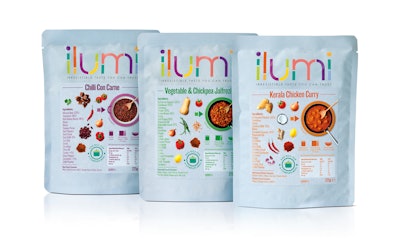 U.K. company Tanfield Food and design partner Pearlfisher London have unveiled a new brand for the allergy-free food market: ilumi. ilumi is a range of 100% natural, tasty, and convenient meals, all of which are nut-, milk-, and gluten-free. According to Pearlfisher, the brand aims to change the notion that allergy-free food is a niche or less enjoyable category rather than simply another way to eat. 
Tanfield's brief to Pearlfisher was to create an entirely new brand—from a category-challenging, strategic brand positioning to original brand naming, identity, packaging, and tone of voice.
Commenting on the new brand design, Pearlfisher Creative Director Sarah Cattle says, "This is not about designing a piece of packaging, it's about bringing to life a forward- thinking, food-focused approach in a world where the food itself often seems sidelined.  Visually we have deliberately used a positive and vibrant color palette that celebrates the tasty variety of dishes in conjunction with a bold graphic precision that reflects the exact consideration given to every single ingredient that goes into the food. We have also created a system of beautiful icons to use across the brand to celebrate the desire for information. The brand aims to visually empower consumers by allowing them to love their food while always feeling in control."
Says Tanfield CEO Geoff Allison, "We are delighted with the work from the team at Pearlfisher in creating a unique brand concept and positioning and how they have translated this so well into a fresh, modern, and contemporary design. The really positive  positioning, the transparency of putting all the ingredients on the front of pack all underlined with amazing tasting food inspired by the great food cultures of the world has really hit the mark with so many people, both with and without food allergies and intolerances. ilumi has proven that people with food intolerances can enjoy fantastic tasting and convenient food in the complete knowledge that it is safe for them to eat."
By selling its collection of soups, sauces, casseroles, and curries online only, the brand is able to nurture an intimate connection with its consumers, using their feedback and frustration with the rest of the market to continually improve its product selection, inspire creativity for future recipes, and guide the ilumi nutritionist in relevant lifestyle tips and foodie facts.
Companies in this article