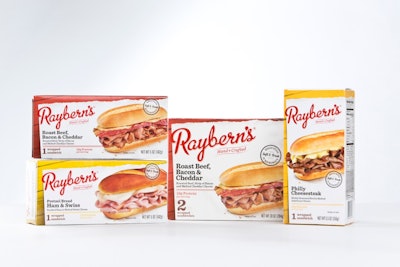 Raybern's®, the company behind the #1 U.S. selling Philly Cheesesteak sandwich, stands out in frozen food cases more than ever thanks to a newly completed packaging graphic redesign by global brand agency CBX.

"Raybern's has provided families with delicious and convenient sandwiches, snacks, and appetizers for more than 30 years and is famous for inventing the frozen deli sandwich," says Rob Leibowitz, CEO of Raybern. "Consumers consistently describe our handcrafted sandwiches as hearty and delicious. The goal of our partnership with CBX and this graphic redesign project was to ensure that our exceptional product delivery and consumer experience were significantly more visually apparent and appealing at shelf."

Notes CBX Chief Creative Officer Rick Barrack, "Elements of the redesign included a new graphics system and typography, and a strong focus on mouth-watering food photography, as well as messaging that emphasizes the handcrafted nature of the company's sandwiches."

Created by the company's founder more than 30 years ago, Raybern's original bread recipe delivers a deli-soft roll after just 90 seconds in the microwave. To this day, the bread is baked daily on-site and is one of the key components of the sandwiches. The meats are artisanally seasoned, cooked, and sliced deli thin. To complete the authentic experience, the sandwiches are handcrafted and individually wrapped in butcher paper.
"New customers were often surprised at just how great the sandwiches actually tasted," says Barrack. "Meanwhile, the old packaging design was functional, but lacked true stand-out appetite appeal. The graphics system was also a bit fragmented at shelf."

CBX's redesign focused on clarity and consistency as well as the artistic and emotive side of the Hayward, CA-based brand. "We reorganized the packaging information and added more romance and food appeal to convey the satisfying and satiating experience of these artisanal products," Barrack explains. "For example, we used parchment paper for the backdrop, with the sandwich beautifully photographed along with 'perfectly imperfect' nuances such as crumbing on the surface."
The branding firm's introduction of classic typographical elements also helped increase shelf presence and enhance the overall impression.

At a time when more consumers put high value on authenticity, the CBX team says it made good sense to better articulate Raybern's authentic story. "That's why you'll see the term 'handcrafted' more prominently on the new packaging," Barrack says. "We wanted to move toward something that felt more authentic, real, and genuine."

Today, Raybern's continues to support its best-selling items as well as introducing new sandwiches, snacks, and appetizer varieties to best satisfy America's ever-evolving tastes and preferences. "This strategy is sure to appeal to current fans and win new customers," says Barrack. "By offering more 'pop' at shelf, the comprehensive redesign will no doubt contribute to these efforts by increasing product trial."

Raybern's sandwiches are found in the freezer and deli sections of retailers, including Walmart, Costco, Sam's Club, Smart & Final, HEB, ShopRite, Ahold, BI-LO, Lucky's, Savemart, Raley's, Wakefern, Carrs-Safeway, Randalls, Tom Thumb, and select Safeway locations.
Companies in this article